Post by Admin on Feb 6, 2014 12:34:52 GMT -5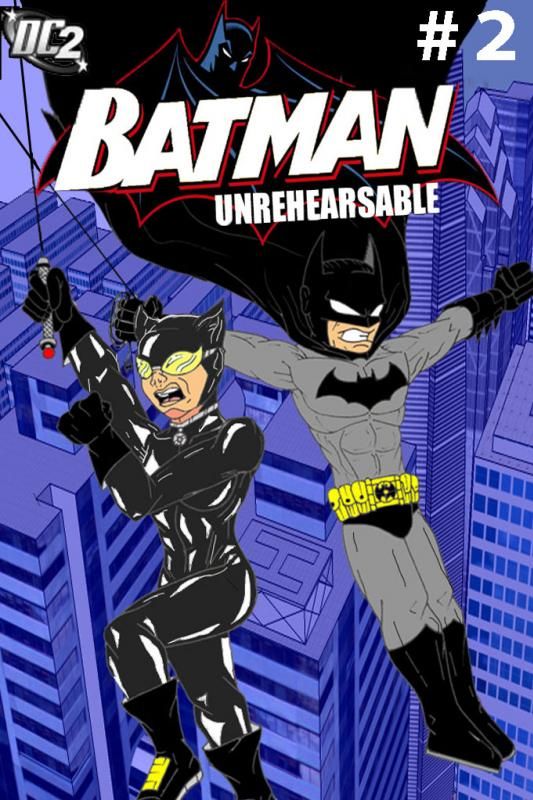 Author's Note:
The Sissy Porter kidnapping and its aftermath occurred in
Batman: Venom (Legends of the Dark Knight Nos. 16-20
), by Dennis O'Neil, Russell Braun, and Trevor Von Eeden (1991).
It's a fact, once you get on board
Say good-bye cause you can't go back
Oh it's a fight, and I really want to get it right
Where I'm at, is my life before me
And this feelin' that I can't go back

—Leann Rimes, Desmond Child, Andreas Carlsson, "Life Goes On"
Unrehearsable
Issue #2: "On Board"
Story by Ellen Fleischer
Art by Kevin G
Beta Read by Kathy, Debbie, and PJ
Edited by Mark Bowers
Jim Gordon, seasoned police officer and former Gotham City police commissioner, looked from his daughter to Dick, and then back to his daughter once more. "No."
Barbara blinked. "Dad?"
"Out of the question," he confirmed. "No."
"It's just an interview!"
"I know what it is!" Jim shot back. "I used to work background investigations in Chicago. And frankly, I have no intention of being on the receiving end of one." He gave Dick a meaningful look. "I was always glad that at the time that you applied to the B.P.D., you and I didn't have what you would call a working relationship—at least not a known one, so they never thought to call me on your behalf. I went through
one
of those interviews when I first joined the force, and I never plan to again." He looked away. "Sorry, Dick, but being submitted to cruel and unusual punishment is
your
bailiwick, not mine!"
Dick and Barbara exchanged glances. "Was yours that bad?" he asked her.
Barbara shook her head. "No, but I think they were easier on me for a few reasons. That officer who interviewed me... Charry? Charro? Chiarello—
that
was the name—he was Gotham when he started."
"Maury Chiarello?" Gordon perked up at that. "Small world. Yeah, he worked property crimes. Sergeant, I think. Joined the FBI around the time I made captain," he chuckled. "So he ended up in Bludhaven after that, huh? I'm surprised he remembered me."
"Well, he did," Barbara replied. "The first thing he asked me was whether you and I were related, and from that point on, it was smooth sailing. Between that and," she sighed, "much as I hate it, I think they took one look at the chair and decided to be gentle with me."
Gordon frowned. "You went all the way to Bludhaven? I would have thought that given your circumstances.... I mean..." His gaze shifted involuntarily away from her face, toward the wheelchair.
"It was an option," Barbara nodded coolly. "But I wasn't looking for special treatment. Besides," she smiled at Dick, "it wasn't like that was the
only
thing I did in Bludhaven that day."
"Ah, I see." Gordon's lips twitched. "Well," he sighed, "I guess whatever they put us through will be only a fraction of what they do to Bruce. Does he know what he's letting himself in for?"
Dick frowned. "He thinks so. He knows he has to pass the psych evaluation. As far as what that's going to entail..." he shook his head. "I tried to warn him. I think he's been working on the whole gun issue like it's the only thing to worry about. Come to think of it," he winced, "I don't think Bruce showed up for
my
background check. Alfred did, of course."
At Jim's incredulous look, Dick only shrugged. "He didn't want me to be a cop. He didn't sabotage me, but he didn't want to make it easier, either. And yes, they asked me if I had any idea why he hadn't accepted their invitation."
"You're lucky they took you," Jim said. "Sometimes, the investigators can get a bit twitchy about things like that."
Dick shrugged again. "Bruce's history isn't that hard to research. I explained to them that, after what happened to his parents, he didn't want me facing down armed criminals. It was more or less the truth."
"Even so..." Jim started. "Ah well," he let the matter drop, "by the time they start talking to family, it's pretty much a formality. They like to start with people on the periphery and work their way in." He took off his glasses and fiddled with the earpiece. "How many people connected you to Bruce once you got into the academy?"
Dick blinked. "No clue. I mean, I didn't flaunt the relationship, but I didn't bother hiding it either. Bruce taking me in is pretty much common knowledge in Gotham. I knew it was going to come up in a background check, so I never saw the point of hiding it."
Jim frowned. "Did anyone make an issue over it?"
"After the interview process?" Dick shook his head. "Not until Bruce got framed for murder, and I sort of left myself wide open for that when I arranged to drive the prisoner shuttle from the 'Haven to Gotham, just so I could talk to him."
"You were more fortunate than you realize," Jim said darkly. "I don't know if you noticed, but there aren't too many billionaires' kids signing up to become LEOs. Now," his eyebrows knit together, "while hazing is officially off-limits," he took a soft cloth out of his breast pocket and began cleaning the lenses, "there's nothing in the books about some not-so-good-natured ribbing. He's rich, he's high-profile, and he's a former vigilante. Not to mention that Sawyer's giving him the kid-gloves treatment. The rest of them aren't exactly going to roll out the red carpet and slap him on the back."
Dick blinked. "You don't think Bruce can take it?"
"Day in, day out? When he's only doing this because Sawyer twisted his arm when he was stuck between a rock and a hard place, and not out of genuine conviction? Look, maybe I was just running my mouth off a minute ago, because the truth of the matter is that the three of us? We're going to have it dead easy in comparison. Two former police officers and one cop's daughter living with an ex-cop?
We'll
get the red carpet treatment. But Bruce..."
"Yeah," Dick said seriously, "but you're forgetting that he's been through this before—back when he first started training. He told me about it. The masters he went to study with told him he was too old to learn; that as an American, he was too soft. They didn't know who he was; he was using fake names, but they thought they had him pegged. He proved them wrong then. He can do it now." Dick leaned forward. "Especially if he's got us for support. Does he?"
Jim put his glasses back on. Then he got up and walked slowly to the coffee maker. He poured himself a mug from the carafe. "Got anything I can add to this? Sugar? Cream? Whiskey?"
Barbara's eyebrows shot up in surprise, but all she said was, "In the left-side drawer. In the right-side drawer. Downstairs, in the liquor cabinet between the Bailey's and the Frangelico. Does that mean you're in?"
Jim was silent.
"Daddy?"
The former commissioner chuckled. "Well, I guess if Bruce is prepared to go under the microscope, I can do my part. But he'd damned well better go through with this."
*****
Dr. Alex Morgenstern was quiet for what felt like a long time. Finally, he said, "Do you think you're up for this?"
For once, Bruce didn't need to debate his reply. It occurred to him that if Alex were to step in, it might be a way out of the agreement he'd made with Sawyer that could still leave that door open in the future. After all, if he tried to follow this course of action against the recommendations of his court-ordered psychiatrist, Sawyer could hardly accuse him of reneging. And five months from now, after the hearing...
...Five months from now, she would still know that he was Batman, and she would still have the same concerns she'd voiced earlier about looking the other way while a 'loose cannon' was operating in Gotham.
Bruce closed his eyes. This wasn't going to blow over. Given the current situation, if he wanted any semblance of his old life back, he was going to have to play Sawyer's game. The worst of it was that he understood her perspective, and she wasn't wrong.
"I don't know," he said heavily. "The other night, my former partner's life was at stake. Commissioner Sawyer offered me a way to save him and I took it. If she hadn't, I still would have gone after him and dealt with the consequences later."
"And now you're still dealing with the consequences. They're just nothing that you likely could have predicted seven months ago, when the terms of your probation were spelled out for you."
Bruce nodded.
"Do you think that Commissioner Sawyer was wrong to put you in this position?"
Bruce considered the question, even as he studied the earth-toned geometric pattern of the office carpet. He focused on a tan diamond bordered in rust. "I think she was trying to give me an option to do what I needed to do, without facing incarceration later. That's part of it—maybe as much as half of it. However, I also can't deny that she's been trying to enlist me to teach my techniques to her people. She's approached me a few times in the past. And looking ahead, assuming that I go back to doing what I've always done best—only this time, with full legal sanction—Sawyer needs something to justify her trust in my competence after a long absence." It was an effort, but he kept his tone even. "Sometimes, plans go awry. If something were to go wrong as a result of my actions, she'd be forced to answer questions about why the GCPD tolerated my activities. As I understand it—and correct me if I'm wrong—at the hearing I'll be facing next July, the issue before the judge will be whether I'm mentally fit to be part of society without supervision."
"That's right," Alex prompted.
Bruce looked up for a moment, before returning his gaze to the diamond. "For me to return to my night-time activities, a higher standard will be necessary. Under those circumstances, the GCPD psych evaluation is likely to carry more weight with skeptics. And..."
"And?"
Bruce sighed. "It might help to allay my own concerns as well. The rules have changed since the last time I wore the suit. My circumstances... my life... has changed. I need to know that I can adjust."
"And if you can't?"
Bruce sighed again. "Then I need to know that, too. So I can let go of the fantasy."
Alex scribbled something into his notebook. Bruce waited, his eyes closed as he employed a basic relaxation technique. He was startled when Alex called his name, realizing that the psychiatrist had done so at least once before. "Sorry. I was just..."
"I know." Alex steepled his fingers, tips facing out. "All right. It sounds to me like your insights are spot-on—not that you need me to confirm it. Sawyer found a point where her wants and your needs intersected, and she's pressing that to her full advantage. That being said," his expression lightened, "If you'll recall last year, my recommendation to the judge was for no more than six months of mandatory supervision. He overrode that, as was his right. However, while we've both had to accept that decision, I'd like you to know that, in my personal view, my initial recommendation has borne out. You have issues that you need to work on, and I can help you with that—as can other qualified professionals. At this point, though, I don't believe that your mental health would
necessarily
preclude your following through with the agreement you struck with Commissioner Sawyer. I think that there are probably some specific issues that might be helpful to discuss regarding your past activities—issues that could come up again, now that you're looking to do some fieldwork."
Bruce's head lifted slightly.
Alex's smile turned serious. "Under the circumstances, I think it might be helpful to step up our sessions," he said, "at least in the short-term. New beginnings are often stressful, and you may find that our current meetings won't be enough." Something must have shown in Bruce's expression, because Alex continued in a softer tone. "It's up to you," he said. "This isn't mandatory, and although it might feel like a setback, it isn't. What you're proposing to do
might
be the best thing that could happen right now. It might also be a bit premature, but you won't know unless you try."
Bruce nodded slowly.
"Fine," Alex said simply. "We'll try two sessions per week for the next month." He consulted his data planner. "I have a slot free every Thursday at three o'clock . Let's tentatively schedule a second hour there. If there are any conflicts, let me know and we'll work around them. And if you find that you're managing all right, we can review after the month is up."
"Fine," Bruce replied as surprise and relief intermingled with an unexpected sense of dread. "That will be... acceptable."
Alex started making out an appointment card. "I'd also like you to keep a journal for the next week," he said. "You don't need to show it to me or discuss it in our sessions, although you're certainly welcome to do either. Or both. What I'd like you to do—not for me; for yourself—is jot down every time that you feel that you are not in control of a situation. I want you to specify what the situation is, the emotional reaction it triggers in you, and how the situation resolves. It can be something as mundane as 'stuck in bumper-to-bumper traffic on the Aparo. Angry. Sat and stewed for forty-five minutes before it finally started moving again. Continued to my destination.' He smiled. "Your control issues are going to come up. I think they would, even had you made a free decision to follow this path. The fact that there's an element of coercion in play isn't going to make it easier. I think we need to plan ahead for any difficulties that might arise on that front."
Bruce nodded. He could well appreciate a desire to anticipate undesirable occurrences, even if Alex probably was worrying needlessly. "Understood," he acknowledged with a faint smile.
*****
Sharon Ryerson padded down the darkened hallway, ignoring the faint illumination coming from under the door of Joel's room. Her son was doubtless playing another video game. She should probably tell him to get to sleep, but he never listened anyway.
She walked into the kitchen and sat down at the table, knowing that it was time to pay the bills, but unwilling to reach for the ever-mounting stack. She had to make the mortgage payment by Friday, she thought as she chewed on her lower lip. That, electricity, phone... then groceries. After that, maybe there'd be something left over for the credit cards. Funny how little money came in from working two jobs plus some sporadic weekend babysitting. It had been so different when Paul had been alive...
Sharon scowled, remembering how Joel had suggested filing a civil suit against Wayne. She'd wondered where a fourteen-year-old boy would have heard of such a thing, but then Joel always had been bright. It hadn't changed her answer to him. She wanted no blood money from Wayne or from his company. Her husband was dead thanks to Wayne's grandstanding, and she wasn't about to allow him to mitigate his guilt in any way, shape or form, no matter how badly she needed the money. She'd been happy enough when she'd known that he was safely under lock and key in Arkham, but barely two years later, he was out again while her husband and twenty-seven other good people were still dead and buried.
She hid her face in her hands. She didn't want to confront Wayne. She didn't want to see him again. Not that she wanted him to go to that gala and act like he hadn't a care in the world, either! She groaned. It was so unfair. She'd always wanted to go to one of those high society charity affairs, just once. Now she had her chance, but she'd have to see Wayne there as well. If only there was some way that she could have her one night to play "Cinderella at the ball" without having to encounter Captain Hook! She winced. She really needed to get more sleep, if that was the best imagery she could concoct, but as the date of the charity gala drew closer, her nerves were getting worse, making sleep an increasingly-sporadic event. Surely, there was some way to keep Wayne from coming within a few thousand feet of her. Her eyes widened as an idea began to take form.
Maybe there was...
*****
"I'd say that this is going to hurt me more than it does you," Jim rumbled, "but I think it's going to be a toss-up. The interview lasts about two and a half hours on average. It's going to feel like it's a lot longer."
"I'm ready."
Jim shook his head. "That's what they all think," he said with a weary smile. "Okay. First, before we get started, there are a few things I want you to understand. Don't worry." He picked up a clipboard with a self-deprecating smile. "I wrote it all down in advance to make sure I don't leave anything out."
Bruce nodded impatiently.
Jim's eyes took on an amused glint, even as his smile faded. "First," he began, "a lot of what I'm going to ask will sound like a cross-examination. That's basically what it is. My advice to you is to assume that the GCPD investigation team has already done their homework—because, if they're worth their salt, they have. In other words, when they ask you if you've ever engaged in illegal activity, yes, they know the answer to that one, and no, they won't be satisfied if you just 'fess up to tax evasion!"
Bruce raised his eyebrows. "It sounds as though this is going to be an exercise in futility, then," he said.
Jim's lips twitched. "Maybe... but that's as good as saying that Sawyer's got nothing better to do than waste your time and twist your arm."
"Unless she wants to demonstrate to me unequivocally why she
can't
grant me deputy status."
Jim shook his head. "From everything I've seen of her, I have a hard time believing that she'd pull something quite like that. Of course, you don't have to take
my
word for it. Seems to me that one of your friends had a nodding acquaintance with her back in her Metropolis days. You might want to sound him out."
Bruce grunted noncommittally. "You were trying to tell me that confessing to criminal behavior was a good thing?" he prompted.
"
Honesty
is a good thing. Dick told me you know how to fool a lie detector test. I'd advise you not to try. They're trying to figure out if you're officer material." His lips twitched. "The ideal kind—not the corrupt type we've both tried to get off the force with varying degrees of success. Having a criminal past—and let's not mince words about it: on paper, that's you—is bad. Lying about it is worse. Demonstrating that you can lie so effectively that if the evidence to the contrary wasn't in front of them, they'd have no way of knowing the truth? How eager would
you
be to trust your life to someone like that, hmm?"
Bruce nodded reluctantly. He gestured to Jim to continue.
"Okay. I mentioned that this was going to be like a cross-examination. There are a couple of differences. You want the good news or the bad news?"
Bruce raised his eyebrows. "Both."
Jim chuckled at that. "Fine; let's cover the downside first. You don't get to object to any questions. Nothing is off-limits. Nothing is sacred. Well, I don't think they're going to ask the color of your underwear, but I'd make a mental note of it anyway. That's the bad news. The good news is that you aren't restricted to answering 'yes' or 'no'. You get to explain yourself. The equivalent of 'Yes, I was speeding, but I was taking a critically ill person to the hospital'." His eyes narrowed. "Or in your case, I suppose, 'Yes I have looked at child pornography. I came across a number of photographs when I was going through the filing cabinet of John Q. Sleazebucket, looking for something to link him to the human trafficking ring."
Bruce's lips twitched as he nodded once more.
"They're going to ask about that kind of thing. Absolutely, one hundred per cent. They'll ask about drugs, too." He smiled. "One candidate a few years back admitted to frequent marijuana use. He got accepted—like I'm saying, honesty counts for a lot. They never let him guard the evidence room, mind you, but that's neither here nor there." The smile faded again. "Look, I really hate to bring this up now. I mean, it was so long ago, and I know you're not using anything of the kind now..."
He blinked. "Excuse me?"
Jim sighed. "Bruce... I... There was a short time back in the early days when you suddenly seemed a bit..." he hesitated, "different. Less focused. More aggressive. Thuggish, even. I wasn't the only person who noticed, either."
All the color drained from Bruce's face. "Jim—"
"Let me finish. I'd be lying if I said I didn't have some strong suspicions, or that I wasn't mentally going through a checklist of symptoms. Before I made up my mind what to do about my concerns, though, you saved my life," he smiled. "Thanks for that, by the way. It wasn't the first time or the last, but I don't think I ever mentioned it until now."
Bruce's eyes flicked up for an instant before lowering once more.
Jim pursed his lips and took a breath. "After that," he continued, "you disappeared for a few months. When you came back, you were in better shape. I figured you'd probably gotten whatever help you needed, and so I left matters alone."
Bruce hunched forward and let his elbows rest on his knees. "I remember," he whispered. "You..." a soft breath, part way between a sigh and a groan escaped him. "You would have been correct, had you gone with your instincts." A flush rose to his cheeks as he continued haltingly. "It was not... a good time for me. Not that it's any sort of excuse." He closed his eyes. "The experiment was never repeated."
Jim nodded. "And, it was over and done with well over fifteen years ago. When the subject comes up for you—and I did say 'when,' not 'if'—I would come clean. Because if they ask me outright whether I ever had reason to believe you to be driving drunk or drugged, I'm going to answer honestly. I'm going to give them every detail I can think of that might mitigate the circumstances. I'm going to tell them that it was a brief interlude that lasted no more than six months, and that it was over years ago. But once they start asking me questions, I'm not going to start second-guessing whether you followed my advice on whether to come clean; I'm going to assume you were smart enough to take it." He laid a comforting hand on Bruce's shoulder. "Even if you tell me right now that you're planning to falsify certain details, I'm still going to hope that you wise up at the last minute."
Bruce slumped further in his chair.
"You told me Sawyer said straight out that she doesn't want a loose cannon operating in this city. Rightly or wrongly, the investigator is going to judge your moral fiber—at least partly—by that of your friends. And having friends who are comfortable lying for you isn't going to look good." He waited for the words to sink in. "I'm sorry."
Bruce nodded slowly. A moment later, he sat up straighter and opened his eyes. "If that's the case," he said, still whispering, "then you should hear the whole story from me, first. I... it'll probably make it easier for me to discuss later."
"I'm listening," Jim said.
Bruce drew a deep breath. "Do you remember the Sissy Porter kidnapping?"
*****
It was a relatively quiet patrol that night, which suited Dick fine. He and Selina were in fair form, easily apprehending a number of small-time crooks and vandals. There was a break-and-enter in the East End. Dick left Selina to take care of that while he helped the Coast Guard nab a few salmon smugglers. She tended to take burglary on her home turf rather personally.
It was maybe an hour later that they met on a rooftop overlooking Robinson Park.
"He's having a rough time," Selina said without preamble.
Dick nodded, unsurprised. "Gordon said that if we wanted him to help prepare Bruce for the evaluation, he wasn't going to sugarcoat things. The whole procedure is a nightmare."
"Guess I can't fault the GCPD for not wanting to certify trigger-happy cops," Selina agreed. "Still... it was hard enough for him to open to
us
about things that were a lot less personal."
"Don't I know it. Just letting his guard down around Morgenstern was a major step," Dick sighed. "Is he having second thoughts?"
"He's had them," Selina replied. "I think we're on to fifth or sixth. He's still ready to do it, but," she sighed, "I almost think he'd rather go a few rounds with the KGBeast."
Dick's lips twitched. "Well, sure. That would be over a lot faster, one way or the other." His smile took on a slightly more serious tone. "Look, in a perfect world, he aces the tests, gets deputized, everyone cheers and he goes on to a perfect record on the force, loved and admired by all. This isn't a perfect world. If he doesn't pass the psych evaluation, or the examiner doesn't like something in the background check—"
"What's not to like?" Selina asked, absolutely deadpan.
Dick didn't laugh. "Look, just help me help him see that there are a few other options."
"Don't suggest operating outside of Gotham," Selina said, all trace of light-heartedness gone. "He loves this city too much. You weren't here right after the Cataclysm—"
"Actually—"
"No, you were in Bludhaven. You came in as soon as you could, but he and I were right... here in the thick of things, when the quake actually happened. He... it tore him apart, almost as much as it tore Gotham apart."
"I know." Dick closed his eyes. "Look, he can take on another costume. Sawyer's as good as told me that she's not deliberately out to catch him. Another name, another alias and..."
"Maybe," Selina said dubiously. "But if he walks away now, it's like he's throwing her offer back in her face. How well is she going to take
that
?"
Dick shook his head, frowning. "I've had a working relationship with her for over two years, and I don't know the answer to that one. I mean, for all the rules and red tape she's laying down, she's still going out on a limb for him and probably risking her career. And she really just knows Bruce by reputation. I'm not sure how much
Gordon
would have extended himself if he were in Sawyer's place at this point." He shifted to a more comfortable position. "Of course, if the JLA can help him re-establish his UN sanction—"
"He's pulled stuff with them, too," Selina pointed out. "They're probably going to want some guarantees of their own. If I were Bruce, I'd resent it more if my
friends
were the ones insisting I prove myself all over again. I'm just saying."
Dick nodded. "I take your point. Well, let's just hope it doesn't come to that. Bruce has a way of achieving the impossible. Maybe that'll still hold true."
Selina grinned. "He does, doesn't he? Hope springs eternal."
Dick leaned forward, suddenly all-business. "Yeah, you know who else has just sprung? From Blackgate?"
"Huh?" Selina whipped out a pair of binoculars. "Oh, for the love of... That's Tiger Ross. He tried to frame me for swiping the Mackenzie Bast statuary three years ago."
"Well he's breaking into the Kotka Gallery."
"I'll kill him." She groaned. "No, I can't. I promised Bruce. Damn it!"
Dick grinned. "Selina... Catwoman... you've got to start projecting. You don't kill him. You make him
wish
you were gonna. Wanna see?"
"Right. Like I'll let you take the lead on a cat-themed B-and-E. Out of my way, Junior-Bat." She hooked her grapnel around the nearest building and leaped off, Dick right behind her.
And it had been such a quiet night, too...
*****
Bruce pointed the gun at the target, irritated to see that his hand was shaking. Maybe he
was
rushing things a bit. More than a bit; he'd finally managed to load the Beretta for the first time less than twenty-four hours earlier. Actually using it might be expecting too much too soon. He unloaded the gun and put the rounds back into the box.
He frowned. Then, impulsively, he raised the empty gun and aimed it once more at the target. This time his hand held steady. His heart, on the other hand, thudded madly. He did not want to do this. The refrain in his head was getting old by now. He'd tried to build a life where he had sufficient control not to have to do things he didn't want to.
That
had been working just fine for the last little while, he thought sarcastically. Sure, there were some things that were unavoidable: taxes, sleep, society affairs with people who were every bit as shallow and vapid as he affected to be. But he had never dreamed that he would be in a position where he would be forced to use a gun.
Are we back to this again? Stop whining. You can hate this all you like, but master it just the same.
Bruce winced. Then, leaving the unloaded gun on the table, he walked over to the security array and checked one of the monitors. A smile came to his lips. He quickly returned the gun to the trophy room and went upstairs.
When he opened the door to Helena's bedroom, she opened her eyes sleepily. "Daddy?"
Bruce stroked the line of her jaw gently with his fingertips. "Go back to sleep, Helena," he whispered, realizing with a pang that she probably wouldn't have awakened had he not opened the door. "I'm sorry."
Helena smiled. "Story?"
Bruce's lips twitched. "It's late..." he said, doubt plain in his voice.
"Story."
He looked down at her. "Please?"
Helena giggled. "Peas. Story, peas."
Bruce nearly laughed. "Peas, huh? You want me to tell you a story about peas?"
"Ya."
He surrendered gracefully to the inevitable. After all, it was his fault that she was awake. "Once upon a time, there were five peas... in a pod who," he smiled, "who always said 'please' and 'thank you.' Now one day, the peas were hanging from their plant in the garden, which your Uncle Jim and I should really think about planting soon, when all of a sudden..."
Twenty minutes later, Bruce left his sleeping daughter and made his way back down to the cave. He looked toward the trophy room, where the gun awaited him. Then he looked back at the security arrays. His daughter deserved to have a father who wasn't one step ahead of the law and constantly looking over his shoulder. She deserved to have a father she wouldn't have to lie about, when people asked what he did for a living. She deserved a far better father than he could ever be, but he was too much of a coward to tell Selina as much. That wasn't the only reason, of course, but just because he couldn't state the other one out loud didn't mean he didn't feel it.
Selina asked me if this whole experiment was worth it. For Helena's sake, it is. And if that's the case...
If that was the case, then he needed to do his part. Maybe his earlier thought had been correct and he
was
taking on too much too soon. Maybe this unhappy experiment
was
doomed to failure. But before he would allow himself to accept the possibility as fact, he needed to know that he had sincerely tried to do this thing.
Bruce bit his lip. Then he went to retrieve the gun. If his aim was steady when he didn't have live ammunition in the gun, then maybe he'd find it easier to practice with rubber bullets instead of live rounds.
And maybe he could become enough of an expert with a gun that—at least for him—'shooting to wound' would be more than a fantasy.
His eyebrows lifted. Batarangs were potentially lethal too, and he had practiced long and hard to make sure that they only flew where they were supposed to. If he could somehow manage that same feat with a firearm... He was getting ahead of himself. First things first. He scanned the shelves of the trophy room, looking for the rubber bullets.
*****
The late afternoon rush at the coffee shop seemed to drag on forever. Sharon kept looking at the clock, unable to believe how little time was actually passing. She was glad that Ron would be driving her to her second job—he had been for the last two weeks, ever since he had first sounded her out on the idea of keeping Wayne from regaining any standing with PMWE.
Now, as the minute hand of the clock crawled ever-so-slowly toward the twelve and the hour hand remained just a hairsbreadth away from the six, Sharon was nearly giddy with anticipation. She couldn't wait to tell him what she'd done on her way to work this morning. She'd had to agree to work half of Margie's Sunday shift this week, but just this once, it had been worth it. There had been a wait at the police station, and she'd barely made it into the coffee shop by noon, but it didn't matter. She was going to have her glamorous evening, and Wayne wouldn't be able to do a thing about it!
"Sharon?"
She looked up. Ron was smiling in the doorway. "Sorry I'm a minute late. Traffic's bad tonight. I'm just waiting around the corner on Snyder, but if I see a police car, I'm going to have to circle."
"No problem," Sharon smiled back. "Just let me get my till put away and grab my coat and I'll be right there."
The whole short walk to the car, she felt like she was walking on a cloud. Ron sensed her mood when she got into his car.
"You had a good day, I take it?"
"I had a
glorious
day," she beamed. "I did something brilliant. I can't believe I didn't think of it before!"
"Oh really?" Ron smiled, catching some of her enthusiasm. "What?"
Sharon giggled maliciously. "Something that's going to keep Wayne out of our hair for a while..."
Please let us know what you think
here!