Post by Admin on Jun 5, 2014 13:13:31 GMT -5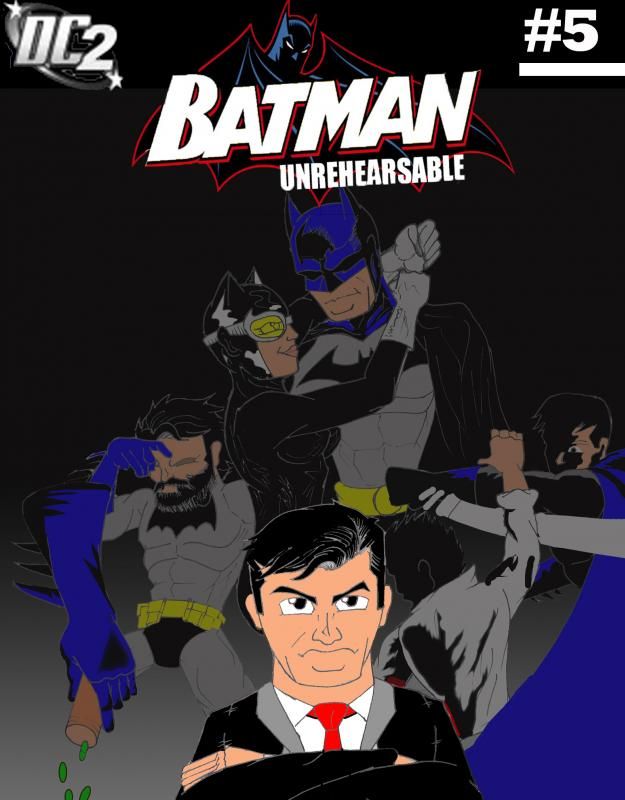 Unrehearsable
Issue #5: "Interrogation Strategies"
Story by Ellen Fleischer
Art by Kevin G
Beta Read by Kathy, Debbie, and PJ
Edited by Mark Bowers
Author's Note:
Commissioner Loeb is a canon character from Batman: Year One.
I'm not exactly the most wanted criminal
no I'm not I wasn't and I'll never be
and may I question
your interrogation strategies

--Waterdown, Interrogation
Ron lit another cigarette, his second today. He'd thought he'd kicked the habit six months ago, but the events of the last few days had proven otherwise. He watched Grayson's retreating back as the younger man moved briskly away.
He swallowed hard. Grayson had been polite, even friendly. But there had been something about the look on his face that warned Ron not to mistake him for a pushover. He pulled a tissue out of his pocket and mopped his brow. Then he went back to his car, pulled out his cell phone and called Paxton. "Les," he said when Paxton picked up, "are you sure you want to go this route? If it backfires, the repercussions are going to be a lot worse than they would have been if we'd just dropped the whole thing."
"Then you'll have to make sure it doesn't backfire," Paxton said calmly. "If Wayne tries to take back the company, it could be a disaster. I don't think he had the mental competence for it
before
his arrest, much less now."
Ron's eyebrows shot up. "Come on... he was Batman! He had to have something going on upstairs."
Paxton laughed. "Batman? Until the mob war, I didn't think there was any such person. After that..." his voice hardened, "if it was Wayne all along, I'm not surprised that he was as incompetent as a cape as he was as a CEO."
"Incompetent? Les, are you—?"
Paxton cut him off. "Listen to me, Ron. Wayne was an idiot who paraded around in a costume and got in the way of legitimate law enforcement. He was a blundering amateur who must have done more harm than good. And when he finally, somehow, won them over and got them to follow his lead, he got thirty of them killed. I think that our shareholders are going to take a very dim view of a... a... damned
lunatic
at the corporate helm. We're all better off without him. Now, can I count on you?"
Ron gave a mental shrug. He'd done what he could to talk Paxton out it. "You know you can, Les. When did you have in mind?"
"You've been driving her to her second job for a little while, now. Does she work every night?"
"Every weeknight."
"See if you can set something up for Saturday evening, then. I'll contact one of my attorneys and see if he can be present at the meeting. I suppose," he continued sourly, "Ms. Ryerson will need some representation at that hearing."
That, at least, was a relief. "I'll sound her out when I pick her up tonight."
"Let me know if you hit any further snags," Paxton ordered. "Call me when you have her answer." The line went dead.
Ron took a deep breath. Then he picked up the phone again and sent a two-word text to Grayson's cell: Saturday night.
*****
Selina found Bruce in the cave, staring at the computer screen. "How's it going?" she asked.
Bruce sighed. "I've been providing honest answers," he said. "Unless you'd prefer one of them, I'd suggest rescinding your question."
"That bad?"
The elevator doors parted behind them to admit Jim, as Bruce added, "Dick never mentioned anything quite this invasive when he applied to the academy."
"Were you even paying attention when he talked about it?" Selina asked with a raised eyebrow.
"Of course," Bruce replied. "I was still hoping I could convince him to quit."
Jim laughed. "I can't
think
why he wouldn't have brought it up then," he said. His voice turned serious, although his smile remained. "Actually, I can. Police vetting procedures really got tough only in the last ten years or so, and the changes didn't all happen everywhere at the same time." He made a face. "Bludhaven actually had the dubious honor of being the last city in the country to adopt the stricter processes—I think I read something about that right around the time I left for Europe." He shrugged. "Dick just happened to sign up a year or two before they finally got with the program."
Bruce sighed. "It's to be expected. On the whole, his luck has been better than mine."
"Hold on a second," Jim held up a hand for emphasis. "Just because he had it a little easi
er
doesn't mean he had it easy. What I went through as a rookie was pretty damned intense, and it would have been worse when it was Dick's turn. Even if it wasn't quite the ninth level of Hell it is today, that doesn't mean it wasn't as insulting and invasive as all get out, and I have a hard time calling anyone who went through some form of it 'lucky'."
Bruce let out a slow breath. "At least now I understand why the officer in personnel mentioned that he'd never had to take the test. I was wondering."
"What? Whether there was more than one job track and Sawyer was arbitrarily pointing you down a harder road?" He shook his head. "They grandfathered in the officers accepted under the old rules, but all new candidates go through the grilling. I'll admit that non-sworns aren't roasted for quite as long, but somehow, I don't think you'd be satisfied stuck behind a desk."
Bruce frowned. "Non-sworns?" He felt like he should know this one, but then he'd never really paid much attention to the different category types within the GCPD. His main interactions had been with Jim and, at times, with whichever officers happened to be on-hand when he turned a collar over to them.
"Police staff who don't wear badges and aren't classed as peace officers. In other words, civilians who work for the department. They aren't academy-trained, and most of them get spared the polygraph, but they still get grilled. And even some non-sworns go through what you're facing now, because if they handle evidence or other sensitive information, we need to know that they can keep their integrity intact."
While Bruce remained silent, Jim added, "Look. It's your call. It always is. But the way I see it, if you're putting yourself through this level of torture anyway, then you might as well go for the whole thing and qualify for what you absolutely want down the road." He gave Bruce a meaningful look. "And short-term, well, I doubt you want to go through all of this just to end up working parking enforcement, do you?"
Bruce shot him an expression of pure horror.
"That's what I figured. So," he sat down, "besides being insultingly invasive, how
are
you finding the questionnaire?"
Bruce hesitated. "I... may have hit a snag with the full disclosure," he admitted, glancing briefly at Selina. "They're going to want to know about any current or past... personal relationships." He looked at Jim. "You said that I could expect to have everyone I know be invited downtown for an interview."
"Well, in some cases, they'll visit," Jim said, "but yes."
Bruce looked at Selina. "How... comfortable would you be with that process? I..." He looked away. "I understand if you'd prefer to leave temporarily. Until the GCPD makes their decision."
Selina shook her head. "Don't you think I've done enough of that?" She smiled. "Besides, I don't think they're going to handcuff me to a chair and take turns interrogating me—that's more your kids' style."
"What?" Jim frowned.
Bruce coughed. "It was after Rich shot you. We needed answers quickly and," he looked back to Selina, "you weren't in the mood to provide them." He swallowed. "And my judgment was impaired or I would have tried other methods."
"You mean like
asking
me?"
Bruce looked away. "That might be a wiser tactic to use in the future, yes." He took another breath. "Or right now, for that matter.
Are
you willing to speak with the backgrounder?" He leaned forward. "Is it
safe
?"
"Oh, I can keep my claws sheathed," Selina grinned. "He'll be fine." She laughed. "Okay, okay. Working with the Birds has its advantages. If anyone tries to run my prints, it'll come up 'no match found' unless I
want
a match to come up."
"But when they ask whether I've had dealings with known criminals," Bruce said, "obviously, I'm going to need to mention my... people, since vigilantism falls under that rubric. However..."
"Ah," Selina smiled. "No worries on that front. I got it taken care of months ago. Why don't you run a check on Catwoman in the criminal databases right now?"
Puzzled, Bruce obeyed. His eyes slid over the record and then snapped back. "
Selma
Kyle?"
Selina burst out laughing again. "It seems like some idiot booking clerk made an error that wreaked havoc with my life. Selina. Selma. I guess the handwriting on the original papers was a little hard to read. Anyway," she continued innocently, "I had no
clue
who this 'Selma' person was, until I went to get my license renewed and nearly got arrested, and then... oh boy did I raise a stink! Go on. Run a check on 'Selina Kyle' now and see what comes up. You should have a lot of nasty letters to the authorities demanding that they fix their records." Her smile grew wider. "Bottom line: Selina Kyle has no criminal record. As far as the authorities are concerned, she's
not
Catwoman; that would be this Selma character... And I can assure you, Bruce my dear, that Catwoman has no intention of
ever
getting caught."
Bruce typed in the necessary instructions. After a moment, he looked back at her. "Intentions aren't everything. That being said, this does make things simpler."
Jim cleared his throat. "So when they ask you point-blank about whether you've ever had dealings with criminals and not turned them in..."
Bruce looked from Jim to Selina, and gave an exaggerated shrug. "Sometimes, despite my efforts to bring Catwoman to justice, she managed to give me the slip. That's not even a lie." He hesitated. "About Helena... I would rather it not be recorded that she's my daughter. For her safety."
"Yeah, if some hacker found that bit of intel," Selina swallowed hard. "I already know how you feel about her, Bruce. I'm not about to pick a fight with you over sensible precautions."
Bruce looked at Jim. "Well?"
Jim sighed. "Well," he said reluctantly, "if there's no proof of criminal activity, there's no use bringing it up. It's not like the DA's office would want to move on it without evidence." He looked down. "That's probably your best defense if they start needling you on that score: because of the line you were walking, you didn't want to attack anyone unless you were
positive
that you were chasing the right person." His expression hardened. "But I'm telling you, Bruce—assume that when they're asking you invasive questions, nine times out of ten, they've got the answer in front of them and they just want to see if you're going be honest about it."
"I know." Bruce sighed heavily. "Thanks." He frowned. "I don't seem to be able to go back and change my references on the online form."
"Just mention it at the interview," Jim advised. "But be prepared to be asked in detail about how serious you two are."
"Oh?" Selina asked archly. "Maybe we should get our stories straight, then. How serious are we?"
Bruce gave her a hard look which quickly turned to a rueful smile. "Serious enough that when you needed a place to stay after one of my old enemies threatened you—which is essentially what happened—you came to me and you've been staying here for a few weeks." He reached for the glass of water behind him and took a sip.
"Ah," Jim said. "And are you two sleeping together?"
Bruce spat water over the monitor. "I beg your pardon?" He sputtered as Selina laughed.
"Hey. The backgrounder is going to ask it."
"Oh, for..." Bruce grabbed for the napkin and began mopping the screen. "That's none of his damned business."
"Well, if you tell him that, it's an automatic disqualification," Jim shot back. "I told you this was going to be invasive. I wasn't kidding.
Nothing
is off-limits. Nothing is sacred." He leaned in closer to Bruce. "And if
you
were conducting this kind of investigation, would you even question whether you were going to look into this stuff?"
"I..." Bruce shook his head helplessly. "Fine. I'll anticipate the question."
"We both will," Selina said.
Bruce took a deep breath, turned back to the screen, answered the question that he'd been looking at before and blinked. "I believe," he said slowly, "that I may finally be done with this." He typed the instructions quickly and submitted the file. Then he reached for the phone.
"Who are you calling?" Selina asked.
Bruce reached for a post-it note with a number scrawled on it. "The background investigator. He said to call as soon as I'd finished."
"That fast?" Selina blinked.
Bruce had his mouth open to reply when a voice came on the other end of the line. "Yes, am I speaking with Detective Chiarello?" His voice was firm and businesslike, with none of Batman's gravel or 'Brucie's' polite befuddlement. He pulled his focus back to the phone, but not before he caught the faint smile of approval on Jim's face. "Detective, this is Bruce Wayne. You'd said to get in touch with you—yes, I've just submitted it. Yes, I'll hold."
In response to their questioning looks, Bruce covered the mouthpiece. "He's just making sure he's got—Yes, Detective, I'm here. No... What? Um... yes. Yes I... I suppose I can. I'll see you... shortly."
He ended the call looking uncharacteristically flustered.
"What?" Selina asked.
Bruce looked from her to Jim, and then back to the phone. "He wants me to come in for the interview at six."
"Tonight?"
Bruce nodded. "And since that means going out in rush hour traffic,"
for the second time today,
he added mentally, "I need to leave now."
Selina wrapped her arms around his neck. "Good luck, handsome," she said, planting a kiss on his cheek. "Now get out of here."
"Better change first," Jim interjected. "You're hardly dressed for a job interview."
"Noted," Bruce acknowledged, hugging Selina back. Then he turned and headed upstairs.
Selina sighed. "I guess I'd better get supper on before Helena wakes up from her nap. Want to come keep me company?"
Jim shook his head. "I think I'm going to call my daughter. I have a few things to discuss with her."
*****
Sitting in her monitor womb, Oracle gulped. She hadn't
meant
to eavesdrop that long; she'd only been wondering how Bruce was making out with the questionnaire.
Her comm-link buzzed. "Hi, Dinah."
"I just thought you might want to know," Black Canary said breathlessly, "I'm meeting with the backgrounder tomorrow at nine."
"That's... great," Barbara smiled. "Really great."
"Babs? Is something wrong?"
Barbara sighed. "Oh... nothing the Federal Witness Protection Program couldn't cure..."
*****
Back at GCPD, Bruce gave his name to the receptionist at the main desk and took a seat in the waiting area. It was only a moment or two before a trim man with a shaved head and a neat salt-and-pepper mustache, who appeared to be a few years younger than Jim, came out. "Mr. Wayne? Detective Marcio Chiarello. If you'll follow me, please."
"Hey, Maury," one of the desk clerks said.
"Hey yourself, Gwen." He turned back to Bruce. "This way."
Bruce followed the detective upstairs, down the hall past the commissioner's office, and into a side office with no nameplate outside the door. There wasn't much in the room beyond a desk, two chairs, and a machine he recognized at a glance.
"I trust you have no objection to taking a polygraph?" Chiarello asked.
"Not at all." Bruce hesitated. "I know that you're aware that they can be inaccurate," he said.
"How about you let us worry about that?" Chiarello said. "The polygraph is just one of the tools we use."
"I understand," Bruce said, taking his seat. "I'd like to mention though, that Wonder Woman has a more accurate method, if you'd like to take advantage."
"Nothing doing," Chiarello said, taking his own chair. "We're bending enough regulations for you as it is." He frowned. "Okay. Here's how the process works from this point on. I'm going to go over your answers from the PHQ, as well as some other things that came up during my investigations. This will probably take a couple of hours. Usually, we wouldn't use the polygraph unless you qualified for a second interview, but seeing as the commissioner's asked me to fast-track this, we're rolling two sessions into one. We're also going to be speaking to some of the people who know you. You do realize that although you have provided references, we're not in any way restricted to calling them alone, correct?"
"Yes."
"Okay.
If
everything checks out, you'll get a call in a couple of days asking you to come down for a psych evaluation. Your scores and results will then pass to committee, and if they approve you, you're good for the academy."
Bruce frowned. "I was told I could bypass that if I passed the final examinations."
Chiarello shrugged. "That's between you and the commissioner, Mr. Wayne. Frankly," he got up and walked over to the polygraph machine, "I wouldn't worry about those examinations until
I'm
done with you." He held up two long rubber tubes. "Okay, I guess you know the drill. These go around your chest and abdomen to measure your respiration."
Bruce nodded and offered no resistance as Chiarello attached the tubes, placed a blood pressure cuff on his arm, and attached galvanometers to his fingers. Satisfied, he walked back to the machine and flipped a few switches. A low buzz filled the room.
Chiarello returned to his desk. "Right. Let's get started. I'm going to ask you a few basic questions and I want you to answer truthfully. Will you state your name for the record?"
"Bruce Wayne."
"What is your address?"
"1007 Mountain Drive, Bristol."
"What is your date of birth?"
Bruce gave it.
"All right. Now, I'm going to repeat those questions and I want you to lie to me..."
*****
"Did you know she's got a rap sheet?"
Paxton frowned and gripped the telephone a bit tighter. "Excuse me?"
"You heard me. Petty vandalism, property damage, creating public disturbances... Not to mention last summer when she spent a day in jail on contempt charges."
That brought him up short. "Why wasn't I informed?" he demanded.
His lawyer laughed harshly. "Did you even check her out? Les, not every crime makes the papers. If they did, you'd read about a lot more shoplifters and DUIs. I'm not saying I can't win the case, but this isn't going to be the cakewalk you made it sound like when we spoke earlier. Especially not once Wayne launches a countersuit."
Paxton clenched his other hand into a fist. "Do everything in your power, Morton," he gritted. "Earn your retainer's fee."
"I will," Morton replied, stung. "But unless there's some sort of evidence on her side that would make this thing more than 'her word against his,' I don't see it ending well. Have a good evening, Lester."
Paxton slammed the phone down on the table. Then he picked it up again and hit a speed-dial button. "Ron. Have you set up a—oh, you have? Saturday evening at seven? Excellent. I'll complete the arrangements on my end. Just make sure you have a working camera." He hung up.
"Excellent," he whispered with just a bit less self-assurance than usual. It was still going to work out, he told himself. Everything was
still
on track.
*****
Bruce was in Hell. He was sure of it. One of his old foes had recognized him walking into GCPD headquarters and shot him on the spot and he was going to spend the rest of eternity answering these questions. And he'd wondered what would be left to ask after he'd completed the PHQ. Chiarello was using those as a starting point.
He'd had an eventful life. He knew that. But going over it now, piece by piece, was agonizing. His natural reaction to interrogation was to stay silent and glare. Suppressing that instinct was taking its toll. He was actually relieved that Jim had convinced him not to try to fool the polygraph. With the stress he was feeling, Bruce wasn't positive he could have pulled it off.
Chiarello kept firing off questions.
Bruce struggled to not sound defensive as he replied. Yes, he had been arrested four times. Twice for murder, once for treason, and once for vigilantism. True he'd been exonerated on the first three counts and found not criminally responsible on the fourth. It still didn't sound good. He reminded himself that it wasn't supposed to sound
good
; it was supposed to be truthful.
"Regardless of who was at fault," Chiarello began again, "have you ever had a physical altercation with anyone not mentioned on the PHQ? Or... you know what? Let me rephrase. Not counting the time you spent in Arkham, how many days have gone by in the last...um... decade or so, when you
haven't
had a physical altercation with someone?"
Bruce fought back a surge of irritation with a basic meditation technique.
He's trying to see if you have a volatile temper. Relax. Don't let him rile you.
"Not many," he admitted. "I gauged the amount of force to use on a hostile based on the amount of force that the hostile was attempting to use against me. Someone attempting to injure or kill me was injured in turn. Someone who ran, I chased to apprehend but used minimal force."
"Were you aware that minimal force is still assault?"
"Yes." He wondered how much remorse he should be coaxing into his voice.
Chiarello stared down his nose at him. "Hope you aren't under the impression we'll look the other way if something like that happens now," he said. "We've come a long way since Loeb's administration. Ever taken anything from a former employer or anyone else without permission? That includes stuff like office supplies, password codes, evidence from a crime scene..."
Bruce employed a more advanced relaxation technique. "Yes."
"All those billions coming to you from Mommy and Daddy's will and you still found it necessary to steal."
I suppose I COULD have bribed an officer to give me the intel I needed. It's not like I didn't know who the crooked cops were.


Aloud, he said, "At times, I believed that it
was
necessary, yes."
Chiarello grunted and moved on through the questions. Bruce kept his voice level as he replied.
They already know the truth, he kept reminding himself. Sawyer wouldn't be wasting your time subjecting you to this if she meant to automatically disqualify you. None of this puts you in a good light. That is the POINT. If you'll lie to protect yourself now, they have every reason to expect you'll lie to protect yourself later. Relax. Don't let the questions get to you. Relax...


"When and where was the last time you were present when others were using illegal drugs?"
Bruce thought back. "It was within a week of my arrest. I'm... sorry. I don't have the precise date. I can tell you that I left the perpetrators... wait. I don't know if they were
using
the drugs. The Bowery Barons had approximately 25 kilos of crack-cocaine in their possession that they intended to sell on the street. I left them tied up in a garage on Logerquist after dropping off the evidence with the first patrol car I spotted. I believe that the officer I spoke to was... Manapul."
"Tony Manapul?" Chiarello grunted. "I know him. I'll see if he remembers. So the last time you saw anyone using was about three years ago?"
"Yes."
"Let's move on, then. Have you ever sold, bought, delivered, manufactured, grown, produced, or injected any controlled substance?"
Bruce nodded. "Yes. Between my night activities and my training—not to mention the time that I was shot on the courthouse steps when I was on trial for treason, I've had occasion to use a number of prescription painkillers. These have included opiates." He frowned. "Medication was prescribed to me at Arkham. I believe that some of it might have been on the list of controlled substances. Unfortunately, I don't recall the specific drugs involved. Also, I don't know whether you've received my medical records from immediately before my transfer to Arkham, but I was given a dose of Desoxyn without my knowledge or consent."
"It's here," Chiarello nodded. "My fault. That one's phrased a bit broadly. Let me ask you this: apart from the Desoxyn, have you taken any controlled substances that weren't prescribed to you by a doctor?"
"No." Was it his imagination, or had Chiarello begun to thaw, just a little?
"How about steroids?"
Bruce sighed. He couldn't say Jim hadn't warned him about this one. "Over fifteen years ago. Do you want the details?"
Chiarello's eyebrows shot up. "Go for it."
*****
"Seriously?"
The younger cop poured himself another cup of coffee from the urn. "Yup. Gwen saw him come in. He's up with Chiarello now."
A third officer made a face. "Better him than us."
Laughter. Agreement.
"Say," the younger cop ventured, "you think he'll pass?"
"Do I think he'll pass?" a fourth cop drawled. "Only if he gets to rewrite the rulebook so we do things his way—and yours truly isn't putting on no cape an' tights!"
More laughter.
"Besides, you know what happened the last time people trusted him to have their backs. Who d'you think's gonna want to ride with him in a squad car?"
"I would," the younger cop said. "Seriously." As the others laughed, he repeated, "I would!"
"So would I," said the first officer.
"You, Kyle? Wasn't your partner one of the twenty-eight?"
"Yeah, he was. Ever held a command in a war zone, Matt? Because I have. And let me tell you something about that. Sometimes you don't have all the facts you need to make an informed decision, but you still have to give the orders based on what facts you do have. Yeah, he commandeered the force, but did you ever stop and think why we all followed him?"
Silence.
"It's because he had a record over sixteen years strong for getting the job done. Now it's a damned shame that we lost a lot of good people that day, but if he'd been one of ours, there would have been an inquiry, probably some extended leave time, and then he'd have been back in the squad room. Well," he glanced up at the ceiling, rolling his eyes, "he's been 'away' for a couple of years, and seeing as the commish pulled Chiarello out of IA to handle his backgrounding, I'd say he's getting that inquiry—better late than never. Bottom line, I think the department would have to be run by idiots not to jump at the chance to have him onboard. And if they're looking for volunteers to partner up with him, I'm sticking my name in the hat."
"Until he gets you killed, Robbins."
"Funny. I could've
sworn
all those mobsters had something to do with that bloodbath." A sigh. "Anyway,
ladies
, I'm heading back to finish my paperwork." He made a face. "Maybe if I do land myself that rookie, I can fob some of those reports off on him."
*****
Chiarello wasn't thawing after all. His questions just kept coming. It was a battle of wills now. The backgrounder seemed to be waiting for him to make a misstep or tear off the electrodes and storm off in a huff. Bruce couldn't deny he was tempted, but he was also damned if he was going to hand him that victory.
"Since you were fourteen years old, have you ever shoplifted anything?"
Shoplifted?
"No."
"Have you ever stolen money from a place where you work?"
Not money.
"No."
"Have you ever taken a motor vehicle without the owner's permission?"
"Yes. May I explain?"
Chiarello nodded. "Go ahead."
"I was in pursuit of Joker. One of his goons got a lucky shot and took out the Batmobile's front tire. He'd threatened to set off a Smilex grenade in an elementary school if his demands weren't met. I couldn't risk losing him. A motorcyclist was coming by. He had to slow down to get around the Batmobile. I intercepted, unseated him, and took off after Joker on the motorcycle."
"You catch him?"
"Yes."
"Was the bike okay?"
"No. I tracked down the owner and had a new one delivered to his front door with my apologies."
Chiarello's expression didn't change. "Ever stolen a credit card?"
"No."
"Ever been ashamed of taking something from anyone?"
"Yes."
"Ever received stolen property?"
"Yes, as part of a sting operation."
"Aw, you didn't ask if you could elaborate that time," Chiarello smirked. "Ever obtained property under false pretences?"
"Yes. May I clarify?" He managed not to spit the words out.
"Sure, go for it."
"It was another sting operation. I was working closely with then-Commissioner Gordon at the time."
"Ah." Chiarello made a notation on his pad. "Ever filed a false insurance claim?"
"No."
"Are you deliberately withholding information from me about something you have stolen?"
"No."
There was a rustle as Chiarello turned over a page. "Have you ever struck another person—outside of play, athletic competition, or scope of employment—since the age of eighteen?"
Bruce sighed. He hadn't liked this section on the online form, and he wasn't going to like it now. "Yes."
"Have you ever struck a child which resulted in injury or bruising?"
"May I explain?"
"Oh, I think you'd better."
Bruce sighed. "If we're defining 'child' as 'minor,' I have used physical force against gang members. I've tried to use less force when my opponents were clearly underage, but if they were armed, I defended myself."
"And if we're talking a bona fide child?"
"I've trained my partners. There were a few occasions when I misjudged their moves and a blow which I expected them to counter... connected."
"So, accidental?"
"Yes, but accidental or deliberate, bruises were caused." Bruce took a deep breath.
"Have you ever unlawfully taken the life of another human being?"
He exhaled. "No."
The interrogation continued.
*****
"So, under the circumstances," Dick was saying, "I don't think going there in costume is the brightest move. I'd go in civvies, but I have no way of knowing which road he's going to be taking to enter Battergate."
The man on the other end of the video chat nodded soberly as he ran a hand through close-cropped blond hair. "So you need someone who can cover all potential entry points," he said, catching on.
"Plus the fact that you're a police officer helps. Hopefully, if GCPD spots you, they'll think you're one of theirs."
Barry Allen frowned. "I could do it like that," he admitted, "but there might be an easier way. I'm off-duty now, and I can't access the KPD records remotely, but can you check on your end whether there are any open files that could conceivably fall under joint jurisdiction? Any Gotham-Keystone connections at all?"
Dick considered. "Let me look into that. You have an idea?"
Barry nodded. "I've done reserve officer training. It's encouraged for criminologists. And KPD heartily endorses the idea of officers volunteering in other jurisdictions to get a feel for how other departments handle things. The main issue," he said seriously, "is timing. You want me to be in Gotham three days from now. For that, I need to present them with some reason like..." he shrugged, "I don't know... someone we've been trying to collar for a while who's lying low in Gotham. Or, someone from Gotham who's just become a Keystone problem, and we're hoping a chat with some of his old contacts might furnish a few leads." He smiled. "Give me something like that, and I might be able to get the paperwork approved by noon tomorrow."
Dick grinned back. "On it."
*****
Chiarello poured himself a glass of water. "Want some?" he asked.
Bruce shook his head.
"Are you currently in a relationship?"
Bruce frowned. "That's not... clear. May I explain?"
"Go ahead."
Bruce took a breath. "Last month," he said, "a woman I had dated before my arrest contacted me. One of my old foes had surprised her at her apartment. Because of my circumstances, my home security system is formidable. She's been staying with me for nearly four weeks. I'm not sure whether to call that a 'relationship' or whether it falls under 'friendship'."
"Mmm. Are you sleeping with her?"
Jim had been right. "No."
"When was the last time you slept with her?"
Bruce's eyes went flat. "Three years ago."
"Were you sleeping with anyone else at the time?"
Oh, for crying out loud!
"No."
"Ever had a threesome?"
"WHAT?!"
Chiarello leaned forward, clearly enjoying himself. "Have... you... ever had... a... threesome... with or without her?"
Bruce glowered. "No."
"How about with an animal?"
"Oh for... no! No."
"Have you ever paid for sex?"
"No."
"Have you ever
been
paid for sex?"
"I've been offered payment not to contradict a starlet who thought that claiming she'd had sex with me would somehow give her an edge at an upcoming audition."
"Did you take the payment?"
"No. I ignored the story." His lips twitched. "Apparently, the media did too... at least, her career doesn't appear to have gone anywhere."
"Who was she... just out of curiosity?"
Bruce frowned. "Myra... something. Fontaine? Fontana?" He shook his head. "I'm sorry. It was over ten years ago."
Maria Delafontaine, but that one's really none of your business.
Chiarello shrugged. "No big deal. "Have you ever destroyed or damaged property?"
"Yes."
And you asked me that already.


"Have you ever been the subject of a restraining order?"
Bruce sighed. "I am at present."
Chiarello chuckled. "Yeah, I saw. Any others?"
"No."
"Ever tortured or abused an animal or been present when others did?"
"I was present," Bruce nodded. "And I put a stop to it."
"Are you currently under investigation by any law enforcement agency concerning any alleged violation of the law?"
Bruce sighed. "To the best of my knowledge, no."
"Have you committed or taken part in any crime that you were not punished for?"
"That depends on how you view the time I spent at Arkham," Bruce replied. "I was found to be not
criminally
responsible for my actions; however I'm not certain whether you would consider my two years there to be punishment."
If you don't, I may argue the point.
"Ever thought of committing a crime you didn't carry out?"
Who doesn't? Admit it: you threw this one in to see if anyone answering 'no' can fool a polygraph.
"Yes."
"Would you have any reason to be concerned about an investigation into your honesty?"
"Yes. May I explain?"
Chiarello shrugged. "Be my guest."
Bruce closed his eyes. "Having a secret identity has its... difficulties. ... It's fair to say that I told a number of untruths to safeguard my activities. So, if you were to contact old friends and acquaintances whom I fobbed off with one excuse or another while I was trying to find a secluded place to change into costume to answer the Signal—" he sighed, "particularly women with whom I broke dates in order to pursue a criminal investigation—it's fair to say that the picture they would paint for you would be rather bleak on that front."
"My heart bleeds for you. Have you ever entered or remained on the property of another, knowing you did not have permission of the owner to do so?"
"Yes."
"Right now, are you thinking about a specific crime that you have committed that you are intentionally withholding?"
"No."
Chiarello laced his fingers together and stretched his arms over his head as he leaned back. "Okay," he said, letting out a breath, "we're done. Let me get those things off you."
Bruce exhaled too.
"You eaten?"
Bruce blinked. He was about to say that he wasn't hungry, until he remembered that the polygraph was still on. "No."
"Grab your coat," Chiarello ordered. "We'll head over to Finnegan's. My treat."
Bruce started to shake his head. "No, thanks."
"Why? You'd rather have
filet mignon
or pheasant under glass? Look, if you're hoping to rub elbows with the rest of us working stiffs, you can have a burger and a couple of beers like everyone else. That's if you still think you've got a chance at
being
one of us." He reached over and unfastened the galvanometers. "C'mon. If we hurry, we can get stools at the counter, and you can watch while something other than you gets grilled."
Bruce clenched his jaw. Was this also part of the interview process, he wondered? Hungry as he was, the last thing he wanted to do was go to dinner with the man who had spent the last couple of hours tormenting him—particularly since he suspected that this was going to be another test. But if dinner with the backgrounder was part of the vetting, he knew he had no choice. He'd come too far now to walk away. "Fine."
Please let us know what you think
here!