Post by Admin on Jul 17, 2014 19:15:43 GMT -5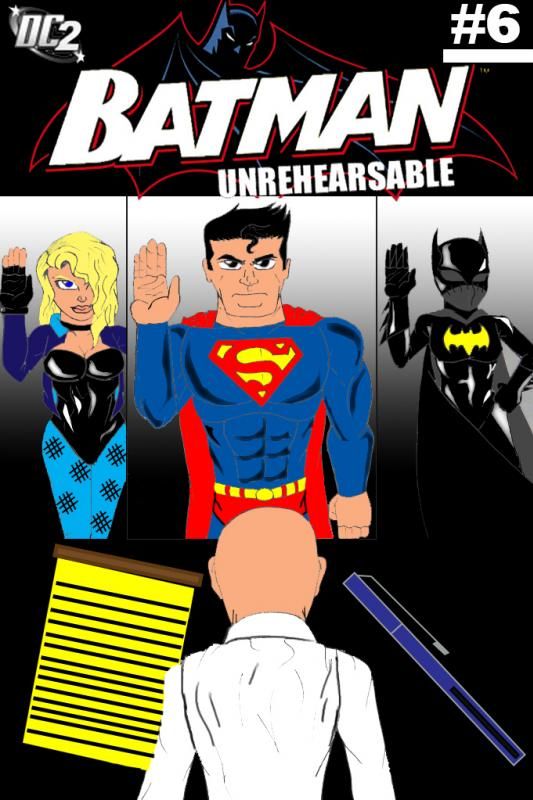 Unrehearsable
Issue #6: "Testimonies"
Story by Ellen Fleischer
Art by Kevin G
Beta Read by Kathy, Debbie, and PJ
Edited by Mark Bowers
Author's Notes:
According to
The Daily Planet Guide to Gotham City
, the Metropolis Monarchs relocated to Gotham after No Man's Land.
Officer Kyle Robbins is an original character who last appeared in
Lost to the Night
.
Standing here. I can look you in the eyes.
And without a question. I can testify.

—M. Jason Greene, Clay Walker: You're My Witness
Dick called Barry nearly an hour later. "Calvin Monroe."
Barry frowned. "Who?"
"He used to work for the Roman, back in the day," Dick explained. "After Batman took out the bulk of that family, Monroe fell off the radar. Except that according to a paper trail that he hasn't tried hard enough to hide," Dick transmitted the electronic file with a grin, "he seems to be your headache right now."
Barry smiled back. "I figured you'd find an angle. Well ... this is good for us," his smile dropped away, "but lousy for Keystone. The Roman, you say?" He shook his head frowning. "The name doesn't ring any bells for me—not at all." He sighed. "And police files only tell part of the story," he added. His frown changed to a scowl. "There are a lot of missing details in this dossier. Almost like they were being deliberately held back. Do you figure this ... Roman was making payoffs?"
Dick nodded. "That went on a lot before Gordon took over. Bruce had to work extra hard to find enough evidence for the DA's office to even think about building a case."
Barry sighed. "Well, then," he said slowly, "I guess if I can't find all the facts in the official records, it looks like I've got no choice but to come to Gotham and see if I can talk to some of the veteran officers who were around at that time. Ever since we got rid of the Combine, there hasn't been much organized crime in Keystone, period," he added. "Which means that we're a bit rusty on some of our procedures." His blue eyes opened wide as he smiled. "Frankly, it wouldn't hurt to get some hands-on experience in a city that does have a mob presence. I think I should probably run that idea by my supervisors," he added innocently. "What do you think?"
Dick laughed. "Let me know when you've got everything set up. The city's changed a lot since the last time you were here. I'll see if Bruce and I can give you the grand tour."
*****
Notwithstanding Chiarello's jab at haute cuisine, Bruce had rarely been one to turn up his nose at a burger. His father had never been much for turning on the barbecue. That was probably part of the reason that he enjoyed them. Hamburgers and pizza were two foods that didn't trigger memories of happier times. There had been a couple of years in his boyhood when he had practically lived on them—much to Alfred's dismay.
He'd grown up, of course. He'd travelled to countries where hamburgers took a distant back seat to rice, satays, curries, and kebabs. And in the interest of keeping up his socialite image, he'd exchanged fast food for gourmet cuisine—until Dick came into his life, of course. Even Alfred had agreed that man didn't live on vichysoisse alone.
No, Bruce had no objection to the dinner menu—only to the company. He supposed that this was one of the differences between being interrogated as a potential new hire versus being interrogated as a suspect: suspects weren't expected to dine with their interrogators after the interview. For the briefest instant, as he followed Chiarello to the underground parking garage, he wondered whether there was some way he could frame himself for something relatively minor—just to get out of dinner. Almost at once, he realized that it wouldn't work. Even if he could come up with something in the next two minutes, all he'd probably end up doing would be to disqualify himself entirely from the proceedings.
By now, that was unacceptable. He'd passed a certain point in his thought processes that took walking away off of his list of options. After all the stress he'd subjected himself to, he wasn't about to withdraw and let his efforts go to waste. No, he was in this for the long haul now.
He wondered whether this meal wasn't part of the personality assessment. Did Chiarello mean to ply him with beers to verify whether he had a drinking problem? He knew that some potential employers fell back on that tactic, although he'd never countenanced it at WE. Perhaps it was a test to see how comfortable he was rubbing shoulders with his (hopefully) future colleagues after hours. After all, if most officers stopped by Finnegan's when their shifts were over, they'd likely expect Bruce to not only join them, but to fit in. He gave a mental sigh. He'd endured similar situations with the League, also.
"We'll take my car," Chiarello said, interrupting his thoughts as he gestured toward a bluish-gray Chevy that needed a paintjob. "Hop in."
Bruce obeyed without comment.
"Suppose you came in a Ferrari or a Jag?"
"Town Car," Bruce returned shortly.
"Oh, excuse me," Chiarello said. "Finnegan's is for working stiffs. Park a Town Car nearby and, if you're lucky, you won't come back to find it's been keyed. Bet you've got a stereo system in there?"
Police band radio, actually.
"Ummm..."
"Yeah, you don't want to drive it where we're going. The bar's fine; the neighborhood? Ehhh..." He put his key in the ignition. "Don't forget to buckle up. I'd hate to have to cite myself," he said, chuckling a little at his own joke.
Bruce resigned himself to the drive and to his new companion.
*****
"Sharon Ryerson is..." Commissioner Sawyer caught herself. "Well ... I don't anticipate that the restraining order will hold up, assuming that Mr. Wayne contests it." She frowned. "Which I would advise him to do, if he's still intent on going through the program after this evening."
Under the cowl, Dick raised his eyebrows. "Is something wrong?"
Sawyer shook her head. "I won't be able to answer that until I see his assessment scores. I've done everything I can for him," she said quietly. "But his acceptance to the Academy isn't a formality. I'm ... aware of the position I put him in. If he means to blow the vetting process, it's very possible for him to fail."
"How about if he gives it his best shot?" Dick asked. "Is it a rubber stamp?"
"No, it's not." Sawyer moved away from the window and gestured to Dick to step inside. He followed her as she returned to her desk and sat down. "There are certain allowances we can—and do—make for special circumstances. Officers who left the force to pursue other career plans and subsequently return ... ex-military personnel ... When you spend years dealing with the crap that nobody else wants to deal with, it changes you. It's changed him; it must have." She took a deep breath. "What I need to know—what the backgrounder needs to know—is how deep those changes run. Whether he wants to carry one or not, if he passes the examinations, we're going to be handing him a loaded gun and sanctioning him to use it. We need to know that we can trust him not to
mis
use it—and don't go telling me he'd never do it," she said, holding up a warning hand as Dick opened his mouth to protest. "Put any person under enough pressure and they'll snap and do something you'd never have believed possible. It takes about a second to pull a trigger and once it's done, there's no taking it back. And I think we both know that no matter how stable he seems right now, there are always going to be some ... concerned parties ... who'll hold Arkham against him."
Dick nodded reluctantly. "So..."
"So, one of my best backgrounders actually transferred into Internal Affairs last year. I've pulled him back out for this. Maury's seen it all. He has experience both in doing background investigations and in questioning seasoned officers. He'll get the whole picture." She smiled wearily. "Moreover, he won't compromise his principles, and anyone who knows him knows that. We all know the outcome I'm hoping for, but if he doesn't think your mentor qualifies, then regardless of my feelings in this matter, Mr. Wayne will not pass. If Maury passes him, then..." She sighed. "I wish I could truthfully tell you that it would shut up anyone claiming we fudged the results to get him on the force. Of course, there are always going to be rumors spread by people with grudges or too much time on their hands. Or both," she admitted. "But Maury's stamp of approval will go a long way toward stifling most of that talk."
Dick nodded. "And I guess, if I'd come to discuss this with you before Bruce's interview, you wouldn't be telling me nearly as much."
"You catch on fast," Sawyer said, amused. "Was there anything else?"
"Um ... yeah, kind of. It does have to do with the restraining order. Bruce didn't mention it to me, and I don't want it to look like I've been poking around behind his back."
"Even though you are," Sawyer deadpanned.
"Well ... not intentionally. Look. Can you find some ... pretext for him to be down here or for at least one of your people to be at the manor on Saturday evening between six and nine?"
Sawyer frowned. "Why?"
Dick sighed. "If everything goes according to plan, you'll know the answer by nine-fifteen on Saturday night. If it doesn't, at least Bruce will have an alibi."
The commissioner's frown deepened. "Give me more to work with."
Dick sighed again. "Ryerson's being manipulated. Someone else is involved who wants that restraining order to stick. I'm handling it, but I can't share the details ... yet."
Sawyer shook her head, still frowning as she considered. "Be careful," she said finally. "If she calls in a report of
anyone
in a Bat-suit within 500 yards of her house, I'm going to have to have my people look into it. And since your relationship to Mr. Wayne is a matter of record—"
"It won't be me," Dick said smoothly. "Or anyone else in a cape." He sighed. "Look, I'm sorry I can't give you all the facts, but some secrets aren't mine to share. I can tell you this much: probably tomorrow, you're going to get a request from the Keystone PD for one of their officers to come down to Gotham pursuant to an ongoing investigation. The officer in question is an old friend of Bruce's who knows us pretty well," he said, waiting for Sawyer's nod. "His credentials are legit, in case you were wondering, and he is working on a real case. He's also going to be helping out with this other issue."
"In other words," Sawyer said tartly, "you don't want me to ask too many questions if he expresses an interest in exploring Battergate."
"Something like that." He waited hopefully.
Sawyer sighed. "If I can count on his discretion, you can both count on mine. Be careful, Batman. I need the situation to be contained and resolved quickly, or I will involve my people."
"Understood," Dick said. "And ... I appreciate your trust."
"You've earned it," she remarked as the young vigilante strode back to the window. Another moment and he was out in the night, leaving Sawyer alone and shaking her head.
*****
"What's your poison?" Chiarello asked. "The draft beer's pretty good, but they've got a couple of imports. Or if you wanted something a bit more hoity-toity—"
"Ginger ale," Bruce replied firmly.
"You sure? Seriously, this is off-duty time. You're not even driving."
Bruce shook his head. "On-duty or off," he said, "I'd prefer not to impair my judgment. Ginger ale. Please."
Chiarello shrugged. "Two ginger ales," he announced to the bartender. "Brought in some fresh meat to sample some of yours."
The bartender shrugged. "Two ginger ales," he repeated, slamming two glasses of ice down on the bar. He reached underneath and brought up two cans of Schweppes, set them down next to the glasses and popped the tops. "You know what you want to order yet?"
Chiarello turned to Bruce. "I think I know the menu. You can have burger and fries, burger and salad, burger and salad and fries ... if you're vegetarian, I guess you can have salad and fries ... if you're not, did I mention there are burgers?"
"Funny man," grumbled the bartender. He looked at Bruce. "We've got fish and chicken, too."
"Which are also burgers. Just less greasy," Chiarello retorted.
Bruce took a deep breath. "I'll have the chicken burger with fries and salad. Please," he added.
"Chicken combo," the bartender nodded. "And you're having your usual, I take it?" He glanced at Chiarello.
"Medium-rare, bacon double cheese, extra onions, two orders of fries and make sure you put the ketchup bottle down here—none of those..."
"...Damned little childproof foil packs, I know, I know already. Comin' right up." He turned to the griddle and slapped two patties down. Then he moved to the sink and began washing out glasses.
Chiarello looked at Bruce. "You know, you're not what I expected."
Bruce's eyebrow shot up. "Is that good or bad?"
"Haven't decided yet." He chuckled. "Bet you can't wait for today to be over."
Bruce turned the statement over in his head, looking for a catch. Finally, he nodded slowly. "You'd win that bet," he admitted.
"Heard about the deal you made with the commish. How's the kid?" Chiarello sounded concerned. "I saw how he looked on the news. It wasn't pretty."
"He's doing all right," Bruce said. "One of his teammates is a healer."
"That's lucky."
Bruce cleared his throat. "Listen, I know you're probably going to want to interview him. Is there any way that you can avoid mentioning my ... deal?"
"You didn't tell him," Chiarello inferred.
"Look. He was—is—someone I'd worked with extensively. In the space of one year, he lost his girlfriend, and his father. He also lost a good friend who was like a father to ... to him and to me. After my arrest..." He closed his eyes. "I'm getting ahead of myself. After his father died, his stepmother had a breakdown and was in a facility in Bludhaven."
Chiarello's eyes opened wide. "And when Chemo hit..."
"As far as we know," Bruce said softly. "Her body was never found. Harrier... dealt with his pain by withdrawing. Something he probably learned from me," Bruce admitted. "He took my arrest hard."
"Ah," Chiarello replied. "So, the reason you don't want me to tell him—"
Bruce took a sip of ginger ale. "I don't blame him for leaving Gotham after my arrest. I want you to understand that. I was doing my utmost to push people away. He was the only one to take the hint. He sees it as an act of weakness. I don't—but he's convinced that I do, as well. Since my release, he's been trying ... we've both been trying to put the past in the past." He looked away. "Look, he already blames himself enough for what went on before. If he finds out that what happened to him the other night had any bearing on my decision to go through with this ... this..." He let his voice trail off. "I don't want to subject him to that. Especially since there won't be any way I can convince him that it didn't."
"He doesn't listen to you?"
Was that an actual note of sympathy he was hearing? Bruce sighed. "He forms his opinions and sticks to them. It's easier to refute facts than opinions and..." He took another sip. "I don't usually articulate my feelings well. It's something I work on—have been working on—for close to two years, now." He set the glass back down gently on the counter. "I've told people who work with me that actions speak louder than words. Unfortunately, I've let actions speak
instead
of words a few too many times." He shook his head. "Either he'll think that I did this to prove to him that I don't bear a grudge, or he'll blame himself for putting me in this position."
"You sure you don't want that beer?" Chiarello asked. "Or something stronger? I can drive you home after."
Bruce shook his head. "I'm fine."
"To answer your question," Chiarello said, "we keep all interviews confidential."
"I appreciate that," Bruce said, nodding slowly. The bartender slid two plates down before them. Bruce bit into the chicken burger and chewed thoughtfully. It wasn't bad. The bun had been toasted a bit darker than he preferred, the patty was slightly overcooked, but he'd had worse. He'd
made
worse—a fact that always made him more forgiving of other people's cooking mishaps.
"Pity the baseball season hasn't started yet," Chiarello remarked. "I'm waiting to see the Knights and the Monarchs go head-to-head. Hoping Elton Curtis knocks those transplants back to the Big Apricot."
Bruce grunted. "Didn't Curtis get traded to the Monarchs last season?"
Chiarello blinked. He looked like he was about to argue, but then simply shrugged and picked up the ketchup bottle. "Eh ... who's got time to keep up with sports anyway?" He held the bottle over his fries and gave it a thump.
A river of ketchup poured onto his plate. Chiarello growled.
Bruce kept his face carefully blank.
*****
Dick was in the kitchen when Jim walked in, a plastic shopping bag tucked under his arm. "Bruce isn't back yet," he said. "I just..."
Jim smiled as he saw the takeout flyers on the counter. "Order for yourself if you're inclined," he said. "If he's not back yet, it means they're—"
"I know," Dick nodded, lowering his voice to an ominous whisper. "The Dinner."
Jim laughed. "It's not funny," he said. "Still..."
Dick sighed. "I know. But he's going to be gloomy enough when he comes in. Figured I might as well joke while I can." His eye fell on the shopping bag. "What's that?"
"A bit of information he shared with me over a year ago," Jim said, reaching into the bag and pulling out a carton of jamocha almond fudge ice cream. "And unlike fast food, this can keep for a while if he's not hungry when he gets in."
"Which he won't be," Dick nodded. "Not if Chiarello—and it is Chiarello; Babs confirmed it—is wining and dining him." He winced. "Or beering and burgering him, if my interview process is anything to go by. And even if we're wrong and the interview just ran overtime, Bruce doesn't eat under stress. If he's worked up, he'll be hitting the exercise equipment downstairs."
"True."
Dick sighed. Then he gave the flyers another look. "You like mushroom-pepperoni?"
Jim blinked. "Too spicy. You're ordering from Luigi's?"
Dick nodded. "That's the plan."
He smiled. "Mind you, I'm not vegetarian under normal circumstances,
however
," he lowered his voice to a conspiratorial whisper, "get the
vegissimo
: red sauce, mozzarella, mushrooms, black olives, green pepper and fresh tomatoes."
Dick grinned. "Sold!"
*****
After they were finished eating, Chiarello excused himself for a moment. Bruce was tempted to get up and leave, but he forced himself to remain. For all he knew, this wasn't over yet and Chiarello meant to drag him back to GCPD for another interview, or some other evaluation. Besides, he wasn't going to walk back to the parking garage to get his car and if he called for a taxi, it would be awkward if Chiarello returned before it got here. Normally, Bruce wouldn't have cared, but he didn't want to take the chance that cutting out early would somehow disqualify his application. Not that he wasn't rethinking the whole deal after today...
"Glad to see you looking better," a voice rumbled.
Bruce spun and found himself looking into a face that was more familiar than it should have been. It was the same with the voice. He'd heard it before, but he was having a hard time placing it now. He frowned.
"Kyle Robbins," the man supplied. "Sergeant. I was out at your place ... about—"
Bruce's lips pulled into a smile, as he felt an uncharacteristic rush of warmth. "I remember," he said. "A year ago last November."
Robbins nodded. "I'm glad you got that business sorted out," he said. "I told myself back then that if I ever did run into you on the street, it'd be my privilege to buy you a drink."
Bruce shook his head, but a ghost of his smile still remained. "I think Detective Chiarello's taking care of that."
Robbins made a face. "Next time, then. After the evaluations." When Bruce looked up sharply, Robbins focused on a condensation ring on the counter. "Word gets around," he said. "So, I don't need to ask why you and Chiarello are sharing a meal in a cop bar."
Bruce's smile vanished entirely.
Robbins sighed. "Just keep reminding yourself of one thing. You'll only have to deal with those questions once."
Bruce was silent.
Robbins gestured toward the seat that Chiarello had vacated. "May I?"
At Bruce's nod, Robbins sat down. "Just on the initial application," he repeated. "Never again. D'you know why?"
Bruce grunted noncommittally.
"Because," Robbins said, "not one seasoned officer who's been out there on the streets, day after day, night after night, could pass it. Not with the shi-excuse me, my ... um ... lack of culture is showing. Not with the
excrement
we have to wade through on a daily basis. And every backgrounder knows it." He smiled. "I figure ... you were out in that mask and cape for ... what? Sixteen years?"
"Seventeen," Bruce corrected, feeling suddenly old.
"Seventeen," Robbins repeated. "I don't even want to know what you had to wade through. I figure you're probably a thirty-odd-year veteran already."
Bruce closed his eyes. "I'm not sure the people making the decision will see it that way."
"Mr. Wayne," Robbins said smiling, "somehow, I don't think the commissioner'd disregard your track record when it's the reason she's been trying to recruit you for the last few months."
Bruce nodded slowly. "I ... about last November," he whispered. "I'd like to thank you for..." He took a deep breath. "Look, we both know you showed me more consideration than I had the right to expect under the circumstances."
Robbins snorted. "What? You mean my letting you walk out of the cemetery under your own steam? Come on. Every two-bit punk hoodlum knew that if the Batman gave his word to them it was money in the bank. Why
wouldn't
the GCPD rate the same treatment?" He clapped one hand on Bruce's shoulder. Bruce tensed for one moment, and then relaxed. "And as long as you'd given your word to come peacefully," Robbins continued, "well, I didn't see the point in hauling you off in handcuffs."
Bruce nodded once more, afraid to trust his voice.
"Your dinner date's on his way back," Robbins said, withdrawing his hand. "I'd best head off to my table. But in all seriousness, I still want to take you out for a drink sometime."
"I'd like that," Bruce admitted with a small smile. "Thanks."
*****
"Think he'll come back here?" Jim asked. "He knows we'll be waiting to hear, and if he doesn't want to talk—"
"Yeah, he's got the city mined with safehouses and hidey-holes," Dick nodded. "Including a few he never shared with the rest of us." He considered. "Even so, I think he'll be back here tonight. Whether he'll sit here and glower or..." He got up from the table. "Come to think of it, maybe I should check the chain on the heavy bag and make sure it's secure."
"That what you tackled after your interview?"
Dick shook his head. "No, I hit the uneven bars. Bruce takes things to extremes. Either he'll want to pound something or he'll find a mat and meditate." He sighed. "If he wants a spar, I'll give him one. We haven't done that in a long time."
"Another night," a voice said quietly from the doorway.
Jim started. "You're going to give me a heart attack one of these days," he snapped, but it was more for form's sake. "You know that, don't you?"
Dick's eyes fell on the remains of the pizza that he and Jim had shared earlier. "I can warm up the last two slices in the oven if you didn't eat yet," he said. "And there's ice cream in the freezer."
Bruce looked from Dick to Jim. "I'm not quite that fragile," he said mildly. "But thanks for waiting."
"Are you...?" Jim didn't finish the sentence.
Bruce nodded wearily. "You didn't exaggerate about the questions," he said. "And," he held up a warning hand, "don't ask me how it went. I'm not sure I can answer that. Where's Selina?"
"She's putting Helena to bed," Dick said. "Or she's upstairs in the den." He stood up. "Well, if everything's okay, I'm going to head home."
"What about patrol?" Bruce asked. "I thought last night was your night off."
Dick made a face. "It was. I was out for a bit earlier, but things were pretty quiet." He smiled. "If my hunch is right—and no, I didn't see them—well, you know the rest of the interviews start tomorrow. Babs has been arranging accommodations for the folks who aren't local and needed to arrive today and stay overnight. I know for a fact that she's been splitting everyone up in different hotels. I'm guessing that there might have been a few extra hands on deck tonight."
Bruce winced. "I should have anticipated something like that, I suppose. Mind you," he forced a lighter note into his voice, "I know you've been working too hard, even with your two-nights-on, one-night-off schedule. Have a good evening."
Dick frowned. "Not that I'm complaining, but you're in a better mood than I thought you'd be. Surprisingly so. Guess it wasn't as—"
"No, it was as bad as we thought. Worse," Bruce admitted. "But I ... ran into an old friend afterwards. We caught up." He yawned. "It's been an exhausting day."
Jim sighed. "Come on, Dick. That's a hint if ever I heard one. Good night, Bruce."
As the front door closed behind the two men, Bruce smiled. Despite the interrogation Chiarello had put him through earlier, it actually was a good night.
*****
Excerpted from Background Check Interviews. Interviewer: Marcio Chiarello

Candidate: Bruce Wayne

Interviewee: Black Canary


MC: Do you have any objection to our conversation being recorded?
BC: None whatsoever.
MC: Just so you know, I will be taking notes throughout this interview. These are for my reference alone and shouldn't be a cause for concern.
BC: I understand.
MC: Will you state your name, please?
BC: Dinah Laurel Lance. Black Canary.
MC: Do you have a preference?
BC: Not really. Whichever's easier.
MC: All right, Ms. Lance. We've got a bit of ground to cover, so let's just get started, shall we? How long have you known Bruce Wayne?
BC: Oh ... I'd say it's probably about sixteen years now. Maybe seventeen.
MC: Would you say you know him well?
BC: Pretty well, yes. We've worked closely together in the past.
MC: How does he relate to you?
BC: [
12-second pause
] Professionally.
MC: Is there anything going on between the two of you?
BC: You mean on a personal level? No.
MC: How about in the past?
BC: No.
MC: If I were to ask him the same question, how do you think he'd respond?
BC: Well ... if he's being honest, the same way.
MC: If he's being honest?
BC: I'm sure you know that Mr. Wayne adopted a ... a public persona to deflect suspicion away from some of his activities. The Bruce Wayne described in the society pages is very much a womanizer. I think that, if you were to ask him the question while he was playing that character, he'd very likely give you a helpless laugh and say something like 'I live in hope.' The truth, however, is that we're colleagues. Friends. Nothing more.
MC: So you never dated.
BC: I've accompanied him to a few social gatherings, but those were more along the lines of undercover work. I was backup. It was strictly business.
MC: I see. Have you ever known Mr. Wayne to get angry?
Interviewee: Batgirl


BG: Yes.
MC: How often?
BG: Sometimes.
MC: I'm sorry. Is English not your first language?
BG: First ... spoken. [15-second pause] Long story.
MC: I'd like to hear it.
BG: Okay. Until five years ago I ... People say, actions louder than words. I had actions. Not ... words. No ... word-language. Only ... body. I read ... people better than ... books.
MC: What are you reading about me right now?
BG: Surprise. Suspicion. Skeptical—Not lying! You ... you're trying to understand. Pity. Don't. I was ... okay. [10-second pause] You don't believe.
MC: How often does Mr. Wayne get angry?
BG: Sometimes.
MC: Once a day? Once a week?
BG: Depends.
MC: Have you ever seen him lose his temper?
BG: No.
MC: Never?
BG: Never. He gets ... angry. But controls.
MC: When was the last time you saw Mr. Wayne get angry?
BG: Really angry?
MC: Yes.
BG: On pass from Arkham. He ... he wanted to leave. Wanted hearing. Lawyer said, 'not yet.'
MC: And what did he do?
BG: Hung up phone. Punched wall.
MC: He was talking with his lawyer on the phone?
BG: Yes.
MC: So when he punched the wall, how hard did he punch?
BG: Not hard.
MC: Was the wall damaged?
BG: No.
MC: Did he break anything? Did he hurt himself?
BG: No. No.
MC: Did he scare you?
BG: No.
MC: When was this?
BG: March.
MC: Last March?
BG: Yes.
MC: Have you ever seen him get angry for any other reasons?
Interviewee: Superman


S: I'm sure you're aware that he lost his adopted son in Qurac. Joker was responsible. There was nothing provable, but he had a deathbed confession from another one of the victims.
MC: Did you hear the confession?
S: No.
MC: But you believed him?
S: Well, I do have the advantage of being able to detect changes in heart rate, breathing, and body temperature. He was angry, agitated, even. But he wasn't lying.
MC: I see. So you're a living polygraph?
S: In a manner of speaking.
MC: Could Mr. Wayne fool you?
S: I believe he probably could—if he had a chance to prepare, and if he knew that I was going to be observing him.
MC: Had he had a chance to prepare then?
S: No. Bruce has always kept a very tight rein on his emotions. He may
act
out of control at times—mostly when he's trying to intimidate people—but it's rare for him to actually
be
out of control. When Jason died, he was falling apart.
MC: How old was Jason?
S: Fifteen.
MC: Was Jason ... Robin?
S: Not at that time. His performance had become erratic. Bruce had taken him off active duty.
MC: Did you observe this or is it what he told you?
S: He told me.
MC: What was Jason doing in Qurac?
S: He'd been living on the streets when Bruce found him. Some months after the adoption, he discovered that his mother was working in a refugee camp.
MC: In Qurac.
S: Yes.
MC: And after Joker killed him, what did Mr. Wayne do?
S: He dealt with the bureaucracy and returned to the States—at which point, he began hunting for the Joker.
MC: Did he find him?
S: Yes. It wasn't hard. Joker had been named the Bialyan ambassador to the UN. He'd actually sent Batman a message telling him to meet him in New York. The State Department asked me to ensure his safety.
MC: Joker's safety?
S: That's right.
MC: What did you do?
S: I confronted Batman. I ... had to break the news to him about the Bialyans' newest diplomat.
MC: What did he do?
S: He hit me.
MC: He hit you?
S: Let's keep in mind that I'm invulnerable for a moment, Detective. Let's also keep in mind that he'd just buried his son not twenty-four hours earlier, and that I'd come to tell him that the person who killed him had full diplomatic immunity and was thus untouchable.
MC: What happened after he hit you?
S: He calmed down. We talked. He suspected that the Bialyans would only have employed Joker if they meant for him to carry out a wide-scale assassination. That suspicion turned out to be correct: the target was the UN General Assembly. We worked together and thwarted the attempt.
MC: What happened to the Joker?
S: He escaped.
MC: Do you know whether Mr. Wayne ever confronted Joker again?
S: At least a dozen times. Possibly more.
MC: In your opinion, what would Mr. Wayne do if he was locked in a room with the Joker and he knew that there were no witnesses and no cameras?
S: In my opinion, he would incapacitate Joker as quickly as possible—likely with a blackout hold or a knockout spray. Two to ten minutes later, depending on the kind of lock used, he would be out of the room. If he was within two blocks of a precinct, he'd be carrying Joker. If he wasn't, he'd leave an anonymous tip for your people and you'd likely find Joker either still locked in that room or tied to nearby streetlamp, depending on whether Bruce had to remove the door to get out...
*****
Alex steepled his fingers and listened without interruption until Bruce was finished. Then he let out a low whistle. "It sounds like you've had more excitement in the last couple of weeks than you've have in the last six months," he said.
Bruce looked up sharply.
"Have you been keeping that journal?"
"Yes."
"Good. How
are
you handling the vetting?"
Bruce thought for a moment. "It wasn't a pleasant way to spend yesterday, if that's what you're asking."
Alex shook his head. "I don't think anyone enjoys the process," he said. "But this is a situation where you aren't calling the shots, correct?"
"Yes," Bruce said slowly. "But also no. When I say that I have no choice in the matter, that's not precisely true, is it? I can choose to walk away from the table at any time. I can choose to not put myself through any of this—provided I also choose to mothball the costume or go back to who I was before."
Alex nodded, waiting.
"My options are limited," Bruce continued. "But they are options, nonetheless. I'm..." he smiled. "I'm
not
being forced into this, any more than I was forced to sleep on a filthy floor in a bug-infested hut in the middle of the Vietnamese jungle. But every option has a cost."
"Is this option worth it?"
Bruce hesitated. "I don't know. But maybe," he closed his eyes, "maybe, for once, it's better that way."
Alex frowned, puzzlement plain on his face. "I'm not sure I'm following."
Bruce shook his head. "If I knew for sure that the benefit outweighed the cost," he admitted, "I might try to do what was necessary to influence that outcome. As much as everyone has been stressing to me that I need to be honest with my answers, the reality is that my answers are probably not ideally what the assessors want to hear."
"It sounds to me like they want to hear the truth."
Bruce shook his head. "They don't want me to lie. But the truth may well disqualify me." He looked down. "I did something that, in retrospect, was probably ... unwise," he admitted. "After I had filled out the questionnaire and submitted it online, I ... at the time of my arrest, one of my colleagues took note of the list of charges that the DA's office prepared to file against me. I accessed that file and read the data. The volume of charges was," he swallowed, "extensive."
"Were the charges accurate?"
Bruce sighed heavily. "Yes. I still feel that my actions in those cases were justifiable, but..."
"But you're concerned that a court may not have seen it that way."
Bruce nodded.
Alex leaned forward. "Then, I suppose it's a good thing that you were never charged." He smiled. "I don't know how the interviewer is going to view it. It seems to me that, if they know about your past activities, they must also know that you didn't always follow the rules. How much leeway they'll give you isn't something that I can predict, but it's reasonable to believe that they would cut you
some
slack."
Bruce nodded again. "So I've been told. Repeatedly. But I don't
know
." He sighed. "So, yes. That much
is
out of my control."
"It must be frustrating," Alex remarked. "Everything you normally use to manipulate a situation—money, prestige, subterfuge—here, they'd all work against you. And the truth ..."
"... may not achieve the desired result, either," Bruce completed the thought.
"And, from what you told me, you're still not entirely sure what that 'desired result' is."
Bruce shook his head. "No."
*****
Excerpted from Background Check Interviews. Interviewer: Marcio Chiarello

Candidate: Bruce Wayne

Interviewee: Arsenal


A: So, did you make Bruce squirm? Because if you got it on video, I would pay good money to watch that.
MC: Would you be seated, please, Mr. Arsenal?
A: Just Arsenal, Smokey. Or do you prefer Mr. Policeman, like in the Brad Paisley song?
MC: Detective's fine.
A: [Interviewee hums several bars of a country song]. Oh, sorry. You wanted to ask me about Bruce, right?
MC: If you don't mind.
A: Hey, if I minded I wouldn't be here. Fire away! OH GAWD, DON'T SHOOT! Heh-heh. Sorry. Just always wanted to say that. You understand.
MC: Let's get down to business. How long have you known Mr. Wayne?
A: Well, I met him about fifteen years ago, but we haven't really worked together much. His son and I are pretty tight, though.
MC: So you know him through his son.
A: Yeah, we had this little club. You've probably heard of it ... Teen Titans? That ring any bells for you? So the old guard would pop in every so often with a 'hey-just-happened-to-be-in-the-neighborhood-and-thought-I'd-drop-by-to-see-if-you-kids-are-throwing-a-wild-block-party-oops-did-I-just-say-that-out-loud?' At least Bruce didn't pretend. He didn't trust us, and we knew where we stood.
MC: Why didn't he trust you?
A: Um ... maybe because we were a bunch of adolescents on our own in New York City? Sure, we were good at solving crimes, but we were also teenagers spending a lot of time with no supervision. C'mon, Maury, m'man: we just met and you've probably pegged my personality already, amirite? This is me as a responsible adult. You want to guess what I was like fifteen years ago?
MC: Did you resent Mr. Wayne checking up on you?
A: Hell, I resented Wonder Woman checking up on us, and she's HOT. Yeah, I resented it. I was used to being on my own.
MC: I thought you had a mentor.
A: I had a pal. Nightwing—Robin in those days—had a mentor. And yes, I resented that. Don't tell him I said so.
MC: Did you observe Mr. Wayne and Robin together?
A:
Batman
, Maury. Batman. Mr. Wayne was a suit who fell asleep in board meetings and made the society pages every week with a different floozy. Batman was a whole 'nother kettle of fish.
MC: Did Batman and Robin get along?
A: Hey, Dynamic Duo, right? Yes, they got along.
MC: Did you ever see them fight?
A: Argue, sure.
MC: Heatedly?
A: Yeah, I guess.
MC: What about?
A: Usually, about his taste in friends. Namely me, in case you haven't caught on.
MC: So, Batman didn't approve of you.
A: I think it's more that he didn't approve of Green Arrow, and I was GA's partner, so a bit of that disapproval rubbed off on me. Ah, the hell with it. Look, Batman never gave Robin a second to slack off. Everything was training, everything was regimen, and Robin loved it. He said he'd been training since he could walk, and since the stuff we did was kinda dangerous, he couldn't slack off. And no, thinking back now, I don't think that Batman was a slave-driver. I thought it back then...
MC: What changed?
A: You gotta understand, GA wasn't that driven. He didn't have time to train me much. I think he took me on because I already knew my way around a bow and arrows and he wanted a kid partner. Once he saw that I could handle myself in the field, he pretty much let me do what I wanted. So when I saw Batman riding that kid's back, yeah, I thought it wasn't fair. Except I didn't realize that I wasn't wishing Batman would let up. I was wishing GA would crack down.
MC: Oh?
A: See, Batman didn't show up much. And when he did, he always noticed what you did wrong before he told you what you did right. But Robin knew—we all knew—that he was interested. He cared. Maybe he couldn't come out and say he was worried when it looked like we'd got ourselves killed or trapped in outer space or something. He was never "touchy-feely." But when we showed up safe and sound and he read us the riot act, I know I hated it, but I also know he cared.
MC: Did you ever see him lose his temper?
A: Define lose.
MC: Give way to uncontrollable rage.
A: You know he's never killed anyone, right? Cuz that's your answer right there.
MC: Ever see him raise his voice?
A: Sure. Why, does yelling make someone a bad cop?
MC: Not necessarily.
A: Glad we got that sorted out.
MC: Ever known him to use illegal drugs?
A: No, that would be me. Don't worry. I cleaned up my act over a decade ago. Now, the one time I experimented with hallucinogens, I thought I saw him 50-feet tall and giving me ye olde glower-o-doom. That's probably why I only tried that experiment once. Ever seen 'Scared Straight'?
MC: I'm familiar with it. Did Mr. Wayne know you were taking drugs?
A: I never told him, but I guess you know all about grapevines. Thing is, when I was ready for active duty again, he was the first one who gave me a fair deal. Yeah, he said he'd be keeping an eye on me, and he did—but he kept an eye on everyone. He didn't ransack my room when I wasn't there or demand random drug tests. And yeah, that's probably because he knew what signs to watch for if I did relapse. But once I got clean, he accepted me back before GA did.
MC: Did you ever see Robin with bruises or broken bones?
A: You do know that the Teen Titans were a team of vigilantes, right? I mean, when we encountered Deathstroke or Brother Blood, are you under the impression that we used to try to resolve our differences with a friendly game of rock-paper-scissors? Hell, yeah, he had broken bones and bruises. So did most of us at one time or another. What's this got to do with Batman again?
MC: Did you ever have reason to suspect that Robin's injuries had been inflicted by Batman?
Interviewee: Wonder Woman


WW: Great Hera, no!
MC: Not even unintentionally?
WW: To the best of my knowledge, no.
MC: Under what circumstances have you known Mr. Wayne to get angry?
WW: Bruce is a strategist—among the best I've ever met. He tries to plan for every contingency. If his plans fail, if someone is hurt or killed, he blames himself. Even when there was no reasonable way that he could have predicted the outcome.
MC: Anything else?
WW: He sets his expectations high, both for himself and for those who work with him. I believe that this is one of the main reasons he prefers to work alone. When he involves others, they are invariably either people whom he has trained himself, or people whom he has observed long enough to be convinced of their abilities. He can be harsh when mistakes occur, whether the result of carelessness or ... philosophical differences.
MC: Philosophical?
WW: It's a matter of record that I killed one man to save another. You're aware of the power of my lasso.
MC: Yes.
WW: Under its influence, Maxwell Lord told me that the only way to stop him from controlling Superman was to kill him. I did. A regretful necessity.
MC: I've read the reports.
WW: Bruce disagreed with my actions.
MC: He became angry, you mean.
WW: There
was
anger, yes. But also sorrow. We ... were closer once.
MC: Were you lovers?
WW: No. We'd discussed the possibility, but decided against it. We remained friends. Companions.
MC: And after you killed Lord?
WW: I went to him to explain myself. Under Lord's control, Superman had attacked him. No. Superman had nearly killed him. Lord's mental manipulations had Superman convinced that Bruce was Darkseid. Laboring under that mistake, Superman ... attacked at full force. Bruce's injuries were ... extensive. I'd thought ... I'd hoped that Bruce would understand my actions. Instead he told me to leave. He couldn't look at me.
MC: But would you consider that to be anger? Or pain?
WW: How often, Detective, can you say that you're feeling only one emotion, completely untainted by any other? He was angry. He felt that I had betrayed his trust. I went to him to explain my actions and, thinking back, I was looking for reassurance that our friendship was intact. He withheld that.
MC: Have you spoken with him since then?
WW: No.
MC: You know that if Mr. Wayne's application is approved, he'll be obliged to carry a gun, and it may happen that he'll have to use it. In your opinion, would he be capable?
Interviewee: Hawkman


HM: There's only one way to find out, but I can say this with conviction: if he does take a life, for any reason, you won't need to ask for his badge and gun pending an investigation. He'll approach you to surrender them. He is a warrior—an honorable one. Whatever actions he may undertake in the future, he will own them and face their consequences.
MC: If you heard that he was carrying a gun, would that concern you?
HM: If the circumstances were other than his becoming a peace officer, yes. Because it would mean that his moral code had altered. That would be ... highly uncharacteristic, causing me to suspect that other forces were in play.
MC: Other forces?
HM: Manipulation, mind control. We've encountered beings capable of both. We've seen illusionists and shapeshifters. When a colleague begins to behave in a manner inconsistent with his character, it's not something to take at face value.
MC: Do you consider him a friend?
HM: He's a comrade-in-arms. We've had our differences yes, but I respect him.
MC: What ... differences?
HM: There's strength in unity. He walked away from the League. It created a crack in the team, which deepened until the League disbanded.
MC: Why did he walk away?
HM: Frankly, he never confided in me.
MC: But you aren't convinced he had a good reason.
HM: If he never provided a reason, how could I determine whether it was good or bad?
MC: Did you ask him to clarify?
HM: No. His reasons for leaving didn't interest me. Only that he was leaving.
MC: Would you work with him again, if he rejoined the League?
HM: Of course.
MC: Of course?
HM: He's a strategist and a warrior. I'd have to be a fool to reject him based on my personal feelings...
*****
"It's all set," Barry said. "I just got the paperwork approved an hour ago."
Dick smiled. "Great. So, when do you come in?"
"Well, the Flash's interview is set for tomorrow afternoon, so I'll probably run in for that and stay."
Dick started to smile when he remembered something. "Barry ... could you maybe make it in tonight? You really need to be on time for this."
The older man blinked. "How long do you think it takes me to get to Gotham from Keystone?"
"Barry," Dick sighed, "please, don't make me access the JLA meeting minutes and verify how many times you showed up late. Normally, I wouldn't care, but this is important."
"I know." His eyes darted away from the monitor for a moment. "Hang on. I just got an email from GCPD." He looked up again a moment later. "Dick? Did you mention anything about me to the commissioner? Or anyone else with GCPD?"
"Just that you're an old friend of Bruce's and mine. Sawyer knows about the restraining order. I wanted to let her know I'm handling it, and I figured she'd be more accommodating if I let her know some ... less-classified details about the situation. I didn't blow your identity or anything. Why?"
Barry relaxed. "That explains it. Telling her that Bruce and I go way back. The email is from Maury Chiarello, inviting me to an interview tomorrow evening, regarding Bruce's application. As in, me—Barry." His expression grew serious. "Normally, that wouldn't be an issue. Thing is, he's asking to see the Flash at six tomorrow. He's asking to see Barry Allen at seven. That could be a little risky."
Dick nodded. "Bring Wally in, then?"
"That was my thought, yes. He can take the first interview. We'll leave Keystone together; I'll bring a magazine or something and wait around."
Dick grinned. "Sounds like a plan. And," he looked down, "sorry about that. I should've foreseen."
"No harm done. We were debating which of us was going to field the interview anyway. How
is
Bruce, by the way? I'm going to pop by and see him later, but is there anything I need to know?"
Dick shook his head. "Well, there is one thing."
"Oh?"
The smile was back. "Yeah, he still hates surprises. So call him first."
"I will. Wait. If he still hates surprises ... aren't we keeping him in the dark about how we're handling this whole False Face thing?"
Dick sighed. "He hates people fighting his battles even more. I'll apologize later. For now..."
"Understood. See you on Saturday."
*****
Cass was taking a practice GED test when Tim stopped by. She looked up. "My night off," she said. "Studying."
Tim smiled. "Yeah, I know. I thought if you wanted to take a break, maybe we could get a spar in before I start patrol."
Cass considered. "Let me finish science section," she said. "Then break before civics."
"Sounds good," Tim nodded. "I usually work out with Bruce, but he cancelled today. He said he had a lot to take care of."
Cass shrugged. "No problem. Glad to ... fill in."
"They interviewed you already, right?" Tim asked after a moment.
She looked away from the test and fought back her irritation. "Yes. Please ... talk soon? Can't concentrate."
"Sorry."
Cass nodded curtly and returned to the test. Nearly twenty minutes later, she got up and smiled at him. "Okay."
They moved to the mat.
"So how did the interview go?" Tim asked, as he straightened from the initial bow.
Cass shrugged and lunged forward, deliberately leaving Tim an opening. "Okay." She rolled with the kick, surged back and continued. "Asked about Bruce's ... temper mostly. Told truth."
Tim overextended. She grabbed his arm, twisted, and tossed him over her shoulder to the mat.
After that, they scuffled in silence. Tim needed his focus—and his breath—for the spar, and Cass had never been fond of 'infield chatter'. Finally, after what seemed an eternity—but was really only a moment or two later—Cass pinned him. "Again?" She asked.
"Gimme a minute," Tim muttered. "Dang. I thought I was better than this. Maybe I'm just worried," he admitted. "So far, they want to talk to Harrier and Robin. Pretty sure that when they start interviewing non-capes, they'll want Tim."
"Yes," Cass said. "Problem. Interviews recorded. Can you ... fake three voices?"
Tim frowned. "Two, maybe. But if they don't just use a recorder, if they actually run it through an analyser, it could get messy." He grimaced. "One more thing to worry about." He paused for a beat. "On top of my deteriorating combat skills, and Bruce shutting me out again. I know the interview process is tough, but I didn't spill state secrets when the BPD interviewed me for Dick, and I won't now."
Cass sighed. "Tim," she said, "you aren't only interview. Think Bruce probably more worried about others. And ... you fight well. But hurt not long ago." She frowned. "Patrol tonight. You're ... okay?"
Tim winced. "Yeah, I should be."
"Could sit out."
"Nah, I owe it to Bruce," Tim said. "Especially now."
Cass sighed. "Tim ... Bruce saved you because he's ... Bruce. He ... he doesn't want you to think you ... owe. Wants you ... okay." She frowned. There was something wrong about his body language. Something that made her think of deception, but yet, his words rang true. "What?" she asked finally.
"Why the hell did he have to strike a bargain with Sawyer?" he demanded.
Cass blinked. "You're worth it," she said. "Surprised he told you that part."
Tim shook his head bitterly. "He didn't. But you just did."
Please let us know what you think
here!