Post by Admin on Oct 29, 2014 17:48:28 GMT -5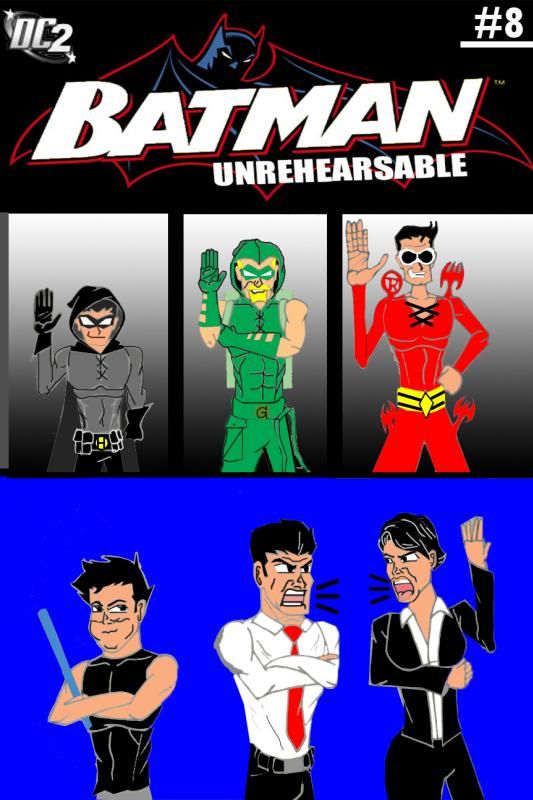 Unrehearsable
Issue #8: "Mistakes and Regrets"
Story by Ellen Fleischer
Art by Kevin G
Beta Read by Kathy, PJ, and Xenith
Edited by Mark Bowers
Author's Note:
Quick reminder that in this Alternate Universe, Bruce never adopted Tim. When
Locked Inside the Facade
opened, Jack Drake had just died during Identity Crisis and Tim and Cass were operating out of Bludhaven.
Barry Allen being a full-fledged detective is my own invention. Chalk it up as one of the divergences in this divergent Alternate Universe.
So, so you made a lot of mistakes
Walked down the road a little sideways
Cracked a brick when you hit the wall
Yeah, you've had a pocketful of regrets
Pull you down faster than a sunset
Hey, it happens to us all

—Jay DeMarcus, James T. Slater, Hilary Lindsay, "Unstoppable"
Dick sighed. He'd probably never be able to devise as many contingency strategies in a day as Bruce could in an hour, but years of working alongside him had taught him one vital lesson: don't get so enamoured of Plan A that you ignore the evidence that suggests it's time to switch to Plan B. "Bruce invited you to the manor tomorrow night?"
"That's right," Barry confirmed.
Dick took a deep breath. "You know how it's going to look if the League raves about him and the board slams him."
"Actually," Barry said slowly, "I don't. We don't. It's going to come down to who Chiarello thinks is more reliable—and openness plays a big part of that."
"But we're being open," Dick countered. "Aren't we?"
"To a point," Barry replied. "Look, as it is, when they ask me how Bruce and I met, I'm going to have to talk strictly about encounters I've had with him as a police scientist. Now, it's true that I've turned to Bruce every now and again to help me with a case—heck, to use his lab; sometimes we'd get backlogged, or I'd suspect that someone was deliberately trying to slow down an investigation. Still and all, there's a lot more that I
could
say if
my
identity were a matter of record."
"I understand what you're saying," Dick said, nodding, "but don't you think they'll be aware that we're going to have to keep some stuff back?"
"Aware, yes. Okay with it, not really. It's really going to come down to whether they trust that we're being as open as we can be, or whether they think that we're intentionally holding back the kind of stuff they need to know about Bruce. Meanwhile, you're going to have Paxton and his flunkies acting open and above board, all the while giving less-than-glowing accounts—and they'll have to, if they're trying to prove that Bruce isn't yet stable enough to come back to his company." Barry waited for that to sink in. "It could be problematic."
Dick took a deep breath. "I hear you. Especially when they ask Bruce why he thinks that the Board was running him down—they still do that, don't they?"
"Oh, yeah."
Dick sighed. "At least with me, I was more or less expecting it when Bruce refused to show up for me."
"That's right," Barry perked up. "I forgot that you were an officer for a while. What happened?"
"It... didn't take." He took another breath. "Okay. Change of plans. We tell him."
"I thought—"
"Look, what's better? Chiarello asks Bruce why the Board seems disturbed about his application and he sits there trying not to look like he's been caught off-guard, as he wonders whether Chiarello's fishing or whether they gave him a reason—and either way, Bruce doesn't know what it is... Or we tell him what's going on, how it ties in with the restraining order, and then fill him in on how we're fixing it?" Dick took another breath. "Either way, he's not going to like it. But this way, he at least knows what's going on."
"And if he forbids it?"
"Then we respectfully ask him to come up with something better, or we apologize and go ahead with what we discussed."
There was a long silence on the other end.
"Barry? Are you still there?"
Barry chuckled. "I'm just trying to remember that earnest young man I used to know—the one who'd never have dreamed of defying Batman."
"C'mon," Dick protested, feeling his face grow hot. "I was eleven. We all grow up." He winced. "I mean..."
"I'm just teasing you," Barry said, a smile coming across clearly in his voice. "And I shouldn't. I think you're right. So... were you planning to come by the manor tomorrow night around supper time so we could tell him together, or did you want to handle it earlier?"
Dick considered. "Earlier. I think he'll deal with it better if he has to hear it from me alone. Then if he shoots the idea down, you can try to convince him when you show. Meanwhile," he smiled, "if we're done, I should call Hal back and find out what he was on about—he sounded pretty upset."
"Actually," Barry coughed, "I may as well fill you in on that too. I did tell him to come with me tomorrow evening, but if you think we shouldn't dump it all on Bruce at once, maybe that's another thing we should change. You see..."
As Dick heard Barry out, his expression changed from concern to incredulity. "Oh, he did
not
...!"
*****
Tim sipped the coffee as soon as it had cooled enough to do so without burning his tongue.
"You realize that he needed an excuse," Barbara said as she poured herself a cup. "He doesn't blame you."
Tim shook his head. "He doesn't have to.
I
blame me. I can't believe I fell for that stupid trap."
Barbara sighed. Then she looked up sharply. "Why'd you turn off your comm-link, anyway?"
He had the grace to look embarrassed. "I didn't think the victim was going to make it, and I didn't want to hear anyone asking me if she was okay while I was going to be trying my best to keep her with us. Stupid, I know. Anyway, that's why. And now..."
Barbara raised her eyeglasses and rubbed the bridge of her nose. "What would you say," she asked slowly, "if I told you that Bruce called Commissioner Sawyer about acquiring deputy status almost a week before you got nabbed? Tim, he wants to go back, but he knows that with his identity an open book, it's not going to happen without some sort of official sanction."
Tim's eyes grew wide. "So you mean that Joker's ultimatum had nothing to do with his decision."
She hesitated a moment too long.
He slumped. "Nice try."
"Tim!" Barbara snapped with a sharpness that startled them both. "He was about to back down—because of the gun-handling issue."
"You're not helping."
"But
you
did!" Barbara took a deep breath. "He's afraid of guns. Knowing that saving you meant that he was going to have to work on it gave him the drive to push past that fear."
Tim shook his head with a bitter smile. "Bull. Bruce with a gun phobia? C'mon, Babs. Do you seriously expect me to believe that?"
Barbara regarded him solemnly for a moment. Then she reached up to the shelf over her computer and took down a jewel case, containing a single CD. "Bruce told us about it at a meeting the morning after you were captured," she stated. "I recorded it to fill you in later." She thrust the case at him. "When you're done playing it, if you still don't believe me, fine. Either way, we can discuss this further at that point. But you need to hear this."
Tim swallowed hard. Then he took the case gingerly and walked over to a nearby monitor.
Barbara went back to reading the report Zinda had given her on the Birds' recent mission to Austanburg. A moment later, she heard Bruce's voice clearly over the speakers as the CD began to play.
"Some of this, you already know, but I'll start with that. Shortly before I was accused of murder..."
*****
Excerpted from Background Check Interviews

Candidate: Bruce Wayne

Interviewer: Marcio Chiarello

Interviewee: Plastic Man


(Interviewer's note: Subject shape-shifted throughout the interview.)
MC: Could you please stop?
PM: What? Oh. Sorry. Nervous habit.
MC: Are you nervous about anything in particular?
PM: Just a little twitchy being grilled.
MC: Oh?
PM: Curse of a misspent youth. I paid my debt to society and all, but I didn't like getting interrogated then, and it sucks now. Frankly, if Bruce weren't a friend...
MC: So you think of him as a friend?
PM: Anyone who comes through for a guy as many times as he has, yes, I call him a friend.
MC: And would he say the same about you?
PM: I don't know.
MC: You don't. Um... could you change back?
PM: Oh, sheesh. Am I doing that again?
MC: Yes, and I feel silly talking to a puddle.
PM: Sorry. Where were we?
MC: You weren't sure if Mr. Wayne considers you a friend.
PM: Well, no. I'm pretty sure he does. I just don't know if he'd admit it. See... he's always serious. Grim. Never turns a frown upside down, you know what I'm saying?
MC: Go on.
PM: Well, a guy like me sort of sees that as a challenge—trying to get him to lighten up, I mean. So, I'd change myself into a whoopee cushion and sneak into his chair... that kind of thing.
MC: And?
PM: The frown stayed right-side up.
MC: I see.
PM: But deep down, way wayyyyyyyyyyyyyyy down, I kinda think he likes me.
MC: You do. Do you trust him?
PM: About as far as I can throw him. When I've turned myself into a slingshot. Not one of those Dennis-the-Menace types. One of those giant kinds like Wile E. Coyote orders from Acme, except I wouldn't toss him into the side of a cliff. [Pause] Yes. That was a yes. I trust him.
MC: You sound a bit uncertain.
PM: I'm not, really. It's more... okay. Look. He has major trust issues. In the sense that he always comes up with contingency plans. What if Superman gets taken down early? What if Green Lantern goes rogue? What if I have beans for seven meals straight? It's not that he doesn't trust us, it's that he worries that maybe trusting us could be a problem. [Pause]. And since Superman nearly beat him to a pulp a few years back, maybe he's got a point.
MC: Was that the only time his trust was betrayed?
PM: I heard you spoke to GL. He was there. I wasn't. Heard about it later though. Yeah, if it had been me, I would've quit too when I found out—and a lot less politely. Sheesh.
MC: So you're saying his, um, trust issues are justified.
PM: What you just asked me about happened long before I joined the League. I didn't know about it then. Frankly, that's part of the reason I didn't rejoin when they started up the latest version. Thing is... Batman made up a bunch of non-lethal ways to take us—and by 'us' I mean the League—down, if we went rogue. He never said a word. He just stored the data on his computer. Knowing him, it was probably encrypted. Almost had to be. Someone got it. I don't know how. Next thing we knew, we were all trapped—some of us in our worst nightmares.
MC: How did he react?
PM: You mean as soon as he knew what was going on? He told us.
MC: Did he attempt to shift responsibility at any time?
PM: No.
MC: Did he make excuses?
PM: No.
MC: So he saw his... contingency plans put into practice, and he immediately confessed that they were his plans.
PM: Yelled it at the top of his lungs.
MC: What happened next?
PM: We neutralized the traps. Banded together. Fought the bad guy. Then we sat down and took a vote.
MC: A vote.
PM: On whether to kick him out of the League. He left before it was finalized.
MC: But if he had stayed?
PM: He would've been gone.
MC: But you reinstated him afterwards.
PM: After what he did... we all had trust issues. He... well, he doesn't exactly apologize, but... Before, you asked if I trusted him. I do. Because he showed that he trusted us. By unmasking. Oh, and I got to slug him. And he didn't hit me back.
MC: And you'd be willing to work with him again?
Interviewee: Green Arrow


GA: Sure, if he wanted to.
MC: Despite his... abrasive personality.
GA: Abrasive? Him? Sheesh, if I corroborate that, I'll have to hear about pots and kettles for months. Hell, the Bat's a flippin' diplomat, compared to yours truly. Sure, I'd work with him again. "Liking" doesn't enter into it. I'd have to be an idiot not to know that any team's odds are better if he's on it.
MC: So you don't like him
GA: I didn't say that. We're friends. Good friends. But... Well, let's just say we don't see eye to eye on a lot of issues. Doesn't matter. We've butted heads more times than I can count, and we've stayed tight.
MC: But you've had your differences.
GA: Why, no, officer. We're cloned from the same donor. Exactly alike. Didn't you see the resemblance? Sheesh, it's like you're a damned telemarketer reading a survey off a script. Oh... sorry. That was uncalled for. I can always hang up on telemarketers.
MC: Is Arsenal your biological child?
GA: Huh? Uh... no. Why?
MC: I'm always curious about heredity versus environment. Okay. So you're friends, but you spend a good part of your time arguing, is that it?
GA: It's complicated. I mean, it's not like we hang out together outside of business. Sheesh, his idea of fun is upgrading his security systems. How are you supposed to get close to a guy like that?
MC: Did you wish you were closer to him?
GA: If you're asking what I think you're asking, buddy, the answer's no.
MC: How does Mr. Wayne deal with stress?
GA: He glowers his way through it, basically. Wait. Seriously, I've seen him meditate. Or hit the fitness equipment. Or hit the wall.
MC: Or hit other people?
GA: Only if they're breaking the law and moving to hit him first.
MC: How about if they're attempting to rewire someone else's brain?
GA: Oh. I was wondering whether we were going to go there. Well, let's see. On the one hand, we had a strict no-kill code that we all stood by, as members of the League. On the other hand, we had this piece of...
technically
human scum who had just... forced himself on the wife of one of our members. We chose to deal with the matter internally, in such a way that the victim would never need to worry about the creep again. Actually we voted.
MC: To lobotomize Dr. Light.
GA: Well... I voted against. I was holding out for removing something else of his. Something that would fit the crime a bit better, if you take my meaning... but as it happened, I was in the minority on that one.
MC: And Mr. Wayne opposed the vote.
GA: Mr. Wayne came late to the party. He confronted us just as we were wrapping things up. We got nervous. I mean, as much as we agreed that something had to be done and we did it, when he showed, I think we all started doubting. Just for a second.
MC: So you removed his memory.
GA: Voted to. Ten minutes of his short-term memory. Just long enough to erase what he'd just seen.
MC: It didn't occur to you to try to talk him around to your point of view?
GA: Wouldn't have worked. I told you a few minutes ago that we don't always see eye-to-eye on things. This would have been one of those things.
MC: Do you have any regrets?
GA: Hmmm... Is this the point where I say I regret getting caught? Because, frankly, it kinda feels good to talk about it. Regret the mindwipe wearing off? Yeah, I guess. Maybe we should have had it out then and there, face to face, fist to fist. What would have happened? He'd have resigned in a huff? Wouldn't have been the first time or the last. Would he have tried bringing the Justice League to... justice? Nah, I think he probably would have had issues testifying against us in a court of law, right about the point when they ask you, 'would you state your full name for the record?' Regret the necessity of it all... stopping Light... stopping Batman... reaping the harvest years later... [pause] maybe. But then I ask myself... what would I have done, if I were faced with a similar situation today? I'm a married man. If I'd come home and found out that someone had attacked my wife... Hell. It would take a lot of fast-talking to get me to accept a psychic lobotomy over something more... permanent. And if anyone were to try and stop me once I was committed on that course... all I can say is that he'd better be out of bow-range. Whatever regrets I might have over what went down that day, Batman got off easy.
[Long pause]
MC: When he confronted you, was he angry?
GA: Yeah. Also shocked and horrified.
MC: Out of control?
GA: No.
MC: Have you ever seen him out of control?
GA: Okay... Have you already made your mind up about him?
MC: Excuse me?
GA: Look. You've been talking to all of us over the last day or so. Do you seriously think we haven't been comparing notes? You keep asking the same damned questions. Is he violent? Is he out of control? Is he abusive? Are you sleeping with him? So, here's the thing. If I tell you the truth and it goes against whatever picture you've constructed in your mind, are you going to change the picture? Or are you going to keep talking to us and hope one of us confirms what you're looking to hear?
MC: We do screen our applicants thoroughly, Mr... Arrow. Police brutality makes the headlines too often. We're trying to reduce that likelihood.
GA: Which is why you want to know if he's, you'll pardon my French, getting any?
MC: It's a standard question.
GA: Maybe you ought to rethink your standards.
MC: Have you ever known Batman to violate the law?
GA: If you've ever seen him swing over the rooftops from forty stories up, you could probably make a case for a gravity violation. What is that, a 10-56-Oh?
MC: A ten-fifty-si... Outstretched person. Funny man.
GA: Yeah, well when he swings away, he does. Stretch out, I mean.
MC: I get it. What
do
you think of his parenting skills?
GA: They work for him. I could never be that much of a stick in the mud, but if you're going by results... he brought up two great kids.
MC: And buried one of them.
GA: Yeah, well life deals you a lousy hand once in a while, and all you can do is suffer through and play it the best you can. When the Joker blows up your son, I don't think parenting skills factor into the equation.
MC: But if he hadn't made the boy his partner, he'd probably still be alive.
GA: Possibly. Not probably. There aren't many of us who can see what
could
have been. And if you live in Gotham, I probably don't have to tell you that Joker... happens.
MC: So you don't think there's anything that he should have done differently?
Interviewee: Harrier


H: Well, I can't really tell you much about Jason. He was dead before I met Batman.
MC: How did you meet him?
H: I contacted Nightwing. He gave me a formal introduction.
MC: Just like that?
H: Like I said, I can't tell you much about Jason as a person, but I can tell you that after he died, Batman pretty much became a solo act. He got darker... scarier, too, but in all the wrong ways. I thought he needed to work with a partner, so I tracked down Nightwing, hoping I could convince him to team up with Batman again.
MC: You knew that Nightwing was the former Robin.
H: Yeah. I figured it out the night I saw Robin turn a quadruple somersault on the news. Only three people on the planet could do it. I'd watched one of them one night. And years later...
MC: You recognized the move.
H: Yeah.
MC: So you went after Nightwing.
H: Yes
MC: Then what happened?
H: Nightwing told me that he couldn't go back to being Robin... but that I could. And he convinced Batman to give me a try. [Pause] Yeah. I used to be Robin... the Robin you've been leaving messages for.
MC: Any reason you didn't just explain that when we spoke on the telephone?
H: I wasn't sure it was important. And I've seen too many people find out my secrets and get hurt.
MC: But you're telling me now.
H: You're recording the conversation. All I need is for you to listen to Robin and Harrier back-to-back and... Look, I don't want Bruce to get disqualified because I was stupid, okay?
MC: Do you think he's a good fit for the role?
H: I've seen him take down twenty or thirty armed men with zero casualties, resolve hostage crises, follow trails that were years cold... He's got more strategies than a chess grandmaster... and he probably
is
a grandmaster, anyway—
MC: How is he at following someone else's orders?
H: He recognizes the chain of command.
MC: Then why did he try to seize command of police forces during the mob war?
H: He thought it was better than having GCPD second-guess him and get caught in the crossfire.
MC: But they
were
caught in the crossfire.
H: Yes.
MC: In your opinion, what would have happened if they'd obeyed orders instead of following Mr. Wayne?
H: Honestly? I think you would have lost more people. Black Mask and the "families" would have gone on unchecked for a bit longer while you had some officers holding the line, SWAT ready to jump in... The police still would have walked into a firefight, only the other side would have been even more prepared.
MC: Would Mr. Wayne agree with your assessment?
H: No.
MC: No?
H: I don't know how many times I'd show up at our base of operations before patrol... or head back afterwards, and he'd be at the computers, running data, assessing his actions, calling up computer simulations. Every time someone died in front of him, he'd be trying to see what happened, what could have gone differently. I... there were times when I wanted to grab him and tell him it was enough already. That what happened was six people had guns and he couldn't disarm them all before someone got off a lucky shot. But every time I tried, he'd beckon me over to the screen and say, "I've found five scenarios so far where I could have saved them." Or ten. Or two. Or a million. It didn't matter. If there was one other way it could have gone down, he'd make note of it. He doesn't start ordering people around because he gets some thrill from being in charge. He does it because he wants to know that he did everything he could to keep casualties to zero.
MC: Has it ever occurred to him that if he followed orders, he might accomplish that?
H: If you take the mob war out of the equation, sir... tell me who has the better track record? I ran the data before I came down. I already know the answer.
MC: So he's always right?
H: Of course not. But if I got to pick who to follow into a pitched battle... or a turf war... or firefight... or—if you'll excuse the dramatics—the jaws of Hell, it'd be Batman. Doesn't matter who the other players are. I know who I'd trust most, not only to get me back safely, but to bring everyone else in too...
*****
After Harrier left, Chiarello looked at the clock. It was hard to believe that it was barely noon. Between Plastic Man's nervous shape-shifting and Green Arrow's overt hostility, it had been a long morning. At least, Harrier had been polite—a bit intense, earnest one moment and world-weary the next, but polite. He checked his afternoon roster and smiled. He'd intended to finish with the Capes—or at least, the ones he considered to be "peripheral" Capes, as opposed to Wayne's son—before he moved on to the PMWE contingent . For the most part, that was happening. He still had Huntress and the Flash this afternoon.
He was waiting to hear back from Blackgate about whether they would allow him to interview Two-Face. He could probably take care of that one tomorrow or Saturday, assuming that approvals came through. For now, he had an hour for lunch. After that, he was going to start talking to the execs at PMWE—Huntress had asked for a spot at four o'clock or later. He'd slated her for five—that gave him plenty of time for the suits from downtown. He had the Flash at six, and then the Keystone Cop. He smirked. Sure, the guy was coming from Central, not Keystone, but they were practically one city anyway.
He took a sip of cold coffee. The more he thought about it, the less surprising it seemed that Wayne had emerged from Arkham as stable as he appeared. How many hours in the field had he logged with Arsenal or Green Arrow? Had he ever had to deal with both of them at the same time? Crap, it was no wonder the man preferred to work alone.
It was going to be interesting to see what Wayne's civilian acquaintances were going to say. Interesting, but—Chiarello thought to himself—probably useless. How often had they ever seen the guy? Still, it was his job to conduct a thorough investigation, and he was going to cover every base.
His phone rang, jerking him out of his thoughts and he picked up. "Chiarello."
"Sawyer, here."
He reached automatically for a pad and pen. "Go ahead, Commissioner."
"Just checking how your investigation's proceeding."
Chiarello sighed. "It's moving."
"Will you need to speak with Mr. Wayne again?"
He frowned, thinking about some of the things he'd been learning over the last thirty-some hours. "It seems likely," he said slowly. "Why?"
"Dr. Cinar informs me that he's scheduled Wayne's assessment for Sunday. I thought you might want to be aware—and consider scheduling Wayne for Saturday evening, if possible."
Chiarello laughed mirthlessly. "Yeah, Wayne's been pretty cooperative overall. I guess having him stick around after the shrink is done with him would be cruel and unusual." He considered. "Yeah, I've pretty much got Saturday booked solid until five. If I'm asking Wayne back, it'll have to be after that."
"Make it six-thirty, then," Sawyer said with finality.
She hung up almost as soon as he responded with a "Yes, ma'am."
*****
Jim was rolling his eyes when he let him in. "It's good you're here," he greeted Dick as he jogged Helena against his shoulder. "Maybe you can talk some sense into them."
Dick flinched at the loud voices emanating from the study. "What's going on?"
Jim started to say something, but broke off with a sigh of exasperation. "I swear, you don't want to know," he said with feeling. "They went up to the attic to find some old records to play for Helena—it seems that Bruce has quite the collection packed away." He shifted Helena to his other shoulder.
"Here," Dick reached out. "I can take her."
Jim passed her over without a word of complaint. "Thanks."
Helena seemed about to protest the new arrangement, until Dick smiled down at her, hoisted her up in the air, and seated her piggyback on his shoulders. She giggled and grabbed a fistful of his hair. Dick winced.
"Sorry," he said, bouncing lightly from one foot to the other. "You were saying?"
Jim's lips twitched for a moment. Then he sighed. "Damned if I know. One minute they're playing the album, and Helena's loving it, and the next..."
The voices were getting louder. Dick shook his head. "Come on, Helena," he said taking a firm grip on her legs. "Let's see if we can figure out what's happening."
As he strode toward the study, his frown deepened. He could hear the words now, but they didn't seem to be making sense.
"I keep telling you," Selina was snarling, "it's the right foot first. Best foot forward!
Bruce's voice, softer but no less intense, snapped back, "it goes from weakest to strongest. Therefore, it
should
be the left foot first, as it is in every other version I've ever heard."
"Well, Darling,
I'm
left-handed," Selina shot back, as Dick nervously pulled the door open, "and if you ask me, there's one version that finally got it right!" She turned and saw Dick. "Fine. We'll ask him!
He
knows!"
"As do I," Bruce retorted. "It's the left foot!"
Dick blinked. "Huh?" Then his eye fell on the album jacket that was resting on the sofa. His jaw dropped. "The... You're fighting over..." Words failed him. "The
Hokey Pokey
? Is
that
was this is all about?" He closed his eyes with a moan. "I did not just say that."
They looked at each other. Selina giggled. Bruce's lips twitched. Helena crowed. And a moment later, Jim smiled as he heard the shouts of laughter emanating from the study.
*****
"I'm not going to ask why you didn't mention getting served with a restraining order," Dick said, after they had all calmed down somewhat.
Bruce's expression turned thunderous once more. "I appreciate your concern," he said. "But tell Barbara that I would prefer that she stopped running these checks."
"She didn't," Dick replied.
"And I would have expected you to place a bigger premium on my privacy."
"It wasn't me, either," Dick sighed. "It was Ron Chester."
It wasn't often that Dick had the pleasure of catching Bruce off-guard. "Chester?" Bruce repeated, startled. "What in the world does he have to do with..."
Dick slid the album over to the next sofa cushion and sat down where it had been. "Have a seat, Bruce. It's kind of a long story..."
*****
After Dick finished explaining what Chester had told him, there was a long silence. Then...
"Clayface owes me a favor," Selina growled softly. "I can call it in any time."
Bruce gave her a hard look. "No."
"But, just think of it for a second. Paxton walks into Gotham National and hands a hold-up note to the teller. They catch it all on film." She sniffed. "See how he likes it." At Bruce's scowl, she held up her hands. "Okay, okay. Just fantasizing. Sheesh."
Bruce shook his head, but neither Dick nor Selina missed the fleeting smile. "I didn't tell you," he said, "partly because I didn't want you to worry. I'd called Rae, and she seemed more irritated than concerned." He sighed. "Also," he looked at Selina, "as much as I would prefer to deal with this matter directly, I can't be seen to be in violation of the restraining order, for however long as it's in effect. That would extend to anyone associated with me taking matters into their own hands." His lips twitched. "It's not that I don't trust you. This forced inactivity is... frustrating. I didn't want to share a problem with you that you couldn't do a thing to solve."
Dick smiled. "Okay, for future reference? I can deal. Share with me. After Ark..." He stopped. "Never mind."
Bruce slumped. "You don't have to remind me," he said quietly. "I've put you through enough of that."
"Bruce, for... Okay, look. Instead of thinking about stuff you can't go back and change, start realizing that, if I dealt with something worse for almost two years, I can
probably
handle this too. No offense, but it's like you're freaking out over my walking a balance beam when you've seen me on the high wire. At least this will be over soon."
Bruce nodded. "The hearing is in a week. I...
we
just need to hold on until then."
Selina frowned. "But with Paxton hiring False Face..."
"That won't be an issue," Bruce said, turning back to face Dick. "Now that we know what he's planning, we can play this the way we did when I first got out of Arkham: I'll find some reason to be at GCPD headquarters. They may call me in, but if they don't, I can always discuss one of the cold cases with Montoya. That gives me an alibi—"
"Yeah," Selina said. "Unless they take it one step further. Suppose," she said, "just for one minute that you
were
stalking her. And you wanted to keep doing it, either despite the restraining order or because of it. Bruce, there are plenty of celebrity impersonators out there making a pretty good living. Suppose her lawyer," she looked at Dick. "You said Paxton's paying Ryerson's attorney fees?"
Dick nodded. "According to Chester."
"Yeah. If I were in that lawyer's shoes, I'd say that Bruce set the whole thing up in order to scare the hell out of Ryerson and get away with it. I have no clue whether that line would hold up, but if you were spotted in two places at once, then who's to say which sighting was genuine?"
Bruce nodded glumly. "That's possible," he admitted.
"Yeah, but not very likely." Dick grinned. "Fortunately, once I found out what was going on, I figured out a way to nip this whole thing in the bud, give you your alibi—and by the way, you
will
be called in on Saturday night. Sorry about that, but it's the best way—and, with luck, leave Paxton fuming. Did you know that Barry got his detective shield last year?"
Bruce's eyebrows shot up. "He never mentioned it, no."
"Well, he did. So, once I found out that he was going to be in Gotham anyway, he and I set something up."
Bruce listened carefully to Dick's explanation. Finally, he nodded slowly. "It's a good plan," he said. "Only it doesn't go far enough."
"What? We stop False Face, Chester legit gets to say he never showed up. You've got an airtight defense, the restraining order gets overturned, and we all call it a day."
"And Paxton gets away with it."
Dick sighed. "Yeah, but now that we know what he's up to, we can be on our guard. It's not like the old days. I can't crash into his bedroom window and snarl at him—not when he's got a pretty good idea who's under the cowl."
"No, I realize that," Bruce said. "But if you make a few minor alterations to what you have planned, then..."
As Bruce kept talking, Dick's eyes widened. "Now that," he said, "that is absolute gold. Okay, you've sold me. We'll run it by Barry when he gets here."
Bruce nodded. "You were planning on staying for supper, then."
"Well, until supper," Dick said. "Wally and Linda are eating with us. I sort of figured—no offense, but I didn't want another round of 'my, how you've grown.'" He looked down. "It makes me feel silly. And old."
Bruce snorted. "How do you think it makes
me
feel?" He sighed. "I may need that spar on Saturday night, if you aren't too tired after patrol."
"Yeah, I really am sorry about—"
"Don't be. Jim already told me that it's fairly common to have a candidate come back for another session to shed light on what may have been said during the other interviews." He sighed. "It used to be easier."
"Easier?"
"I'm walking a fine line, Dick. The GCPD wants full disclosure, and—while I loathe the process—I can at least understand the rationale. When I've had to construct a profile on someone, my own investigations have been no less intrusive. They've just been conducted without that person's knowledge."
"So..."
"So, some answers aren't mine to disclose. Let's just say that if Chiarello starts asking questions about my record with the League, or why I left, I doubt he'll be satisfied with a vague 'I thought my talents were better used elsewhere.' There are some things that I do not," he closed his eyes, "wish to discuss. Or relive." He let out a long breath. "And I'm not sure that I
can
discuss them without disclosing certain issues that I don't believe Chiarello needs to know."
Dick studied him pensively for a moment. Finally, he took a deep breath. "Which do you want first; the good news or the bad news?"
*****
"I appreciate your taking the time to come in, Mr. Paxton," Chiarello said politely.
"Not at all. Although, I have to admit that I was more than a bit perturbed when you explained to me the reason for your call."
Chiarello's eyebrows shot up. "Oh?"
"Well, yes. You said that Bruce is toying with the idea of becoming a police officer, if I recall correctly?"
Chiarello gave him a tight-lipped smile. "You could say that. Like I said on the phone, I just need about an hour of your time to help us with our background investigation."
"No trouble at all," Paxton replied affably. He frowned. "May I ask whether Bruce listed me as a reference?"
"I'm afraid I can't divulge whether you're here at his request or ours. Why? Is there a problem?"
Paxton shook his head. "No, I suppose not. Just... if he had, I'd be somewhat surprised is all."
"You don't like him?"
Paxton laughed. "Well, it's hard to say, really. It's not as if I ever really spent much time with him."
"But you've been on his company's board of directors for... how many years has it been?"
"Eight," Paxton replied, lacing his fingers together. Then he laughed again and spread his hands wide. "But I doubt if Bruce and I logged more than eight hours together in those eight years worth of meetings. He always had something more important to take care of, like golf. Or sleeping."
"Or being Batman?"
Paxton chuckled. "We generally conducted business during the daylight hours. If he preferred sleeping at that time, well, I guess that would say a bit about where his priorities lay, now, wouldn't it?"
"Do you have any reservations about his becoming an officer?"
Paxton sighed. "Well, to tell you the truth, I'm not sure I'm qualified to answer that question, seeing as I never really knew the man. On the other hand, well, he did spend that time in Arkham, which would tend to cast doubt on his stability. And has it occurred to you that, by bringing Batman onto your... staff, you're handing him the opportunity to conduct himself in much the same way he did in the past—only this time, with full official sanction?"
Chiarello's face betrayed nothing. "How do you mean, exactly?"
"Well, he did have a way of shadowing people for days on end, hoping to intimidate confession out of them, from what I understand. And now, well, just a few days ago, I had a hysterical woman sobbing on my telephone line about how Bruce keeps hounding her and won't give her a moment's peace because she protested at his hearing. She even filed a restraining order against him. Honestly, I hope she was misreading the situation, and Bruce's actions were completely innocent. Because if the media were to get wind of the restraining order, and find out that your people were actually contemplating giving him a badge? And a
gun
?" He shook his head. "I wouldn't want to be in your department's shoes, if word of
that
got out."
Please let us know what you think
here!