Post by Admin on Feb 11, 2015 15:30:38 GMT -5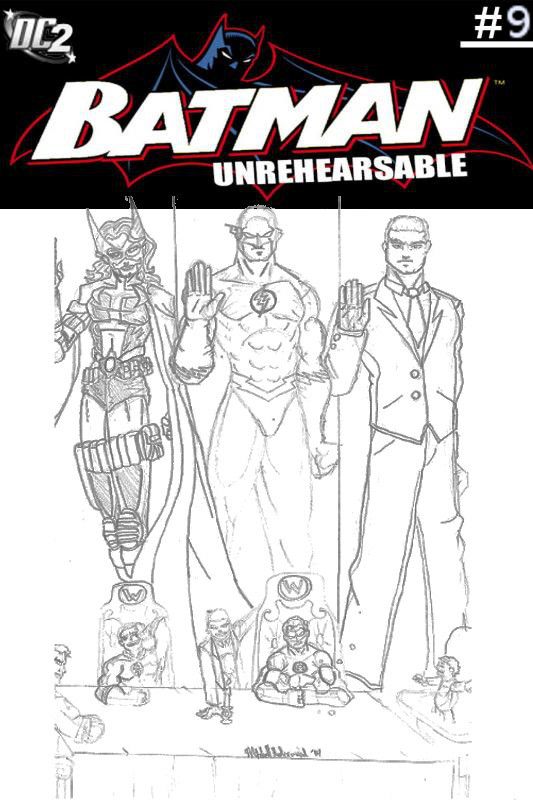 Unrehearsable
Issue #9: "Past Regrets"
Story by Ellen Fleischer
Art by Mitchell Underwood
Beta Read by Kathy, Debbie and PJ
Edited by Mark Bowers
Spoilers:
Brave and the Bold #28.
The dialogue in the flashback was written by J. Michael Straczynski and is quoted directly from the issue. References to
No Man's Land
,
Batman/Huntress: Cry for Blood,
and
Identity Crisis.I've dealt with my ghosts and I've faced all my demons
Finally content with a past I regret
I've found you find strength in your moments of weakness
For once I'm at peace with myself
I've been burdened with blame, trapped in the past for too long...—Phillip White, D. Vincent Williams, "Movin' On"
"Well, thanks for your time, Mr. Paxton," Chiarello said with a polite smile. "Should I need to get in touch with you again, may I contact you at work?"
Paxton shook the extended hand firmly. "I'm just happy to have been of some assistance," he said. "At least, I hope I have been," he added, looking a bit dismayed. "You must understand—Bruce is a fine man, and I was sorry to hear of his breakdown. It's heartening to know that he seems to have received the help that he so desperately needed. But I'd be remiss if I didn't share my concerns. I mean, imagine what he might do if he came upon some young man that he'd had dealings with in the past and..."
Chiarello nodded understandingly, as Paxton reiterated the same worries he'd been voicing throughout the interview. Inside, though, he winced. It wasn't as though Paxton was saying anything that half the cops in the precinct weren't whispering about. Still, it was disappointing to hear. Once the executive had finished speaking, Chiarello rephrased his question. "How may I contact you, in the event that we need to speak again?"
Paxton smiled. "Oh, of course. Do you have a pen and paper handy? Let me give you my personal cell phone. You can call me with respect to this matter any time..."
*****
After Paxton left, Chiarello frowned to himself. Over the course of the last couple of days, he'd been slowly putting aside the concerns that had bothered him when Sawyer had first assigned him to the investigation. Those concerns were being rekindled now.
Wayne had basically left his company in the hands of people he trusted and barely paid attention to it for years. If Fox had been a man with less integrity or ability, Wayne could have been bankrupted years ago. Had he been more suspicious, Wayne's nocturnal activities might have come to light a hell of a lot sooner. Either way, Paxton had brought up a valid point: when Wayne wanted to pursue something, he poured all his energies into it, yes—but he paid scant attention to his other responsibilities.
Looked at in that light, Chiarello had to wonder whether Wayne's leaving the League to found his own team wasn't part of that pattern. He'd thought he could do more good elsewhere, and he'd trusted the League to carry out their mandate without him. His reasons might have been good ones, but the fact remained that he'd had responsibilities, and he'd delegated them without a second thought. How would the GCPD fare, if Wayne decided that there was something else that he'd rather be doing?
Chiarello sighed. Was it fair to the taxpayers to invest in Wayne's training, when there was a good chance that he wasn't going to stay the course?
He looked at the time. Huntress would be here in less than an hour, but he still had time to grab a coffee. He checked his voicemail. Lucius Fox was confirming for tomorrow. And Timothy Drake was apologizing for not getting back to him sooner, but he was currently in Switzerland and wouldn't be back for two weeks. Chiarello sighed again. That was one interview to conduct over the telephone.
He left messages for both callers and went off in search of his coffee.
*****
Interviewee: Huntress

MC: You're not one of his... partners, correct?
H: Not in any sense of the word.
MC: But you work in this city.
H: Less than I used to.
MC: Is there a reason for that?
H: Well... I used to operate solo, and now I'm part of a team. We travel.
MC: So this has nothing to do with Mr. Wayne's approval or disapproval?
H: Who've you been talking to?
MC: Why?
H: Look, we've had our differences, but they're long past.
MC: What kind of differences?
H: Did you notice I carry a crossbow? It doesn't fire Nerf-bolts.
MC: So you take a... harder line than he did.
H: Look, no offense, but it's not like any police force I know carries water pistols. I don't go out there with a shoot-first-ask-questions-later mentality, but if someone's going to try deadly force on me, I'll do what's necessary to defend myself.
MC: How often have you found it... necessary?
H: Actually, less than I thought I would when I first put on Kevlar. Batman made it clear from the start that if I killed anyone on his watch, he'd bring me in.
MC: Did you resent that?
H: Oh, yeah.
MC: But you went along with it.
H: Would you want him ticked off at you?
MC: Are you afraid of getting him ticked off?
H: I'm afraid of being locked up under the same roof as a lot of people I helped get locked up. Crooked cops don't do well in general population. I don't think the odds would be too high in my favor either.
MC: So you played by his rules.
H: That's right.
MC: Because you feared for your safety if you didn't.
H: No.
MC: But you said he'd bring you in.
H: He would have tried. I don't think I could take him in a fight, but I didn't fear. Not for my safety. Not from him.
MC: Then what did you fear?
H: [Pause] Letting him down.
MC: Has he ever let you down?
H: Ye-no... yes. Let's just say it was mutual.
MC: Clarify?
H: During the No Man's Land, I operated as Batgirl—and that was when I realized that playing by his rules wasn't just something I was doing because he insisted. Because, for months, he wasn't around. Were you here then?
MC: Bludhaven.
H: Ah, I see. Well, let's just say it made
Lord of the Flies
look like
Leave it to Beaver
, shall we? I mean, if there was ever a time when I could justify killing as self-defense and nobody would have said a word against it, it was then. There was no law, no order... nothing. And through it all... I... If I was dressing the part of a Bat, I felt like I had to act it, too.
MC: Why did you?
H: Huntress didn't have the same brand recognition. And... the city wanted him. He wasn't there. I figured with the cowl, if I stuck to the shadows, maybe I could feed off his reputation.
MC: And when he came back, he felt that you'd...
H: No. Actually, when he came back, he accepted me. Until he left me to hold the fort, and I got outnumbered. Three people died. They were... hung up on a wall as an example.
MC: And he blamed you.
H: He held us both responsible.
MC: Both?
H: Me for not being able to save them. Himself for... well... I thought it was for trusting me.
MC: It wasn't?
H: I kept telling him I could handle things—acting like I could. When I couldn't, he told me to lose the cowl, but I think he blamed himself for overestimating me.
MC: He told you that?
H: No. If he had, I probably would've seen if he'd reinforced the Kevlar since the last time I shot him.
MC: You shot him?
H: Despite everything I've said about him, that actually was an accident. I got caught off balance and released the bolt without meaning to. He wasn't expecting it. I wasn't expecting it.
MC: Did he bear you any ill-will after he recovered?
H: No. He believed me.
MC: And there was no resentment?
H: None.
MC: How long did it take you to earn his trust?
Interviewee: The Flash

F: Not all that long. I used to be Kid Flash. Robin and I were pretty close on the Teen Titans. We hung out. So, Robin got to know my family and I got to know his.
MC: How did Batman react when you became the Flash?
F: Well, we were all mourning my mentor's death. And... funny. I thought nobody would believe I could fill his boots. Maybe that was what everyone else was thinking—I don't know. I know that I was thinking it. I was a kid. Maybe not legally, but I sure didn't feel ready to take his place. Batman... it was sort of hard to know how much was me projecting and how much was him doubting me.
MC: So he did doubt you?
F: At first. But, like I said, he wasn't the only one.
MC: What made him change?
F: I... guess he saw me in action. And, well, he'd worked with my mentor. I know that Robin had issues with getting Batman to recognize that he'd grown up. We're the same age. It wouldn't be that off-base if he saw me as a kid, too. Heck, having the name "Kid Flash" probably didn't help me. But once I stopped comparing myself to my mentor, I think he did, also. Or maybe it was around the time he admitted that Robin wasn't a kid anymore. Look, I can't really say when he stopped doubting me, but if he didn't stop, he at least kept quiet about it.
MC: Did you find him easy to work with?
F: Depends on what you mean by easy. He has a way of knowing what you're capable of doing, even if you don't know yourself. I... you know those novelty t-shirt stores? There was this one I saw that read "I will stop demanding the impossible when you stop achieving it." I almost bought it for him. Then I realized he'd never wear it anyway.
MC: So, how did it work? He gave orders and expected them to be followed?
F: He came up with plans. We'd follow them because they worked.
MC: And if you didn't want to go along with them?
F: Then we knew he'd be right there to say "I told you so" when they blew up in our faces. Or at least think it.
MC: And when HIS plans blew up in your faces?
F: It didn't happen often, but when it did, he took it seriously.
MC: How seriously?
F: What, you mean on a scale of one to ten? Twelve. I don't understand the question.
MC: How closely have you worked with him?
Interviewee: Detective Barry Allen

BA: Fairly closely. There were times when our department was stuck on a case. As you're aware, the Flash and the Central City Police Department have a good working relationship. But if we had a problem we couldn't solve, there would be times when the Flash would bring in the Batman to have a look.
MC: How did that go down with your superiors?
BA: I'm not really sure. I work with a great team of people. Professional, well-trained, extremely good at what they do. And they're all detectives, either officially or otherwise. So, I can't help thinking that they noticed my solve rate going up a bit whenever Batman was in town.
MC: And they went along with it?
BA: He got the evidence we needed.
MC: And you verified that it was legit?
BA: Yes.
MC: Always?
BA: Yes.
MC: Was it ever too good to be true?
BA: I double-checked it. If anyone had ever asked me, point-blank, how I got my hands on the proof I needed...
MC: How could you double-check it?
BA: By forgetting that I wore a lab-coat and not a shield. Before Batman went in, Flash would bring me along. Batman's suit had recording equipment, including an AV feed. I'd be nearby watching. He'd go first, check for booby traps, and, once he knew that there weren't any, I'd come in.
MC: Wasn't that a bit dangerous?
BA: With Batman and the Flash having my back? Not really.
MC: Did you know he was Bruce Wayne?
BA: Um... Okay. When his identity was made public, it didn't come as a shock to me. I admit I hadn't put two and two together, but... well... if Batman was ever in Central or Keystone for longer than a single night, it seemed like Bruce Wayne was there on business during the day. The thing is, I didn't have a lot of dealings with Bruce Wayne. I'd just see an article in the business pages speculating about why he was in town. So, maybe I should have been suspicious of the coincidence, but most of the time? Batman
did
get things taken care of in one night. He didn't always solve the crime, but he was able to show me what path we might want to pursue.
MC: And now you have your shield?
BA: I... [10-second pause] I got used to being in the thick of things. I decided it was worth taking the detective's exam.
MC: When'd you pass it?
BA: Four months ago.
MC: Ah, you're still on probe! How are you liking it so far?
BA: It's funny. I always thought I was happy in the crime lab. Now that I've got a taste of working homicide... I can't imagine not doing this.
MC: I thought you were here investigating some sort of mob link.
BA: Yeah, organized crime isn't really an issue in Central anymore. But we've had a couple of bodies turn up recently. The victims were killed execution-style, and the investigation points to a Gotham-organized crime connection. Since it's homicide, CCPD put me on the case, and since there's a Gotham connection and your people have more experience dealing with mob shootings... here I am on temporary assignment.
MC: Lucky you. Well... welcome to Gotham. And, getting back to the matter at hand... If Mr. Wayne was applying to join the Central City PD, and you were on the hiring panel, would you pass him?
BA: In a microsecond.
MC: Thank you, Detective.
*****
Hal was lounging against one of the stone lions that stood guard over the steps outside the GCPD building when Barry emerged. "You're really going to make me go through with this."
Barry shook his head. "I can't
make
you do anything, Hal. Least of all, something we should have done years ago."
Hal slumped. "I know. What are you going to say?"
"I'm still working on it," Barry admitted. "But I'm pretty sure 'I'm sorry,' is going to be one of the key points."
"Are you?" Hal asked bleakly. "Or are you just sorry he remembers it all now? Because I've been asking myself that question for the last few days. If we had it to do over, would we change anything?"
Barry sighed. "I'd like to think I would. I don't
know,
but I'd like to believe that if I'd voted to carry out a decision that I knew
then
was more 'the lesser of two evils' than 'the greater good', this time, I'd try to state my case instead of covering it up."
Hal nodded. "I had to deal with a lot of questions like that when I was the Spectre," he admitted. "I still don't have all the answers."
Barry took a deep breath. "You don't have to come. Dick already told him. So, if you were worrying how to break it to him about what you told Chiarello, you can stop."
Hal pressed his lips together and closed his eyes. "We both know that was never going to be the hard part." He sighed. "Okay. Let's go."
*****
Bruce kept his face expressionless when he opened the front door. His eyes flicked from Hal to Barry, before he stood aside to let them come in. He ushered them both to the study and sank into a leather easy chair.
Hal started to follow suit, until Barry gripped his arm, pulling him back up.
One of Bruce's eyebrows shot up. "There's no need to stand on ceremony," he said mildly.
Barry took a deep breath. "I...that is, we..." He forced himself to maintain eye contact. "Fifteen years ago, we messed up in a major way. I... know you remember that now. I never forgot it." He exhaled.
Bruce's expression hardened. "Are you sure you want to bring this up?" he demanded.
Barry winced, but his voice stayed steady. "I think I have to."
"Why? Are you somehow under the impression that explaining your actions now can possibly alter what went before?"
Barry swallowed hard. "No. I know it won't. But if you've let me get this far, I... I really hope you'll let me finish. Look, when I called you, I didn't know if you'd even want to know me or if you'd just hang up the phone. Frankly, I wouldn't have blamed you if you
had
hung up, instead of inviting me here." He tore his gaze away and looked at the floor. "Maybe an apology doesn't even begin to cover it, but that doesn't let me off from trying to make one."
He forced himself to meet Bruce's eyes once more. They were ice-cold, betraying nothing. He swallowed again and took a deep breath. "I'm sorry, Bruce. Sorry for keeping my mouth shut after the mindwipe. Sorry for panicking when you caught us in the act, and for voting the way I did. And... maybe I can claim extenuating circumstances for why I cast that deciding vote when it came to lobotomizing Dr. Light, but it doesn't change the fact that, moment of weakness or not, I did cast it. And I'm sorry that I did—not just sorry you barged in on us. I'm sorry I agreed to it in the first place."
"We both are," Hal said.
Barry shook his head slowly. "You voted against it, Hal."
"Yeah," Hal replied. "The lobotomy. But as far as the mindwipe goes..." He glanced nervously at Bruce. "What he said. I know I can be a jerk sometimes, but I can't believe I was that much of one. Sorry."
Bruce squeezed his eyes shut. For a long moment, he was silent. He opened his eyes again to see both men waiting apprehensively for his reply. He took a deep breath and let it out slowly. "Have you apologized to Wally?" he asked.
The other two men stared blankly at him. "Huh?"
"How about Arthur? Diana? Kyle?" The names came faster now. "J'onn. Eel. Clark. And every other member of the League. Because I honestly don't know whether I would have developed my... protocols, if I hadn't known, on some primal level, the lengths that any of you might go to in order to cover up a misstep. I've checked my records. I
didn't
begin to create those contingency plans until several months after the event. Of course," he continued, "the irony is that when those plans fell into the wrong hands, they injured people who had nothing to do with the earlier incident." He opened his eyes. "I... prefer not to keep grudges. For that reason alone, I can forgive you. After everything else that's happened to all of us in the last fifteen years, I..." He took another breath. His lips twitched. "I know
I'm
not the same person I was fifteen years ago—and I haven't had the same... life-changing experiences that the two of you have. If you need my forgiveness that badly, it's yours. But don't think that the air between us is the only air that needs clearing."
"Point taken," Barry said. "And Wally and I
have
talked," he added, his voice dropping to a near-whisper as he remembered just how painful that conversation had been. "But you're right about the others. It should have been addressed long ago. It will be."
"You see that as your... penance?" Bruce inquired.
Barry considered. "No. I see it is as the right thing to do, even if it's been a long time coming. Better late than never."
He saw it then. For a fleeting instant, Bruce smiled and gave him a quick approving nod. Then the smile vanished, replaced by Bruce's earlier poker face. "All right. Let's move on."
Barry blinked, momentarily unsure whether Bruce had actually said what he thought he'd heard.
Hal cleared his throat. "Um... I guess Dick already told you I spilled the beans to your interrogator... I mean investigator... I..."
Bruce held up a hand. "I think you were right the first time," he said, smiling once more. "Thanks."
"What?"
Bruce nodded. "I wouldn't have aired any of that in front of Chiarello. I've had to be candid about my own shortcomings, but I was prepared to draw the line at discussing any League... secrets. Thanks for absolving me of the need."
"You mean, you're not mad?"
"
I'm
not," Bruce confirmed.
"But you might want to avoid Ollie for the next few weeks," Barry broke in.
"And Katar," Bruce added, his smile broadening, as he stood up and took a step forward.
"Oh, yeah," Barry grinned back. He reached out to clasp Bruce's shoulder. "It's good to see you again."
Bruce returned the gesture. "Likewise." He looked away for a moment. "Barry, I regret that Dick had to leave a few minutes before you arrived. I'll fill you in on what we discussed later. For now... I know I told you to come
after
supper, but as it happens, we haven't eaten, yet. If you'd both care to join us...?"
Hal blinked. "Um... Sure. Wait a minute.
We? Us?
As in not just you?"
Bruce smiled. "Exactly."
*****
The table was set for four. Five, if one counted the high chair in the corner. Barry's eyebrows shot up when Selina entered from the kitchen, holding Helena firmly by the hand. "You never mentioned... I mean... is she...?"
Bruce bent down and picked up his daughter. "This is Helena," he said quietly. "And... I suppose she is. Although I'd prefer you to avoid mentioning it, should Detective Chiarello wish to interview you further."
"Seriously?" Hal scoffed. "I know he's calling in just about everyone who knows you, but do you really think he's going to invite her for a session?"
Unconsciously, Bruce wrapped his arms more tightly around Helena. "Look," he said through clenched teeth, "even with all the precautions that we've taken—even with J'onn securing Sawyer's permission to enhance the security at GCPD—word about my... career change is eventually going to get out, and probably sooner rather than later. I've been living with the knowledge that I'm now an easier target than ever before. I deal with that because I have no choice." His expression softened for an instant. "Selina accepts the risk. But I don't want any mention of Helena in Chiarello's notes or in his thoughts. Is that clear?"
Hal and Barry nodded.
"I mean it, Jordan. He got to you once. I would suggest finding a reason to be off-planet before you let him get to you again."
"Oh, come on," Hal protested. "I thought he was just going to be asking about your character. I wasn't prepared for—"
"Exactly," Bruce cut him off. "
Be
prepared, or be far, far away. Am I being clear?"
Hal nodded, his eyes mirroring Bruce's intensity. "You got it."
"All right." He strode past the two men to settle Helena into the high chair, pretending not to notice as Hal sent a friendly wave in his daughter's direction. "I suppose you want to sit next to her," he sighed.
Hal blinked. "Could I?"
"If you don't mind her tendency to share her meal with anyone in close proximity," Bruce said good-naturedly. "According to the child development websites, her hand-eye coordination is in the upper percentile for her age."
Barry laughed. "Why isn't that surprising?"
Hal shrugged. "It's not like I can't protect myself..."
Twenty minutes later, Hal cast a baleful glance across the table at Bruce. "You remember that yellow things aren't a problem anymore, right?" he asked as the umpteenth pineapple tidbit bounced off of a hastily-improvised green helmet.
"You wanted to sit there," Bruce deadpanned.
"You set me up."
Barry guffawed. Selina grinned.
"Yes, Jordan," Bruce said with a long-suffering sigh. "I colluded with a toddler for long hours, teaching her how to map the trajectory of chopped fruit with absolute precision. You caught me."
Selina burst out laughing.
"You see!" Hal said, standing up and pointing dramatically in Bruce's direction. "He even admits it!"
"He warned you," Barry pointed out. "I'm a witness."
"So..." Selina said, nearly succeeding in keeping a straight face, "
Detective
Allen, is it, now?"
Barry ducked his head. "Yes, ma'am."
"Well, I hope you don't mind my curiosity, but what did it take to get you out of the lab after all those years?"
Barry hesitated.
"Oh," Selina forced herself to keep smiling. "I'm sorry. I hadn't realized that it was something that I wasn't supposed to ask."
"No," Barry said. "No, it's fine. It's... sort of a long story, but I don't mind telling it." He took a deep breath. "It's just something that you might call an... unconventional story."
Selina frowned. "
How
unconventional? I mean, you sort of... died for a bit, as I understand it. Does this have something to do with an afterlife of some kind?"
Barry shook his head. "More like a 'before,' actually. It wasn't long after I'd... returned," he began. "I was called to Belgium to assist a scientist who wanted to test a multispectrum laser that he'd been working on. It was supposed to change the speed of light by altering its vibrational properties—"
"Sounds like Garton's work," Bruce mused aloud.
Barry blinked. "Yes, exactly." He took a moment to regain his train of thought. "In order to test the laser, Dr. Garton needed someone who could run at near light-speed while holding a device to monitor the hypothetical changes. So, I found myself in the fields of Ardennes, ready to further the cause of science when something unexpected happened." He paused and looked around the table. "The changes interacted with my own vibrating frequency and sent me back in time, trapping me in 1944."
Bruce frowned. "You couldn't get back?"
"Not unless I could match the same speed I'd been running at when I arrived—and I couldn't—when I got there, my leg was broken in two places. It was winter, and it was about all I could do to speed up my molecules so I wouldn't freeze to death. As it turned out, I had other worries. I almost got killed by a German patrol, and no sooner did I evade them than I ran into the Blackhawks, who mistook me for an enemy spy." He sighed. "It didn't help matters much that when I identified myself as 'The Flash,' they knew what Jay Garrick's costume looked like." He looked down. "Fortunately, one of the team had seen the whole thing and vouched for me. I figured there was no way that I'd be able to fake being native to the time—not when I was stuck there until my leg healed up. I might have been able to manage for a day or two, but weeks? When they were already suspicious? I didn't want to bank on a fair trial if they decided I was a spy after all, so I told them as much as I could."
"Which was evidently enough so that they believed you," Bruce commented drily.
"I got lucky. Their leader realized that a lot of what was top secret in their time should be common knowledge to me—if I really was from the future. And it turned out that they'd had a hand in smuggling some German scientists out of the country to work on a top secret project in New Mexico. He asked me to name it." Barry smiled faintly. "You have no idea how thankful I was that I'd actually paid attention in history class."
"Well, the Manhattan Project
is
an easy one," Selina pointed out.
Barry nodded. "Yes and no. Everyone's heard of it, but not everybody remembers where it was. I did." He sighed. "And that's when things started to get intense. We were ambushed by German foot soldiers. Blackhawk shoved a gun in my hand and told me they needed all the help they could get."
Bruce frowned. "But, you didn't—"
Barry closed his eyes. "Not then, no. I chucked a whole bunch of bricks at the enemy. Took them all out with no deaths. And Blackhawk reamed me for it." He winced, the scene replaying once more in his head as he told it over, the images and voices as crisp and clear as if he'd just been there yesterday. "I tried to explain why I hadn't fired, and..."
"...You think this is a game or something? We're in the middle of a war. They shoot at us. We shoot at them. We kill them or they kill us."
"Killing isn't what I do. It's not..."
"Then it damn well better GET to be what you do—and fast. Because you're an American in the middle of a war, and if you don't pick up a gun and fight, then you're a coward and an impediment to the war effort—and I'll shoot you myself."

Barry opened his eyes again, wondering if the others could hear the way his heart thudded in his chest. "He meant it, too. Maybe if I'd had my speed power back, I would have done things differently. No... I would have gone back to the present. Using my powers to influence the outcome of the war... the repercussions to the timestream might have been... Rip Hunter has horror stories he can tell about those. But I didn't have my speed power. And I did have the gun. And, I still don't know if I made the right decision, but I made one I could live with. One I've had to live with ever since."
"You took the gun," Bruce stated.
"I took the gun. I put on a U.S. infantry uniform, and I took the gun. The Flash doesn't kill. Doesn't carry a gun. But... Barry Allen, a soldier in the U.S. army in the middle of World War Two, was a different story."
He forced himself to meet Bruce's eyes, bracing himself for the anger and indignation he knew had to be there. Instead, he saw only sadness.
"
Did
you kill?" Bruce asked softly.
Barry let out a breath he hadn't realized he was holding. "I don't honestly know. I had a gun. I fired it. So did everyone with me. And a lot of the people we were firing at fell down and... and didn't get back up. I'm not sure whether any of the bullets from my gun were responsible for it, but I... I can't believe I was a consistently lousy shot. It's probable." He slumped. "Almost definite, I'd say."
"Anyway, eventually my leg healed up and I made it back to the present. The thing is, it took me a while to admit it at first, but I don't think it's possible to go through something like that and not have it change you. And no, I don't mean that I decided I liked pulling a trigger so much that I decided to go through the academy so I could get issued a revolver. You're going through the process now, and I think you can agree that they're doing their best to weed out people who actually
enjoy
it. But working in a lab means that you aren't first on the scene. Sometimes, the people who are get sloppy or careless, or they miss things. I can only analyze the stuff that actually makes it back to my department."
He sighed. "Believe me when I tell you that there were a lot of times in the past that I'd thought about getting my shield, just because I figured I'd probably be of more use to an investigation if I was leading it. But knowing that I'd have to qualify with a firearm was always the deal-breaker." He shook his head.
"After I came back from 1944, it wasn't. I don't want you to think that I missed shooting. Or that this was a spur-of-the-moment decision. I actually had a few long talks with J'onn before I started the ball rolling. I wanted
him
to determine that I was... stable enough to do what I was thinking before I spoke to my boss about changing tracks."
He paused. "I got my shield four months ago. Since then, I haven't had to draw a gun, much less fire one. I hope I never have to again. But if I do have to," he sighed, "then I will."
Bruce nodded slowly. "I've been trying to work on that myself," the admission came more easily than he'd expected. "Guns. I've been finding it more of a challenge than I'd initially thought."
Barry nodded. "I was wondering about how you were handling that end of things. Actually, I'm relieved to hear that you're having issues."
Bruce frowned.
"Trust me, I'd be more worried if you'd told me that you were taking to them like a duck takes to water. I saw a few soldiers like that. They... weren't people I'd have wanted to know if I'd still been stuck in the past after the war ended. Needing to kill is one thing. Liking it..."
"It's been a concern," Bruce admitted. "Sometimes, I wonder if I truly hate guns, or if I fear what I might become if I start using them."
"Been there, done that," Barry admitted. "Got the souvenir keychain to prove it."
The two men shared a smile. Barry's expression turned serious. "I know you don't usually like talking things out—unless that's another thing that's changed, I mean," he added, "but if it has changed, if it does, if you want to talk to someone who's been through a lot of what you're going through now, well... I'm only a couple of seconds away. You know that, right?"
Bruce nodded slowly. "I... don't believe that there's any need for you..." he glanced at Hal, who had been listening wide-eyed to the entire conversation, "...for either of you to maintain radio silence either," he said. "Of course, if it's your preference, I understand."
Hal and Barry exchanged a quick glance.
"Well," Hal said, "I guess I'll probably be around a bit more, if you don't mind. I mean, Helena is kind of cute." Something cold and wet and slippery landed on the back of his neck and began to travel down his back. He made a face. "I thought she'd run out of pineapple by now."
Bruce's lips twitched. "I'll get her another helping."
Selina giggled.
"She barely ate any," Bruce said with exaggerated innocence. "I need to be sure she's getting enough thiamin."
"Yes, dear," Selina said demurely, as Barry chuckled.
"Not to mention manganee—" He turned abruptly to the wall, shoulders shaking as he fought not to laugh.
"Very funny," Hal muttered. He looked at Helena. "How much is he paying you? I'll double it. OW!"
A plastic-coated spoon bounced off his face.
Bruce lost the fight. So did everyone else—including Hal.
*****
Chiarello carefully placed his notes and recordings into a sturdy attaché case, locked it, and took it with him. He'd thought the interviews would never end, and he hadn't even started talking to Wayne's family, yet.
He sighed. It would be good to get home. He wished it didn't get dark so early in the winter time, though. He didn't much care for driving at night. He scooped up the second set of files and headed off to lock them in the vault, before he headed down to the parking garage.
He kept a careful eye on his surroundings as he took the long walk to the vault and then the shorter one to the elevator. The building was supposed to be secure—particularly with the new technology that Sawyer had authorized the JLA to install before the interviews had begun. She'd gone over the enhancements with him, but his eyes had started to glaze over when she'd started talking about "telepathic buffers." It didn't matter. He didn't care
how
it all worked, so long as it did.
He took the elevator down to the parking garage and stepped out, car keys in hand, scanning carefully for anything out of the ordinary. He frowned. Something seemed off. His eyes narrowed, as his gaze panned over his surroundings.
There it was.
One of the fluorescent bulbs overhead was flickering. As he watched, it burned out altogether. There was another bulb several yards over that had apparently gone dark earlier. He made a mental note to talk to maintenance if it wasn't fixed by tomorrow and proceeded toward his parking spot, his footsteps making muffled echoes on the concrete floor. He was passing a parked sedan, when a loud bang startled him. Instinctively, he dove for cover.
That was when he heard a faint click and felt something dig into his shoulder blades. "The briefcase," a harsh voice whispered. "Now!"
Please let us know what you think
here!