Post by Admin on Dec 23, 2015 12:32:03 GMT -5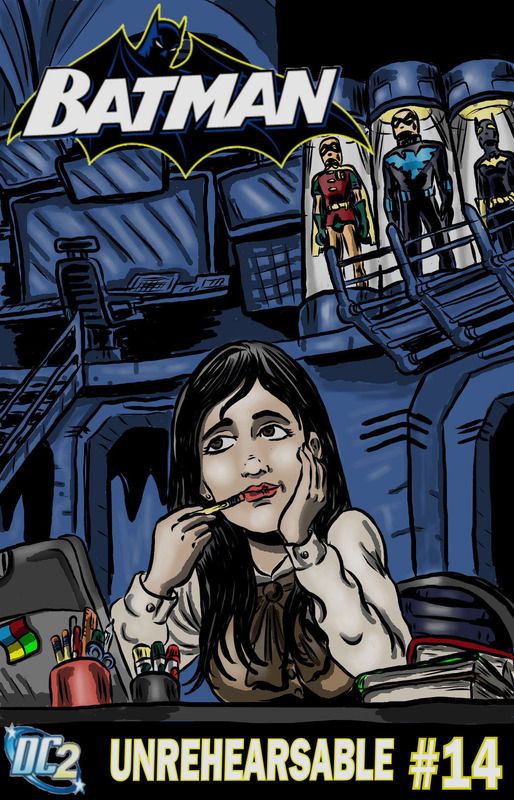 Unrehearsable
Issue #14: "From The Inside Out"
Story by Ellen Fleischer
Cover by ArtTeach
Beta Read by Kathy, Debbie and PJ
Edited by Mark Bowers
...People do it every day
Promise themselves they're gonna change
I've been there, but I'm changin' from the inside out...

And as the cold wind blows across the graveyard
I think I hear the voice of my old friend whisper in my ear

I'm gonna stop lookin' back and start movin' on
Learn how to face my fears

—Brad Crisler, James LeBlanc, "When the Sand Runs Out"
"Your blabbermouth is Sergeant Charles Hawking." Oracle spoke confidently into the voice scrambler. "From what I can see, he's currently assigned to permits."
"For the last 27 years," Sawyer replied. "But I suppose you found that out, too."
"Yes. After he was caught falsifying a report."
Sawyer fought down her irritation. After all, she'd told this person to find the culprit. She'd had no reason to assume that this "JLA Dispatcher" wouldn't conduct a more thorough investigation. "Do you have a motive?"
Oracle caught the testiness in the commissioner's tone. "Don't you?"
Sawyer let out a breath. "Don't."
"Sorry?"
"Don't," she repeated. "I'm not some rookie you need to coax along. I asked for your help, you agreed to provide it. I'm asking you for your insights. I want you to provide those as well."
This was pushing. "Not meaning to be rude, Commissioner," Oracle replied, "but all you asked me for was a name."
"You didn't stop your investigation with just a name," Sawyer countered. "I brought you on board because I thought you could get the job done. If you have a reason to keep this from me, explain. But if this is just because you like playing your cards close, that doesn't cut it. I needed your help for an internal matter. I won't deny it. But I do want to know how you arrived at those results. Because unless you also are planning to pursue deputy status, like it or not, you're going to have a bit of competition. My people need to know how to find out what you can find out. And when I go to IA with your findings, I'm going to need something better than 'an anonymous tip said it was Hawking'. Now let's have your information."
There was a long pause. "For the record, Commissioner, I applied to the police academy years ago. I didn't meet the minimum height requirement. And even if you somehow were able to relax that standard, you'd find that there were other considerations. Trust me. You don't want me at the Academy."
Sawyer allowed a smile to creep into her voice. "Are you done posturing?"
"P-P-Posturi…!?"
Even through the voder, Sawyer could hear the indignation. She chuckled. "So, you're not a computer. Unless AIs are programmed to sputter, that is. I didn't think you were, but I had to test it. Do you have a name, beyond 'Justice League Dispatcher'?"
This time, the pause was longer. "Oracle."
"Oracle," Sawyer nodded with satisfaction. "Nice to have an alias to go with the fake voice. Very well. I won't pry further. But I do need to know your findings. Unless you have a reason for keeping them to yourself beyond 'it wasn't part of our original agreement'.
Is
there a good reason for you not to divulge your information?"
"No." There was a sigh. "I… guess not. Okay. I looked into the circumstances that led to Hawking having been assigned to permits, all those years ago. It looks like someone set him up to take a fall."
Sawyer frowned. "Go on."
"As I understand it, he filed a report stating that a suspect was arrested with 250 grams of cocaine on his person, when it was actually 25. Under the Weiss Laws, possession of up to 50 grams drew an automatic sentence of 10 years, but 50 grams or more meant 25 years to life."
Sawyer nodded as she listened. The Weiss Laws had meant harsher drug penalties, but had resulted in more convicted criminals than there were prisons to hold them. The laws had been struck down nearly a decade earlier—replaced by fines and shorter sentences. She still didn't know whether that was a good thing.
"The thing is," Oracle continued, "when I got a look at a scan of the report, the 'zero' in 250 is about a quarter of a millimeter lower than the rest of the type on the line. Today," Oracle continued, "I'd never be able to detect something of that nature. Not when you draw up your reports on a computer. But this is going back over 25 years, when mostly everything was still done on typewriters. Someone took that report, put the page back in the machine, and added an extra zero."
"You know," Sawyer said slowly, "it could also be that Hawkins typed up that report properly, and then changed his mind, put the sheet back in, and made that alteration himself."
"Knowing he'd have to account for 225 grams gone missing from the evidence locker that were never there in the first place? Besides, that zero looks different from the others in the report. Typewriters may not be as unique as fingerprints, but if you do a comparison, I think you'll find that the alteration was done on another machine." She paused. "It's a pity that the guy who reported the theft, Michael Dell, died during the Clench epidemic. It might have been worth talking to him."
"You can't prove that Dell had anything to do with it," Sawyer shot back automatically, even as she admitted to herself that if Hawking were innocent, odds are that he would have been set up by someone close to him and likely involved in the same case,
like his partner
.
"No," Oracle agreed. "I can't. Not conclusively. But you might want to check some of Dell's own reports. I think you'll find that the zero-keystroke appears the same on those as it does in the altered document. So, unless your culprit meant to frame Dell for framing Hawking—and I'm not saying it's not possible, but it's a lot more convoluted than it needs to be..." The electronic voice trailed off for a moment. "Plus, if the goal was also to implicate Dell, it's interesting that it doesn't look like anyone made another attempt when this one failed. At any rate," Oracle continued, "it's been my experience that most people who try to be that clever end by tripping themselves up."
"Mine as well," Sawyer agreed. She let out a long sigh. "If you're right, if Hawking's been stuck in permits for over 25 years for a mistake he never made, that kind of thing tends to make a person bitter." Her voice hardened. "I appreciate your input. I presume you have hard evidence to back up what you've told me?"
"Yes."
"Would you care to email it, or would you prefer delivering the hardcopy to me?"
This time, the electronic voice sounded amused. "You
have
the hardcopy in your archives, commissioner. My report was sent to your personal email three minutes ago."
"What?" Sawyer demanded. "I never gave you…"
The connection terminated abruptly. Commissioner Sawyer gave her phone a murderous look. She hated it when people hung up on her in mid-sentence.
*****
"I was in the neighborhood," Dick grinned, when Bruce opened the front door. "Thought I'd pop in."
Bruce's lips twitched. "You're late. Tim and Cassandra have been here since four."
"They didn't have to fight rush hour traffic all the way from downtown."
Bruce raised an eyebrow. "I thought you said you were in the neighborhood."
"Hey. It's a big neighborhood."
"Yes," Bruce said dryly. "Particularly if you define 'neighborhood' as everything between Blackgate and Brentwood." He moved aside to allow Dick to come in.
"Well, it feels like a much shorter distance when I'm taking the rooftop route instead of trying to drive through." His expression turned serious as he stepped into the foyer. "How are you holding up?"
Bruce sighed. "It's the waiting. I didn't want this in the first place. The results shouldn't matter to me one way or the other. If I passed, I'll be spending the next few months jumping through hoops. If I didn't, then after the hearing next summer, I'll be dealing with other… complications."
"That's true."
"And it's not even as if I didn't have those same complications when I started. I knew that if I were found out, I'd be arrested on the spot." He sighed. "I didn't want that, but I knew it was a factor. Then I earned Jim's confidence, and when he became police commissioner, I put that concern aside. I got… used to that acceptance. Until Akins." He stopped. "And I admit that there were many things that I could have done that might have cemented a working relationship with him. When Jim retired, I didn't think anyone could replace him. I… was so… caught up in comparing Akins to Jim and watching whether he could… could…" Bruce looked away. "…could prove that he was suited to the job, that it didn't occur to me that, perhaps, Akins had similar doubts about working with a known vigilante. The same sort of questions I'd tolerated from Jim, I resented from Akins. I resented having to explain myself to him, and yet I expected him to follow my advice without question."
"Hey." Dick clapped a hand on his shoulder as they started out of the foyer and toward the study. Bruce let out another sigh.
"Bottom line?" Bruce continued. "What I was doing out there was never legal, but with the GCPD's tacit approval, I could overlook that. I lost that approval under Akins. If I'm to have any hope of regaining it under Sawyer, I need to do this. With or without it," he admitted, "I intend to be back in the costume this summer. I'd prefer to do so without courting arrest. Particularly since they will have a fairly good idea of where to start looking for me. And who to question."
"If it comes to that," Dick said, "I think we can deal."
"That's not the point," Bruce countered. "I don't like running away, but I won't countenance you, or anyone else, dealing with the fallout from my actions." He stopped and turned to face Dick. "I… might have fought my placement at Arkham harder, had I understood what those two years would cost
you
."
For the barest instant, Dick flinched. When he spoke though, his voice was clear and confident. "You probably wouldn't have understood it, or said anything, if not for the perspective you gained in those two years… not to mention the last seven months," Dick replied. "Look. The past happened. We know that. But there's no point rehashing something we can't change. And…" he sighed, "it's so easy to say that if we had it to do over, we'd do it differently, only, if we had it to do over, without knowing the results of our choices, how could we help but make the same ones?"
"I…"
"Bruce. Let's say you could go back in time to the start of the mob war and tell yourself that if you made that appeal to the GCPD to follow you, it would be a disaster, a lot of people would die, and you'd end up in Arkham. Would you listen? Or would you assume that it was some trick—maybe one of Hugo Strange's illusions—and plow right on through? Or maybe acknowledge the risks but decide that every other contingency plan you had carried worse risks, and this was still the best chance?"
"I don't know," Bruce admitted.
"That's okay," Dick smiled. "I don't either. I just know that there's no point in belaboring it—because you
can't
go back, anyway. So you may as well go on."
Bruce nodded slowly. "Give me a hand in the kitchen?" he asked. "I'd prefer not to sit waiting for a call which might not even come today, while everyone else is waiting and trying not to let me see that they're checking if I'm all right. If he were here, Alfred would probably be bringing out tea, around now. At least that's one item I've never had difficulty preparing."
Dick grinned. "You got it."
Bruce was just rinsing the teapot with boiling water when the phone rang.
*****
Ten minutes later, Bruce and Dick entered the study with identical serious expressions on their faces. The others looked up expectantly.
Bruce looked around the room, panning from Jim to Selina to Cass to Tim, his expression unreadable.
Cass shifted forward, concern plain on her features. "Well?"
Bruce took a deep breath. "That was Sawyer," he confirmed. "I'm to report to the police academy for an assessment on Monday."
Cass frowned. "Sorry. You're… harder to read. Is that… good?"
Bruce smiled then. "Yes," he admitted. "Yes, I think it is."
Then Dick threw an arm across his shoulders and the others clustered around him and, for once, he didn't feel crowded.
*****
Sawyer was going over the section heads' reports when her direct line buzzed. She stopped trying to decipher Captain Gleason's typos and picked up. "Yes?"
"Glad to find you at your desk, Commissioner," the electronic voice responded.
Sawyer set the report down. "This conversation ends when we both say 'goodbye'. Are we clear?"
There was a pause. "Perfectly."
"What do you have for me, Oracle?"
"Your Sergeant Hawkins spoke to the media," Oracle said, "but he didn't tip them off. That would have been Lester Paxton."
Sawyer's jaw set. "How do you know this?"
"A bit of inference, a bit of deduction, and a bit of hard proof furnished by methods that won't be admissible in court."
The police commissioner sighed. "We haven't got the time or inclination to pursue that route in any case," she admitted. "Not that it matters. Paxton's in enough hot water already. Of course, this isn't
only
a police matter, and we're not the only party involved that has options."
"I can pretty much assure you that neither Wayne nor PMWE will be interested in filing charges either. Wayne has enough on his mind. PMWE is already trying to downplay Paxton's activities. They won't want to call attention to any new mischief. I'm just calling because I thought you might want the full details before you jumped to conclusions about Hawking."
"Much appreciated." Her tone hardened. "I know what you people have done for this city in the past and I applaud most of it. There's something I need you to keep in mind, though—for Mr. Wayne's sake if nothing else. "
"I'm listening."
"I know his… team… is extremely results-oriented. That's commendable, but it also means that they cut corners to get those results, meaning that the prosecution's case isn't always as strong as it should be. Since his team isn't listening to this conversation right now—at least, I would
hope
not—I'm going to have to dump everything on your shoulders, Oracle." She took a deep breath. "If you and they are out there to make our lives easier, then
make
them easier. Tell us when you believe we need to obtain a search warrant. Let us know where the evidence is before you have your people remove it from the crime scene to show us. Help us make the charges stick so these creeps don't get back on the street so quickly."
"Commissioner, I…"
"Look," she said wearily, "I'm not talking about finding Scarecrow's latest chemistry lab. Of course the important thing there is to shut it down before he strikes again. Wayne will need to know the laws about illegal search and seizure and evidence tampering. I'd suggest you all help him review." She paused. "I'd hate for him to enlist your help in cracking a case, only to have the perp walk because the ironclad evidence was deemed inadmissible and the full confession was obtained under duress."
There was a pause on the other end. "Understood, Commissioner. Goodbye."
The connection terminated.
Sawyer looked at the receiver in her hand. "I said 'when we
both
say goodbye'," she muttered with feigned irritation.
*****
Dick and Tim had left to patrol and Selina was fixing dinner for Helena before heading out for a prowl of her own when Bruce walked into the cave to find Cass sitting at the computer, staring fixedly at the screen.
"Cass?"
She flinched, startled. "Sorry. Didn't hear," she said with embarrassment.
"What are you doing?" Bruce asked.
"Sorry," she repeated. "I… wanted to do one more essay."
"Essay?" Bruce blinked. "For your GED?"
Cass nodded. "I meet Dr. Arkham tomorrow. He said… if I send tonight he can look. So… tomorrow… I don't have to wait for him to read. He'll already have... my... mistakes." She looked down. "Sorry. Came down to train. But the computer was on and I thought… I type so slow. I thought… maybe if I tried now… harder to write late at night and if I waited for home…"
Bruce waved aside her explanations with a frown. "I didn't know that Dr. Arkham was helping you to prepare. I thought that Tim and Barbara were—"
"Yes," Cass nodded again. "They help. But… they have other things. Dr. Arkham was… sick for so long. From the fire."
"I remember," Bruce said slowly. "I had no idea that you were meeting with him."
"You know I go to Saint Swithins. He was there. We… we talked. He saw me learn and wanted to… help. Helping me helps him. I think." Her face fell. "You… don't like him. I can stop."
Bruce shook his head. "I knew he'd been injured. I'd asked Dick to look in on him—which wasn't fair to him, with everything else he's taken on. He said he would, but I didn't push it. And heaven knows that despite my concern for Arkham's situation, I never went to visit him myself. It would have been awkward for both of us."
Cass frowned. "Awk-awkward? Clumsy? I don't…"
Bruce sighed. "I don't actually dislike him… now. When I was incarcerated, it was a different story. Still… I find the idea of visiting him… unappealing. I'm not good at finding the right words for those situations under the best circumstances. I'm not sure that any benefit could be found in my sitting there, waiting for him to say something while he's expecting the same from me."
"Okay?" Cass ventured. "I… I still don't see…"
Bruce's lips twitched. "I'm trying to tell you that, regardless of my personal feelings for Jeremiah Arkham, I think it's a good thing that you're taking an interest. And if he's helping you, so much the better."
"Oh," Cass said with a surprised smile. "Okay." She hesitated.
"Was there something else?"
Cass looked down at her lap. "I… Nothing. Um… I mean… You already know… I mean… everyone says… I mean," she sighed. "I
know
new… things are hard. For me… talking. Reading. Now… this. Hard. Frustrating. And… sometimes I want to stop. Go back to before. So… easy. Only… that's not me now. And… and even when I think maybe easier if that
was
me… maybe I don't want easy. Or maybe easy isn't good. I don't know. But… for you? What you're doing. I…" She looked up. "Do you know what I… mean?"
Bruce closed his eyes. "At times," he admitted.
"How do you… deal?"
Bruce's lips twitched again. "When I came downstairs, I was planning to get the gloves and go a few rounds with the heavy bag," he gestured toward the exercise area.
"Oh. When I finish… this… maybe," she took a deep breath, "try… an opponent who fights back?"
That got her a genuine smile.
Halfway to the exercise area, he stopped and doubled back. "Cass," he said, "before you send off your essay, I could check it over for you. I mean, if you'd like," he added quickly.
Cass nodded. Bruce turned as if to go. "Batman!" It came out louder than she'd meant and she clapped a hand to her mouth as Bruce spun back.
"Yes?"
She took a deep breath, "if… things are… hard for you and you want to spar… okay to call me. I mean… if
you'd
like." She took another breath. "Anytime."
Bruce nodded curtly, but his step was a bit lighter as he headed back to the training area.
*****
Sawyer looked up at the knock on her door.
"You wanted to see me, Commish?" Hawking rumbled.
Sawyer nodded. "Come in, Hawk. Close the door behind you." She motioned to the chair before her desk. "Take a seat."
Hawking—or "Hawk," as he was generally known to his peers—obeyed with a resigned expression.
Sawyer leaned forward, her face stern. "You've been here long enough to know that all media inquiries are handled through the Press Information Office," she said levelly. "No exceptions. I'd like an explanation."
Hawk snorted. "No. You'd like a confession. Fine. Whatever. Someone's head's gotta roll. Might as well be mine. Hell, this time, I even did something to deserve it." He got up angrily. "Go ahead. Slap me all you want. What's it gonna be? A suspension? Knock yourself out. Oooh. With pay or without? Decisions, decisions. C'mon, Commish; what's it gonna be?"
The commissioner didn't bat an eyelash. "Actually, Sergeant Hawking, that depends on you."
The officer snorted. "Sure," he said. "Whatever. Guess you know how far you can take this without the union stepping up for me. Let's hear your worst."
"I found out what REALLY happened 27 years ago."
Hawking froze. "What?" he asked in disbelief.
"I'm sorry that you got a raw deal back then," she continued softly, "and that you were held back because of it." She waited for him to meet her eyes again. "That doesn't change the fact that you've violated protocol now by talking to the media." She paused, waiting once more until he nodded. "The thing is, if you hadn't, there's a good chance that I wouldn't have learned the truth about the earlier incident." She smiled. "Let's just say that the investigator I assigned to the case was
very
thorough. So..."
She waited and watched as relief and apprehension warred on Hawk's face. He groped for the chair and clutched it to steady himself for a moment before he sat back down heavily. "So…?" he asked.
"So, I mean to announce in briefings that new evidence has come to light that pretty much erases that mark on your record. As far as your current indiscretion goes," she took a deep breath. "I'll leave that up to you. One month suspension with pay, followed by your immediate retirement," she paused, "
or
…"
"Or?"
"One month suspension without pay. Upon your return, you receive a promotion to lieutenant and you work for one more year to establish yourself in the new higher salary and then retire—if you want to. I know most officers do after 30 years, but if you were to choose to stay longer, I wouldn't force you out, so long as you meet performance metrics. It's your call, Hawk."
Hawking's knuckles whitened as his hands gripped the arms of his chair. "Can I," his voice was almost a whisper, "can I have some time to decide?"
"Take the month, Hawk. Let me know by then." He nodded. "I'll be making the announcements tomorrow," Sawyer continued. "Do you want to be here when I do? We can delay the suspension a day."
Hawking shook his head slowly. "No. No, that won't be necessary. Commissioner."
"Very well, Hawk," Sawyer said crisply. "I believe we're done here. Oh. Your badge, Sergeant? And your gun?" Her tone was apologetic. "I'm afraid I'll need those."
Wordlessly, Hawk passed them over. Then, with a dazed look, he stumbled out of the office.
Sawyer watched him leave with a sad smile.
*****
"Rough night?" Dick asked, as he came in the window to find Barbara resting her forehead in her hand, elbow on her workstation.
Barbara sighed. "I think I tipped my hand too much," she admitted.
"Sorry?"
Barbara sighed. "You know how Sawyer asked me to find out who told the media about Bruce?"
Dick nodded. "Yeah, and…?"
"And," Barbara said, "I'm so used to digging up stuff like this when someone needs it that I didn't realize until afterwards that she never really meant me."
Dick blinked. "You lost me."
Barbara sighed. "When you gave her my contact information, you didn't tell her everything I do, right? Just that I was the person to talk to if she needed to get in touch with the rest of the… Caped Community?"
"Right." It hit him. "Oh. So when she asked you to get to work on it, she expected you to…"
"…Pass it on to Cyborg or the League or…" She shook her head. "But when I reported back, I was all 'I have the data. I found it. You asked
me
,' etcetera, etcetera. I just… forgot that she didn't know what I can do."
Dick nodded. "Is it that big a deal? I mean, so she knows that you're good with a computer. Unless she tricked you into confessing to cybercrimes," he frowned. "She didn't, did she?"
Barbara shook her head. "No. And it's probably
not
that big a deal. She just got upset that I wasn't revealing everything I'd uncovered right off the bat and I ended up spilling more than I'd bargained for. I guess," she frowned, "I know why this is getting to me. It's because Sawyer had some information I never meant to give her, because I got careless and..." she let out a long breath. "...and I got careless once and ended up in this chair," she said at a rush. "And even though, on one level, I know that it's not my fault—that if I hadn't opened the door, Daddy would have, or Joker would have broken it down or whatever, I spent so much time beating myself up for letting my guard down, that when it happens now, I just… go back there." She shook her head. "Maybe that's one of the reasons it took me so long to relax with you," she squeezed his hand. "To let my guard down enough to accept that there could be an
us
. I got careless once and I got hurt, and I got it into my head that if I was extra careful from then on, I'd be okay."
"Makes sense," Dick nodded.
"Yeah, but it's still a hell of a way to live." She sighed. "So, that's why I'm upset. Well, that and she pretty much strong-armed me into leveling with her." She gave Dick a pained smile. "If that's what Bruce has been getting from her, I
don't
envy him."
Dick nodded. "She's tough, I'll give you that, but she's also fair, so long as you play straight with her. That being said," his grip tightened on her hand, "I'm more than willing to tell her
straight
out that she needs to lose your number or answer to me."
Barbara shook her head, but she was smiling. "Nah. I think I was being a little mysterious, just for the hell of it." She took a deep breath. "She did also ask me to pass along some… er… strong advice about crime scene investigation and interrogation procedures…"
*****
"And I'm still having doubts," Bruce finished.
Alex nodded. "It sounds like it. I know we've discussed your feelings about guns before. Have you thought that you might be building up that distaste to the point where it overshadows everything else?"
Bruce considered. "It came up at the hearing, you know," he said slowly. "It would have been so…
easy
to say that I couldn't countenance pulling the trigger, would never be able to point a gun, much less fire one, not even in self-defense. And that would have put an end to this little experiment."
Alex steepled his fingers and nodded encouragingly.
"If I can't handle a firearm," Bruce continued, "I won't pass officer training. If I'd told them on the spot that I don't intend to ever use a gun, then they wouldn't have accepted me."
"That's right," Alex nodded again. "So, why didn't you?"
Bruce sighed. "Because it's one thing to refuse to fire a gun because I loathe them. It's another to refuse because I'm afraid. And I
am
afraid." He took a deep breath and looked up at Alex, trying to read his expression.
Alex leaned forward, his posture conveying interest but betraying nothing more.
"I'm afraid," Bruce repeated. "I'm afraid of killing an innocent. I'm afraid of having to take a life. I'm afraid of being manoeuvred into a position where my refusal to use a firearm will cost lives." He took another deep breath. "I've told myself that I'd rather die than use a gun. But do I have the right to condemn others to death because I won't?"
"Do you consider it murder to kill in self-defense?"
Bruce hesitated. "No. But," he thought for a moment "It shouldn't make a difference whether a life was lost because I pulled a trigger or because I hit them too hard or… or…" his voice trailed off. "It shouldn't matter," he whispered.
"But it does?"
Bruce closed his eyes. "It matters. And don't think I haven't stayed up nights wondering whether I'm partly responsible every time I save a life and they go on to kill again—and then wonder if I'd stopped them once and for all, whether the world would really be a worse place." He exhaled noisily. "And maybe I don't want to have that thought when I'm holding a weapon that would be so easy to use, if I had a moment of weakness."
Silence stretched between them for a long moment. Then Alex spoke. "It would be my guess," he said slowly, "that your concern is one that's been voiced by most police watchdog groups at one time or another—and probably a big reason why the background checks and evaluations for each candidate are so invasive."
"Possibly," Bruce said, frowning.
"The testing," Alex continued, "is designed to weed out people who are likely to act in the manner that you've just described."
"But I told you," Bruce repeated, "I wasn't as forthright as I could have been."
"Right," Alex said. "You didn't tell them that you were reluctant to use a gun. Now I'm going to turn it around. Would you say that anything you might have said, either to the panel, to the psychiatrist who evaluated you, or to the backgrounder, in any way conveyed an
eagerness
to do so?"
Bruce blinked. "No."
"Which means that they were probably aware of your feelings toward firearms," Alex continued. "I mean, when you were active as Batman, I don't recall that you ever let anyone think otherwise. I have one more question, and you don't actually need to answer it." He smiled and continued, "Because you have several times over the last year and a half. Would you prefer a partner who goes charging into the thick of danger, eager to—you'll excuse me—bust heads, or one who steps back, takes the time to properly assess the situation, and then act—forcefully and decisively, yes—but not impulsively." He paused, waiting for Bruce to meet his eyes. "As I said," he repeated, "you don't need to answer that. But I would like you to consider this: of the two partners I've described, if you
had
to put a gun in the hands of one of them, which would it be?"
Bruce flinched.
"As to whether your taking this new direction is a mistake," Alex continued, "that's something only you can answer. In my opinion, if it
is
a mistake, then the error doesn't lie with the GCPD vetting procedures. It might be question of timing, or motivation—but not temperament."
Bruce nodded slowly as Alex's words penetrated.
"Have you discussed any of your concerns with your family members? Or with someone like Mr. Gordon?"
Bruce felt himself begin to relax. "Yes," he said, almost eagerly. "I have."
"And…"
Bruce leaned back in his chair. "It's helping. I think." He took a moment to reflect. "It is helping," he repeated with more assurance.
"Good."
*****
On the drive home, Bruce couldn't stop thinking about the academy. He wasn't overly concerned about the physical training, and although he wasn't sure he remembered everything he'd studied about police procedures, he was fairly sure that with a bit of review over the weekend, it would come back to him.
The main issue was to remember what the correct procedure was—according to the book—rather than the tricks and shortcuts that he'd picked up over the years. He frowned. There had been a time when he'd been more careful to keep the evidence intact, to try to help the charges stick. Sometimes, it hadn't been possible. Sometimes, he'd done everything right—only to see the perp back on the street days later, thanks to a technicality or a plea bargain. Somewhere along the line, it had become less about keeping them off the street and more about punishment and intimidation—and he'd barely even noticed.
He thought back now, trying to pinpoint when the change had occurred. Certainly, by the time Akins had broken with him, he hadn't been concerned about going by the book. Just like years earlier, after Jason's death, he hadn't cared about procedures—he'd just wanted to hurt for a time.
Who did you want to hurt, Bruce?
he asked himself.
Was it the perps or was it you?
And the answer to that, of course, was, 'both'.
He sighed. Passing gun-handling had been weighing on him so heavily that he'd been virtually ignoring the rest of the curriculum. That had to change. Today was Thursday. He had four days to master the material. It would have to do.
As he crossed the Robert F. Kane Memorial Bridge heading into Bristol, it occurred to him that there was one thing that he should have done weeks earlier. He needed to find out from Jim exactly what was involved in 'qualifying with a firearm'. His aim was decent enough by now, and he certainly knew enough to pass a written test on gun safety. Maybe it really wouldn't take much more than that to get over that particular hurdle.
*****
Jim answered Bruce's knock almost immediately.
"I wasn't sure if you'd be here, or if I'd find you at the manor," Bruce said, with some relief. "But come to think of it, you're usually back here at this time."
Jim nodded and moved aside to allow Bruce entry to the groundskeeper's cottage. "I guess I'm just a creature of habit," he said. "Martha and I usually talk for a bit at this hour."
Bruce blinked. Then his eye fell on the computer monitor on the desk, open to a Skrype session. "I'm sorry," he said. "I could come back—"
"Sit down," Jim commanded. "If you decided to come here in person, there's got to be something on your mind. Just let me sign off." He moved toward the desk.
Bruce sank onto the sofa. "You don't have a web-cam?"
"No, I don't," Jim said, in a tone that let Bruce know that he'd evidently had this conversation before. "I don't need anyone noticing if I got egg on my shirtsleeve or forgot to shave, and Martha doesn't need to feel like she can't sit at the computer without—in her words—fixing her hair, not that I can imagine how she'd need to." He chuckled. "When I told her that, she said she'd prefer leaving it to my imagination." He typed a short phrase into the chat window and turned off the monitor. "Now," he said, turning the chair around to face Bruce, "what can I do for you?"
Bruce hesitated. "I was wondering about the academy."
Jim nodded. "I thought that might be it."
"Actually, I'm wondering about the gun-handling test."
"That's 'tests,' plural," Jim said, nodding once more, "and again, I'm not surprised. Okay. What did you want to know?"
Bruce took in a deep breath, held it, and let it out. "Everything," he said faintly. "What are they looking for?"
"You just answered the question," Jim shot back. "Everything." Seeing a flash of irritation in Bruce's eyes, he relented. "Okay. There's a written test on firearm safety. When I was in charge, it was 80 multiple choice questions. You needed to get 60 of them right to pass. Sawyer may have changed the criteria, so if you find yourself facing a hundred short answers, an essay, and a pass cutoff of 90, don't come crying to me later."
"Got it," Bruce nodded. "What else?"
"You'll need to prove that you're qualified with both a pistol and a shotgun—"
"Wh-what?" Bruce fought to stay calm. "I've been practicing with a pistol, but..." He'd rarely seen any officers who weren't on a SWAT team carrying shotguns. How could he have missed this? He knew how. He'd never been particularly interested in what sort of firearms training was given to GCPD officers. He'd simply observed the kinds of weapons they carried in the line of duty and noted that, in general, that meant pistols. Somehow, he'd got it in his head that shotguns were the purview of specialized divisions and not necessary for all officers.
"Do you
have
a shotgun?" Jim asked. "It's been some time, but I can come back with you and give you some pointers."
Bruce gave a slight nod and took another breath. "What else?"
"The focus of the firearms training program is safety, accuracy, and speed—in that order. The goal is to get you to a point where you can perform quickly and efficiently, without compromising your safety. Basic firearms training is normally 90 hours to start with, but this is something you can't just pass and forget about." His eyes took on a blazing intensity. "There are mandatory five-hour refresher trainings every six months. As there should be," he added. "Considering that this is one area where mistakes can be lethal. We can't afford to make them. I'm not saying we don't," he admitted, "but we can't afford to."
Bruce nodded glumly.
"Another thing. The course isn't just about guns. It's also about tactical training, chemical agent training and something they like to call "practical demonstrations" of the effects of non-lethal takedowns like tasers and pepper spray. And yes," he smiled apologetically, "that does mean that they want to make sure you know firsthand what it feels like to be tasered or pepper-sprayed, before you try using either on someone else."
"Am I expected to shoot myself in the foot, too?" Bruce demanded.
"I'd say more than half the instructors are expecting you to," Jim retorted, "but it's not a course requirement."
Bruce sighed. "What else?"
"You'll need to score 84 percent or higher on the pistol qualification course and 80 percent or higher with a shotgun. There's an emphasis on tactical training—meaning simulated deadly force incidents. I think you're familiar with those gauntlets where life-sized cutouts pop up at you and you need to fire on the perps and avoid the civilians?"
His palms were sweating. "I thought... I've been using bulls-eyes. I..."
"There's a static range too," Jim nodded. "You'll need to score three consecutive passing grades with pistol and shotgun to qualify—but the tactical training starts before that." He frowned. "Are you okay?"
Bruce closed his eyes. Then he reached into his pocket and pulled out his cell phone.
"Who are you calling?" Jim asked.
Bruce let out a long breath. "Commissioner Sawyer. I need to tell her... it's off." He bent forward in the chair until his elbows rested on his knees. "I can't do this. I'm sorry. I just can't."
Please let us know what you think
here!