Post by Admin on Feb 25, 2016 16:32:24 GMT -5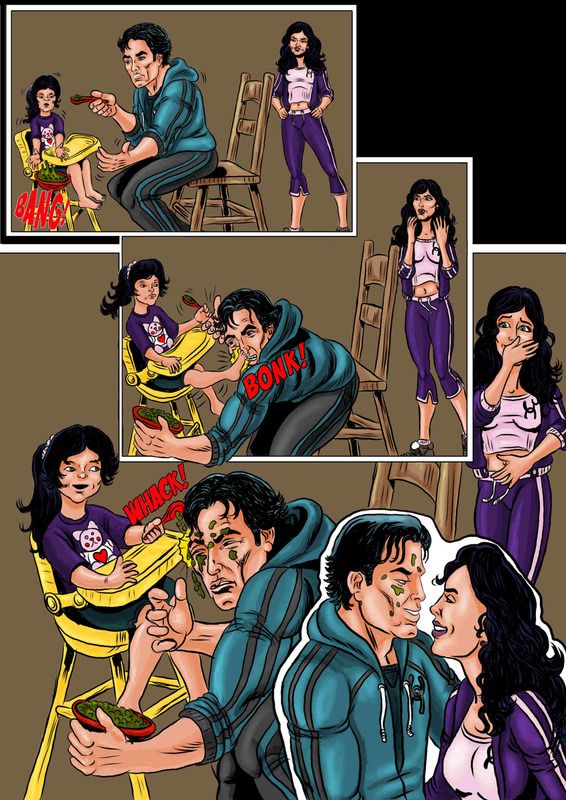 Unrehearsable
Issue #15: "Good Enough"
Story by Ellen Fleischer
Cover by ArtTeach
Beta Read by Kathy, Debbie and PJ
Edited by Mark Bowers
Slow down that's right
Give it all you got
Yeah you got the right stuff
Kick back let go
Trust yourself you know
Yeah what you got is good enough

Hey don't give 'em what they think they want
'Cause they don't have a clue…

—Angelo Petraglia, Georgia Middleman, "Do What You Do."
"Put the phone down, Bruce."
Although Jim's voice was quiet, Bruce did not miss the unmistakable note of command. And although Bruce didn't quite lower the phone, he did look up in perplexed irritation. "I can't do this," he repeated.
"I heard you the first time," Jim replied. "And I've heard you say it a few other times over these last few days."
Bruce shook his head. "I'm serious," he said. "There's just no way that I'll be able to pass gun handling on Monday. Which means that there's no point in bothering with this whole charade."
"You won't pass gun handling on Monday," Jim repeated softly. He regarded Bruce for a long moment. Then his face creased into a broad smile. "Well, thank God for that."
"Bruce gaped at him. "I… beg your pardon?"
Jim sat down in a nearby armchair. "Bruce, let me ask you a serious question. How would you feel about sitting in the passenger seat of a car when you know that your driver has never taken a car out in real conditions? Oh, they've memorized the material for the written test. They've done very well on the simulator games in the arcade. But they've never actually driven on a real road, with real traffic and… and bumper cars get them a bit twitchy."
Bruce shook his head. "It's not the same thing."
"No," Jim agreed. "It's worse. Look. There are some subjects in the curriculum that you're going to know better than the instructors. On those, I agree with you, one hundred percent. You shouldn't need to sit in a classroom and go over them again. In fact, you'll probably be bored to tears if you do. But Firearms Handling? Bruce… if there's one course you need the classroom hours for, this is it." He frowned. "You were planning on going from the testing directly into the field, weren't you?"
Bruce looked down. "Planning is too strong a word. But I was… hoping."
Jim sighed. "It might help if you think of the testing as a means of determining which courses you can get advance credit for. Because get this through your head now and accept it: you
are
going to the Academy, and you
will
have to take some courses. No two ways about it. And here's something else to keep in mind. There are plenty of new recruits who've never seen a gun up close, much less handled one. The instructors are used to that." He stood up and crossed over to the sofa where Bruce sat. "Granted, they're more used to new candidates being too gung-ho and excited over the whole thing; you're right to be tackling your reservations early. However, my point," he continued, resting a hand on Bruce's shoulder, "is that, right now, passing or failing the tests isn't going to get you kicked out of the program. You passed the vetting. You're in. And either you're comfortable with the material now, or you will be by the time the program's over."
"Comfortable with a firearm…" Bruce said, closing his eyes. "You'll excuse me if that's not my greatest ambition."
Still keeping his hand on Bruce's shoulder, Jim sat down next to him. "Well," he rumbled, "how else are you going to work on your fear?"
"What?"
Jim waited for Bruce to look at him again. "How else," he repeated, "are you going to work on your fear? I've seen you work to just be able to load that Beretta, but you were ready to give up until circumstances forced your hand."
"Circumstances and a talk with Dick," Bruce muttered.
"And now, you're having a talk with me. That's not the point. The point is that you and I both know that fear is an insidious thing and once you let it get a toehold, it tends to gets worse." Bruce started to speak. Jim kept going. "Look. You can either control your fear, or you can let it control you. Nobody, I repeat
nobody
expects you to beat this thing overnight. But you are not walking away. Not for that reason." Jim sighed. "Don't make me give you that clichéd old speech."
Bruce frowned. "Speech?"
"Yeah. That speech you hear in every other movie about facing your fears instead of running away from them. You don't really need me to tell it to you now; you've probably had to give it a few times in your career. Besides, I hate making speeches." That earned him a quick smile. "Do me one favor," he continued. "The last time you were ready to give up on this, you decided that you were going to wait until morning before you called Sawyer. Do the same thing now: sleep on it."
"Sleep?" Bruce asked wearily. "As you just pointed out, gun handling isn't the only thing I'm going to have to worry about on Monday. I've barely touched the other subjects."
"Ah," Jim nodded. "So you're back in the game?"
"I… don't know," Bruce admitted with another ghost of a smile, "but if there's a chance that I won't be making that phone call in the morning, I can't afford to waste tonight."
"Sleeping isn't a waste," Jim pointed out. "Of course," he continued in friendlier tone, "if you were planning on ordering pizza and tackling the books, I
guess
I could help you out. Maybe highlight a few policies and procedures for you that I know for a fact fly in the face of how you're used to doing things."
"I can man—" He stopped. "Dick said you liked the Vegissimo from Luigi's?"
Jim chuckled. "My doctor likes it. He wants me to watch my cholesterol. I've given up sausage and pepperoni, but I'll take my chances with cheese. Still, don't let that stop you from ordering what you want. I doubt I can eat more than half a pie."
"Actually," Bruce considered, "let's start with the Vegissimo. I can always order something else if we run out."
"Better put coffee on, too."
"Barbara suggests—"
"I
know
what Barbara suggests, but I can tell you right now that if you're hoping to fit in at the academy, there are two beverages of choice: beer, and coffee. And since you don't drink beer…"
Bruce's lips twitched. "I'll make the coffee."
"I'll be at the house in an hour. Unless you wanted to set up here?"
Bruce considered. "Actually, working here might not be a bad idea," he said. "It's going below freezing tonight. If the path should ice over, I think I'd rather
I
slipped on my way back to the manor than you on your way back to the cottage."
"Nice to see you thinking cheerful thoughts for a change," Jim retorted. He waved Bruce off with a chuckle. "Go, go. Meanwhile, I'll get online and ask Barbara if she can point out any other resources."
*****
High-pitched wails greeted Bruce on his arrival at the manor. Heart in his mouth, he raced to the kitchen. "Selina!? Is Helena…?" He stopped. Helena was lying across the kitchen threshold struggling fiercely as Selina held her down with one hand while unsuccessfully trying to pull a patent leather Mary Jane onto her tiny foot with the other.
"Bruce? I am so glad you're home. I need a little help here," Selina said over Helena's screams.
"NO! NOOOOO!" Helena choked out through a flood of angry tears.
"What happened?" Bruce asked as Selina tossed him the shoe and used her now-free hand to further immobilize their daughter.
Selina sighed. "She knocked my glass off the table," she explained, jerking her head in the direction of the fragments. "I figured the first order of business was to get her shoes on in case I missed a sliver or two cleaning up. She had other ideas."
"I see." Bruce bent down to look at his daughter. Her face was red and streaked with tears. Her nose was running. When she saw him, her angry howls died down to furious sobs.
Bruce took a deep breath. "Hi, Helena."
A loud sniffle was his only reply.
"Um…" Bruce tried to keep his tone soothing. "Mommy said a glass broke."
Another sniffle. She looked exhausted.
"You know," he said, "if you step on the broken pieces in your socks it can hurt, right?" He nodded, smiling, encouraging her to imitate him.
Helena watched him. Cautiously, she nodded back.
"Atta girl. So you know how we stop your feet from getting hurt?"
Helena frowned.
Bruce held up the Mary Jane with a smile. "We put on shoes!"
"
NOOOOOOOOO!
" All at once, Helena's limp, pliable form surged with renewed vigor. "NO SHOES! NO! NONONO!"
"Helena…
OW!
" He brought a hand up quickly to his nose. He'd had no idea that she could kick that hard. Nothing seemed broken, but it wasn't until he took his hand away and looked at it that he was reassured that nothing was bloody either.
"Bruce," Selena ventured, her hands still pinning their daughter to the floor, "did you actually think you could reason with a toddler?"
Bruce sighed. "Plan B." He reached for her foot. Helena kicked his hand away forcefully. Wincing, Bruce grasped her leg firmly in one hand. With the other, he jammed the shoe on. So far, so good. Unfortunately, he needed both hands to work the buckle and as soon as he released her leg, Helena seized her chance and delivered another kick. The shoe dropped off her foot and fell to the ground.
"Want to try this in costume?" Selina asked. "MeTube needs another hit."
"Don't even think it. Does she have any other shoes upstairs? Loafers? Maybe something with Velcro?"
"Yeah, but if they slip on easy, they slip off easy, too."
"Point." Bruce sighed. "All right. Let her go. I've got her." Selina gave him a look, but she released her. Bruce scooped the little girl up and swung her high into the air.
Helena shrieked. Bruce swung her again. On the third swing, she giggled.
"You know," Selina remarked, "she just ate. I'm not sure flinging her about is a good idea."
Bruce raised an eyebrow. "She's not screaming. She's not walking on broken glass in her stocking feet. It's a good idea."
"And you'll clean up after her if you're wrong?"
Bruce considered. Then, recognizing the force of her argument, he set Helena on his shoulders, piggyback. "We'll be in the study," he said. "Unless you'd rather I take care of the glass while you watch her?"
Selina shook her head. "No, I can handle the glass. Just… try not to get her too excited. Or too near anything breakable. I'll join you in a bit."
Bruce nodded. He stole a glance at his watch, surprised to see that the entire incident had taken less than five minutes. He was actually going to get to spend a bit of time with his daughter before he had to hit the books!
*****
Two hours and three quarters of a pizza later, Jim looked at the next page of the study guide.
"You are working with a new partner," he read. "He is senior to you and known as a good cop by just about everyone. You observe a male walking down the street in a residential district. He looks normal to you, except that his clothes are a little ragged and he needs a haircut. While he doesn't look like a homeowner, there are several similar-looking individuals that walk this street. Your partner, who is driving, slows and calls to the male by saying 'Hey, fellow, what are you doing in this area?' This subject looks over at you but just keeps walking. Your partner makes a U-turn and stops alongside the guy. Both of you exit the police vehicle and begin walking fast to catch the guy who just keeps walking in the same direction. As you approach, the subject turns and makes an obscene gesture. Before you can say anything, your partner grabs the subject by the arm, trips him, and slams him face first into the sidewalk. He then cuffs the guy, picks him up by the arm and shoves him against the patrol car until he gets the door open. He then shoves the guy, who is now bleeding from the nose, into the rear seat. You have not had time to really do anything, nor has the subject. Your partner winks at you and says, "Next time he'll think twice before taking a swing at a police officer." Your partner then sits down in the front seat and begins to write a report as he calls for transportation to take the subject to jail." He nodded to Bruce. "What do you do?"
Bruce sighed. "As in every other case, I respect the chain of command. I do nothing to confront or antagonize my partner directly. I do not warn him. I do not give him a chance. Instead I report to his superior. If no action is taken, I go higher." He looked at Jim. "And I realize that, despite the alleged protection offered to whistle-blowers in this situation, I can pretty much take for granted that I will, in fact, face repercussions, should my partner or any of his friends suspect that I was involved."
"That's right," Jim said heavily. "Once you're out in the field, acting on a situation of this nature is not supposed to be—but in all likelihood, it will be—a judgment call. I wish I could tell you differently. But, as far as your answer to the panel, yes, that is protocol."
He returned to his page. "Next one: You have a beat partner whom you really like. He is one of the best cops you know. He looks sharp, does good work, and you'd trust him with your life. You have noticed, however, that every once in a while he smells of alcohol. Finally, one night while on duty, you ask him about the smell. He produces a small flask from his uniformed jacket inside pocket. He states 'this is my one vice in the world. I have a nip now and then. Never more than two in a shift. Trust me, it's no problem.' As far as you know, he's right. He thanks you for mentioning the smell, and says he'll do something about that."
Bruce took a swallow of coffee. "That one… I would try to lodge anonymously. If I noticed that he sometimes smells of alcohol, it would be plausible that others did as well and the facts wouldn't necessarily point to me as the source of the information." He sighed. "I would still need to consider that I would be suspected and take precautions."
"Leave that last bit out of your answer unless pressed," Jim warned. "Here's another one. You have reason to believe that there is a vigilante at large, taking the law into his own hands. You hear from others that this vigilante has never taken a life, is careful, cautious, and able to crack many cases that the police can't. At the same time, he operates outside the law. You would complain, but it seems that he has support at the highest echelons of law enforcement." Bruce noticed that Jim was fighting to keep a straight face. "What do you do?"
Bruce raised an eyebrow. "If the vigilante in question is associated with the Justice League, the Justice Society, or other such organizations, then I would presume that they have UN sanction to operate. Which would mean that, so long as local law enforcement is requesting their assistance, there is no ethical dilemma. If the vigilante lacks such sanction, well, if the highest echelons of law enforcement are willing to overlook that, then it's essentially managerial fiat and my hands are tied."
Jim chuckled. "Good. Keep that answer in mind in case there's some jerk on the panel who thinks asking you a question like that is going to make you squirm."
*****
It was a quiet patrol. It seemed that the recent sightings of visiting Capes—everyone from Superman to Looker—had the underworld lying lower than usual.
Batman still found trouble, of course. Vandals, car thieves, petty criminals who usually thought they were safe—relying on the likes of Joker and Two-Face to keep him occupied, lawbreakers who operated in urban parks and narrow side streets where police cruisers seldom ventured. Tonight, their luck ran out.
He'd just foiled his eighth car-theft of the night, when the signal went up. He cast his grapnel and snagged the horizontal flagpole projecting from a nearby hotel. Tonight might turn out to have some excitement, after all!
*****
He was halfway to GCPD when Oracle called. "Do you want me to spoil the surprise?" she asked.
Although her tone was flippant, Dick heard something more serious under the banter. "Hit me."
"I'm taking our home security to DEFCON 3. Make sure you remember the access codes."
Dick frowned. "Last update was two months ago, right? If so, I got 'em. Now what's going on?"
Barbara sighed. "The other shoe just dropped. You know how since Bruce's arrest, we've sort of been waiting all this time for someone to target us? Montoya lit the signal to give you a heads-up. It's on."
Dick took a deep breath. "Details?"
"Hush is offering ten million for your head." Barbara sniffed. "Frankly, I think you should be insulted."
"It's only fair," Dick admitted. "I took his hands."
"You're not feeling guilty—"
"No. But you'd better make sure Bruce knows what's going on, too. Last time, Hush tried using me to get to Bruce. I wouldn't put it past him to go for a reversal this time out." He frowned. "It might be helpful to know whether he's just dangling a wad of cash and pointing his beagles in my direction, or whether he's actually planned any of this. The former would be easier but his usual MO's the latter."
"Yeah. And if he is taking on an active role, you're right: someone probably
will
try getting to Bruce. As if Bruce doesn't have enough going on right now," Barbara groaned.
"Noted." Batman sighed. "Appreciate the warning, O. I'll be careful. Signing off now. I'm almost at GCPD; may as well find out if that's the only thing they wanted to pass on, or if there's some other intel. But, when I get home, we'll review some of the voice-activated defenses." He snickered. "I'd hate to say the wrong code phrase and electrify the floor when I mean to flood the lobby!"
*****
It was nearly 2AM when Bruce trudged back to the manor. He had rarely been more grateful for his photographic memory, but memorization was only part of the task. It was a double-edged sword: he retained just about everything he read, but he still had to sift through the data, determine what was relevant, and connect it to material that he'd already learned. If he didn't take the time to review, he'd discovered early on that it was something like walking into a library—in which every volume had been flung off the shelves and thrown in a different direction. Then information was all there, all accessible, but there was no order to it. Since the tests were timed, he needed to know the material backwards and forwards.
He yawned as he took his coat off and hung it in the vestibule closet. The ground floor was dark. Selina hadn't gone patrolling tonight, which meant that she'd probably turned in by now. Bruce knew that he should probably do the same, but there was one last avenue he wanted to explore before bed…
*****
The voice on the other end of the phone was silent for a moment. "You know," Clark ventured hesitantly, "it's not just up to me. I can suggest it, of course, but it's not going to be that easy."
Bruce's knuckles whitened on the receiver. "I…" Despite himself, Bruce started as a hand came down on his shoulder and he whirled about reflexively, knowing who he would find when he did. His voice hardened. "You didn't need to get out of bed for this. And if you were going to," he added with a roll of his eyes, "you could at least have gotten dressed first. Does anyone actually still wear a nightcap?"
"I almost didn't," Clark admitted. "It blew off twice when I was flying here. Um… you might as well hang up the phone now."
"Twice in as many seconds," Bruce sighed. Clark was wearing a pair of baby-blue flannel pajamas with a matching cap.
"About regaining UN sanction," Clark continued, "you do realize that's not going to help you in Gotham."
Bruce nodded. Thanks to Jim's police ethics quiz, that fact was uppermost in his mind: if local law enforcement did not request or accept his help, the UN sanction would be as useless as a $10,000 bill in a Sundollars. "I need to get back to… me," he said. "Whether I pass the academy program or not. And," he looked down, "it's beginning to look like 'not'."
Clark blinked. "That's… I'm sorry, Bruce. I just never thought I'd hear that coming from you."
Bruce shook his head. "You didn't need to come over," he repeated. "Sawyer has me over a barrel. I need to jump through her hoops, if I mean to operate in Gotham, in costume. However, if that doesn't work… would the League…?"
"Hang on," Clark replied, frowning. "I'm still trying to get my head around your
asking
to rejoin the team. Normally, we practically have to beg."
"Don't make it harder than it is, Kent," Bruce said. "I can't give up doing what I… do. I don't want to give up Gotham. But if I can't operate here, then I may need to look at other options. Would they be open?"
Clark tugged at his collar. "Um…"
"What?"
The Man of Steel took a deep breath. "Well, first of all, it's not up to me. Not entirely. Diana and I might lead the League, but something like this would be put to all members for a vote."
Bruce's eyes narrowed. "You don't think it would go my way."
"I think it might have," Clark said, "if you hadn't decided to accept Commissioner Sawyer's terms."
"Excuse me?"
Clark force himself to meet Bruce's eyes. "Okay. If you'd contacted the League first, we might have voiced some reservations about whether you were fit for active duty, but I think in the end, you would have been back. The problem is that you didn't. You're trying to qualify as a police officer. I know that, for you, it's a stepping stone to getting officially sanctioned. That's not the point. The point is that you're turning to the League for membership now, when you're making it sound like you're about to wash out of the academy. Which would mean," he took a step closer, his expression deadly serious, "that you're asking us to accept you as a member when you can't handle regular law enforcement."
"I never went through the police academy," Bruce pointed out. "It wasn't a problem in the past."
"Right," Clark nodded. "Because until now, we've all assumed that you qualified, or you'd qualify if you were interested in trying for it. We didn't need a piece of paper saying you'd passed. We saw you in action."
"And now?"
Clark tugged at his collar again. His voice softened. "I'm sorry, Bruce. You've been out of the costume for three years. You've been through a hell of a lot. It would be one thing if you passed the academy program and then walked away from the department. If you fail—or worse, give up before you start—I don't see any membership vote going in your favor." He looked down. "I… I'm not sure I could support you in that case, to be honest."
Bruce nodded. "I see."
Clark cleared his throat. "There's one other consideration. If it goes to a vote, then all active and reserve members get to weigh in. It's not exactly your fault but…"
"But?"
"…That backgrounder asked some pretty penetrating questions. It wasn't just you under the microscope. We put ourselves through it—not altogether willingly in all cases, but we did. However, if you don't stay the course, you're pretty much saying that we did it for nothing. I'm not sure how, say, Ollie or Hal might view your petition. Don't misunderstand. I'm not saying that it would necessarily be a conscious thing, but…"
"…But their experience might lead them to be… predisposed… toward turning me down." Bruce nodded slowly.
"I could be wrong."
"You could be," Bruce allowed. "But you wouldn't have said anything if you didn't think it possible." He sighed. "…Or if you didn't think I should stay the course."
"That's… not really for me to say."
Bruce's lips twitched. "No. But you didn't say. Still, I presume I've correctly deduced your opinion?"
Clark hesitated for a moment before he replied. "Yes."
Bruce nodded again. "Thanks for coming out here."
"You're not angry, I hope…"
Bruce forced himself to smile. "I'm not angry, Kent. I just…" and all at once, he no longer had to force the smile. "I've had so many pep-talks over the last little while. As appreciated as they are," he admitted, "I think what I really needed was a kick to the posterior. "
Or two
, he amended mentally, thinking of his earlier conversation with Jim.
"
Thanks for that."
Clark shook his head slowly, but a smile was forming on his own lips. "For that… you
really
should have called Ollie."
*****
"Have you been down here all night?" Selina asked.
Bruce jerked upright, startled by the sound of her voice. "Is it morning already?" he asked. He hadn't even heard her come downstairs.
"Yeah… it's almost ten. Helena was scratching on your door—I don't think she's quite got the hang of knocking, yet. I was going to tell her to let you sleep, when I realized you'd left it open a crack and you weren't inside." She took a few steps closer. "What are you doing?"
Bruce gestured to the table, where a Remington Model 870 shotgun lay before him. "I was loading it," he said wearily, "and unloading it. It's… I'm finding it easier than the Beretta. I thought I should practice firing it before I came upstairs, only every time I considered setting up a new target, I decided I needed to practice the loading and unloading again."
Selena moved forward, until she stood directly behind his chair. Her lean arms moved around his neck, the fingers of one hand gently clasping the other just above his heart. She rested her chin gently atop his head.
"I know," Bruce continued. "I'm delaying. Stalling. Not… something I usually do. But when it comes to guns, I…"
"Yeah," Selina murmured.
Bruce leaned back into her. "And I
don't
need to do this. At least, not now. Jim and I discussed it yesterday; there's no way I can pass gun handling on Monday, and it's foolish to try when there's so much other material to cover. He's right about that. I know he is."
"Okay," Selina said. "And the reason you spent the night down here with Ol' Betsy is…"
Bruce straightened his shoulders. "Because even if my speed and accuracy are beyond unacceptable, I'll be damned if my hands are going to be shaking on that firing range." He sighed. "I know I keep saying I don't want to do this—and it's the truth—but if I have to, then I need to stop whining and get on with it."
"Maybe," Selina said, "but you might want to consider sleeping. Jim called to confirm you're still going over around two?"
Bruce nodded wearily. "More studying." He yawned and stretched. "I guess I should try to get
some
rest in the next four hours. He sighed. "I'll make it up to Helena."
"Oh, I think she'll forgive you," Selina grinned. "This time…"
*****
"How's it going, Boss-man?"
Startled, Bruce jerked his head upwards, meeting Barbara's gaze as she peered at him from the monitor. He growled and returned to the study guide that Jim had given him.
Barbara sighed. "That well?" she asked, banishing the levity from her voice.
Bruce looked up again. "Police pull over a suspect for reckless driving," he intoned. "When they ask him for his license and registration, they discover that he's been driving with a suspended license. He's arrested on the spot. When the police search his car, they discover cocaine and an unlicensed firearm,
but
," he scowled, "because they failed to obtain a warrant prior to conducting the search, the suspect can only be charged with the driving violations."
"Yeah," Barbara nodded. "Not quite your usual MO, is it?"
Bruce sighed. "If it was just a written test, I'd be less concerned. But you know that in addition to the written component—and, where applicable, a skills test—there's the small matter of the oral examinations." He rolled his eyes. "More panels. All subjective. And," he gritted his teeth, "some of the people who sit on those panels are going to be less concerned with my current grasp of the material than they will be with my—as you phrased it—usual MO." He sighed. "I may have passed the admissions hurdle, but if certain elements don't want me to pass the curriculum, then—"
"Then you'll show 'em what you think of 'em," Barbara cut him off. "Because if you can wrestle Killer Croc to a standstill, you're not going to let a bunch of bureaucrats stop you." Her green eyes bore down on him. "
Are
you?"
Bruce muttered darkly under his breath and went back to the study guide with a scowl.
"That's the spirit!" she grinned. Her smile dropped. "Seriously? About your past? You
did
pass that admissions hurdle, past and all, so forget anyone on the panel who tries to put you on the defensive over that. And by 'forget'," she added, her smile back in full force, "I mean something else that starts with 'f', but just in case Daddy's checking up on you, there are some words he doesn't need to know I know."
Bruce's eyebrows shot up. "I'm not sure I did either."
Barbara laughed and closed the connection.
*****
Derek Powers rang Paxton's doorbell at precisely 5:30 that evening. Paxton opened the door almost immediately and ushered him to the drawing room.
"Where's Thackeray?" Powers asked, surprised that the butler hadn't greeted him at the door.
"I gave him the afternoon off," Paxton replied. "The media has been rather attentive, of late. As much as I trust him, I've seen too many people stab me in the back recently for me to risk his overhearing something that might be," he coughed, "better left out of the media, if you take my meaning."
"I do indeed," Powers nodded. "I presume you asked me here to discuss the gala?"
"In part, Derek, in part," Paxton chuckled. "I've noticed that Wayne prefers to shun the media spotlight. I suppose that," he sniffed, "as a so-called creature of the night, he prefers the shadows. And yet, he's about to make a public appearance," he said, drawing his words out. "At a charity gala, no less. Well, Derek," he smiled benignly, "why don't we give him some publicity? There was a kerfuffle outside police headquarters last week, when he had to appear for a panel interview. He gave them the slip then. I can tell you truthfully, Derek, those reporters are sharks. And they've caught the scent of blood in the water. I'd suggest you use that."
A slow smile spread across Derek's lips. "Let them know that Wayne's confirmed attendance at the gala," he said, nodding. "They won't send their society writers to do some puff piece. They'll send out the hounds."
"Exactly. And," he added piously, "when word of this gets out, I wouldn't be surprised in the least if the Foundation sells a few more tickets."
"And it's for such a
good
cause."
"It is indeed, Derek," Paxton nodded back. "It is indeed."
*****
The perimeter alarm went off on Sunday morning, while they were at breakfast. "I'll check that," Bruce muttered.
"Probably just a pigeon flying into the security grid," Selina remarked as she absently cut a pancake into eighths and smiled at Helena, who was watching with anticipation.
"Doubtful," Bruce replied, pushing the front section of the newspaper toward her. "Sawyer warned me that once I was passed for the Academy, she was going to issue a short statement confirming it. I wasn't sure when it was going to happen, but," he pointed to the article, "it has." It was front page news, he noted, even if it was below the fold with a mere twelve-point headline.
"Ah." Selina set the pancake pieces onto Helena's plate and set it on the highchair tray. Helena immediately stabbed her plastic-coated fork into one. "I can probably hold them off, if you'd rather beat a hasty retreat."
Bruce hesitated. "Let's just see how serious this is," he said, getting up.
Two minutes later, he was back. "Most of them are at the main entrance," he reported, "but there are a few stationed at the other access points: the cemetery entrance, the beach… I saw one intrepid soul walking along the fence, doubtless hoping for a breach. Or wondering if there's a side road for the Batmobile."
"So we're surrounded," Selina stated.
"We aren't trapped, though. They don't know about the Cave, nor the tunnel that I really use to leave in the Batmobile." He smiled. "Yes, I checked. However," he added, "I'm not sure it's a good idea to hide from the press at this point." He sighed. "They want a story. I can either give them one now, or I can deal with a throng of them waiting for me on Monday. From what everyone has been telling me—and based on what I've observed personally—my wisest course of action at the Academy would be to attempt to keep a low profile. I won't succeed," he added, rolling his eyes slightly, "but I still shouldn't try to call attention to myself. I can't help thinking that dealing with a crowd like that on Academy property would be somewhat more disruptive. Not to mention conspicuous," he added as an afterthought.
"Good point." Selina reached for a piece of toast. "Maybe you should call Dick. He worked in media relations for over a year. He might have some tips."
Bruce shook his head. "I've dealt with the press before. And one thing that's stood me in good stead, both with them and with other large problems is the recognition that a task becomes much easier when broken down into manageable chunks." He moved toward the phone.
"Who are you calling?"
Bruce smiled. "Someone who's less likely to twist my words into something I don't mean to say." He dialled a number from memory.
Come on, come on.
Four rings. And then…
"Yeah?" The voice was harried and hurried, but still achingly familiar. They'd had a few good times and he still looked back on them fondly. But for now, he drew his attention to the task at hand and tried to ignore the other members of the press that he could hear rumbling in the background.
"Hello, Summer."
"B—" she caught herself almost instantly. "Is this who I think it is?"
"I'm ready to give in to the inevitable," Bruce coaxed a bit of good-natured resignation into his voice. "You can have your interview. In fact," he smiled, "if you can meet me where we had our first date, you can have an exclusive. Be there at noon. Come alone," he hesitated. "Well, actually, I suppose you can bring along a camera crew, if you must. But make sure you're not followed. If anyone else is there, I'll keep right on driving."
"Got it."
Bruce smiled. "See you there. Oh, I should mention that it's been some time and I," he chuckled, "I'll probably look a bit different from what you recall. So, to make it easy, I'll be wearing the tie you gave me for Christmas."
"Now, now," Summer chided, "that place has glass walls. You'd better make sure you're wearing more than
just
a tie." She giggled. "See you at noon."
Bruce hung up the phone and turned to Selina. "Of course, the meeting is strictly business," he said, hoping that Summer's words hadn't been audible to her.
"Of course," Selina grinned. "Relax." She pushed the plate of pancakes toward him. "I'm not jealous. Besides," her smile grew wider, "she's right; you really
shouldn't
go to the Botanical Gardens wearing only a tie."
*****
"Do you have adequate lighting?" Bruce asked.
Summer glanced at her team and nodded. "This is fine," she confirmed. "I never knew there was a studio in here."
"Well, the local Garden Network affiliate used to broadcast live from here, before Cataclysm. I'm hoping they'll come back some time, though I've had other matters on my mind, of late."
"Ah, I see." Summer frowned. Bruce sounded affable, polite, as charming as always, but something was different. It took her a moment to realize what was missing: Bruce was alert and engaged, with none of the vague befuddlement that had been so characteristic of him in times past. "So… shall we get started?"
Bruce coughed. "I think I ought to get changed first. And did you bring a makeup artist, or should I take care of that too?"
Summer laughed merrily. "I was wondering if you were planning on going before the cameras like that," she admitted, indicating his rumpled tweed sports jacket, gray flannel pants adorned with an obvious mustard stain, and battered brown fedora. The blue cashmere tie was clean and pressed, but it was the only part of the ensemble that looked fresh. She wasn't going to mention the seedy mustache and goatee.
"I agreed to an interview, not a media circus," Bruce pointed out. "This was the easiest way to avoid being followed."
"I see. Wait." Summer frowned. "Did you ever… dress like that to duck out on one of our dates?"
"No," Bruce retorted. "I had a somewhat different costume for those occasions."
"Oh?" Summer puzzled for a moment before she realized what he meant. "Oh! No, I was just wondering. Because, trust me. I wouldn't want to have been caught dead with you in that getup. Um… how long will it take you to get presentable?"
Bruce relaxed. "It shouldn't be more than a few minutes—unless you do need me to handle my own makeup."
*****
"After having spent nearly two years in Arkham," Summer continued, "it must have been quite an adjustment for you when you got out."
Bruce nodded. "It was," he said, hoping his smile looked natural. "But let's remember that for a number of months prior to my release, I'd been granted supervised weekends with my family. That helped to smooth the transition."
"Still, you know that many people question the wisdom of your application to the Gotham City Police Academy. "
Bruce nodded. "Frankly, I don't blame them. It is a big jump. And my previous methods were often at odds with police protocols. I'd like to think that I've gained some perspective over the past few years. The other thing you need to realize is that the GCPD is extremely thorough in evaluating candidates. They wouldn't have passed me if they had any doubts about my stability."
"Still, people can get twitchy where guns are concerned. Once you're through the academy, you'll be carrying one in the line of duty, correct?"
"Yes, that's right," Bruce said. "And I don't blame anyone for being nervous. As you and," he faced the camera, "many of your watchers know, I lost my parents to a gun. I've never required education on the subject of treating firearms with respect."
"Now, as Batman, you've never carried a gun before. Do you think that's going to pose a problem?"
Bruce nodded. "Let's just say that it's one course at the Academy that I don't expect to be able to breeze through. On the other hand, I'm not sure if anybody watching now would be comfortable with the idea of my being simply handed a gun, when I've never used one under field conditions." He hoped Jim was watching that!
"You've also been absent from the social scene for ages. Do you foresee that changing?"
Bruce smiled. "Well, actually, Summer…"
Powers frowned as he watched the images on the television screen. Gleason was just one reporter, he knew, and one who had dated Wayne in the past. Of course, she was going to make him look good. "Well, Bruce," he said softly to the set, "I wouldn't rest on my laurels quite yet. There are going to be a lot of people at that gala looking to get a piece of you—if I have to add them to the guest list myself…"
Please let us know what you think
here!