Post by Admin on Apr 13, 2016 15:49:55 GMT -5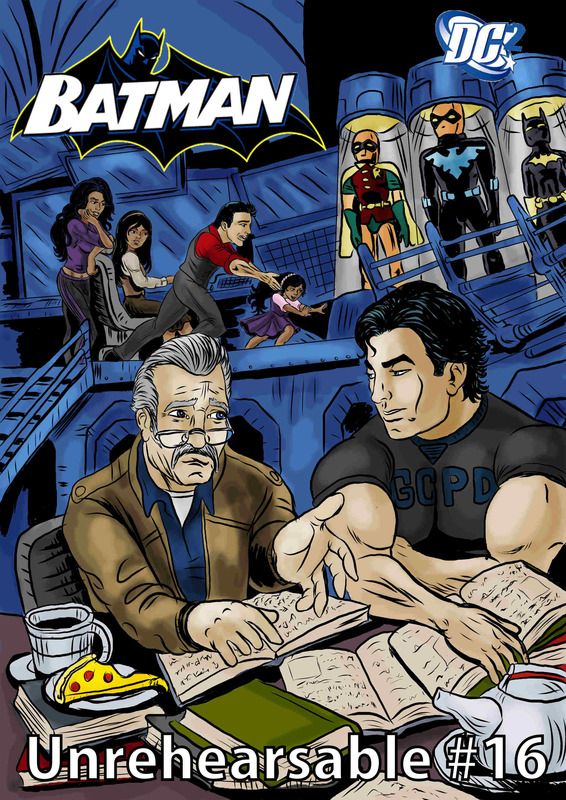 Unrehearsable
Issue #16: "Knowing What You Know"
Story by Ellen Fleischer
Cover by ArtTeach
Beta Read by Kathy, Debbie and PJ
Edited by Mark Bowers
You're on your own
You know what you know
Don't worry about
How fast or how slow
Be certain you step
With caution and tact
'Cause life is a great big
Balancing act!

—Lynn Ahrens, "Havin' A Hunch" (Based on the stylings of Theodore S. Geisel)
"Welcome to the Academy," the uniformed officer said over the speaker in his booth when Bruce rolled down the window of his BMW coupe at the front gate. The officer's tone was respectful, but his face was expressionless as he stared straight ahead. "Identification?"
Bruce nodded and extracted his driver's license from his wallet and held it up.
"There's a viewer to the left. Move your hand."
Bruce complied with an inner sigh.
There was a moment's pause as the officer ran the data. Then the bar that blocked the road onto the academy grounds swung up. "Follow this road to the parking lot behind the main building. Do not deviate from the main road. Please use the designated student parking. Your escort will be waiting for you there." The instructions were delivered without inflection—or a pause for breath.
Sawyer hadn't mentioned an escort, Bruce thought as he replaced his driver's license. "Thank you," he said.
The officer's expression didn't change, but he did acknowledge Bruce with a nod. "You're welcome, sir," he returned in the same flat tone. "All paths on the premises are under electronic surveillance. Proceed to the designated location."
Bruce fought the urge to roll his eyes as he started the car again and drove through.
*****
On the outside, the police academy looked like many of the private boarding schools that dotted the municipal map of Bristol Township. In addition to the main building, there were several others on the grounds. Based on the architecture, Bruce guessed that the oldest one he'd seen thus far—a dormitory, according to his guide—had been built in the 1930s. "Until about fifteen years ago, candidates were expected to sleep on campus, regardless of their proximity to the location," his guide—an officer who had been introduced to him as 'Sgt. Fochs'—said. "Now, it's mostly those from Evanstown and points south—mostly because the first GTARail out of Drescher wouldn't get you here until 0830 and an academy day starts at 0700 sharp."
Bruce blinked. "That's… surprising," he said slowly.
"The early start?" Fochs asked.
"No, not that," Bruce admitted. "I hadn't realized that the commuter trains aren't running that early."
"Remember," the sergeant said, "most people coming in from the suburbs are working downtown—and their workday probably starts around 0830, 0900 or so. We're all the way up north. To get from the south suburbs on public transit, commuters pass through the entire city, then ride the 'Rail through the country for another ten minutes, then wait another seven minutes for a local bus, and then ride that for
another
twenty minutes to get to our front gate. And unlike the train, the bus could run behind if the traffic doesn't cooperate. And should they choose to drive in," Fochs continued, "well, an academy day ends at 1630. Officially, it's 1600, but there are usually physical exercises scheduled last, so by the time you've showered and you're back in your car, you're just in time to get caught in rush hour traffic." He shook his head soberly. "It can sometimes take over two hours just to clear the city limits, and it's not uncommon for traffic to be bumper-to-bumper for a bit beyond that." Fochs tilted his head to one side and smiled. "As you may have deduced by now, I used to live in Drescher, before I bit the bullet and made the move to the city."
Bruce smiled back.
"You ride?"
"Ride?"
Not drive?
Since the officer had met him in the parking lot and knew he had a car, Bruce didn't think Fochs meant public transit. He frowned at what seemed to be a non sequitur. "You mean… horses?" Then he heard something that sounded suspiciously like hoofbeats coming from up ahead.
Maybe it wasn't such a non sequitur.
"Yeah," Fochs nodded. "It's not a requirement, but we do have a mounted division—mostly gets trotted out at parades and ceremonies, nowadays." He grinned. "Um… pun not intended. Anyway, if you do, you might want to mention it to Captain Alanguilan; he's always looking for officers who know their way around a horse. Stables are our next point of interest…" He broke off abruptly. "Side of the road," he ordered. "Now."
Bruce complied. A moment later, a blue-shirted officer mounted on a chestnut gelding cantered toward them.
"Whoa," the officer said, drawing to a stop. "How's it going, Guy?"
Fochs saluted smartly. "Morning, sir. Just giving the cadet the grand tour."
The officer looked Bruce up and down. Bruce gazed back levelly. After a moment, the officer turned back to Fochs. "Carry on, Sergeant." He kicked the horse back into a canter and continued down the path.
"Yes, that was Captain Alanguilan," Fochs remarked. "And yes, my name really is 'Guy Fochs.' My parents thought it was clever." He shook his head ruefully. "Let's proceed to the stables."
*****
"You're in good shape," Fochs remarked, as they returned to the administration building. "Most new cadets are out of breath by now."
Bruce smiled. He'd guessed that Fochs had deliberately led him back to the building via an uphill route. He had to admit that he wouldn't have been able to keep up the pace had he attempted it shortly after his release from Arkham, but practice paid off.
"Well, that concludes our grand tour. At this point, I just need to walk you over to the registrar's office, you sign a few forms, and…" he shrugged. "Guess you start testing. So, if you're having any second thoughts, this is your last chance," Fochs said seriously. "You're sure you want to go through with this?"
Bruce nodded, surprised to realize that he meant it. There were more than a few aspects of the program that he had issues with, but if this was his only sanctioned means of getting back in the cowl, then yes, he did want to proceed.
"Right," Fochs said, his friendly demeanor vanishing behind a veneer of stern professionalism. "In that case, I'll escort you to the office and, once you've taken care of the paperwork, we'll head over to supplies to get you fitted for your class A uniforms. You will also be issued a testing schedule and copies of
all
GCPD policy manuals." The veneer fell away. "I don't envy you. You'll spend this afternoon getting acquainted with your drill instructors. One-on-one," he added, with a shake of his head. "The written tests will commence tomorrow at 0700 sharp. Don't be late," he added. "First, the invigilator won't allow you extra time. Second, if you're more than ten minutes late, it's an automatic zero—hey, watch it!" he barked sharply, as a uniformed officer barreled past, jostling Bruce in the process.
What happened next was pure instinct. Before his conscious mind could process that the other man was sliding a hunting knife out of his jacket, Bruce's body was already turning slightly away from the blade. He grasped his attacker's knife hand at the wrist, twisting it as he aimed a vicious kick at the man's right ankle. Momentum carried his attacker forward into an ungainly belly-flop. Bruce took a quick step forward and squatted, pulling his attacker's wrist out before him and locking the other man's arm against his knee.
The attacker struggled to break free, until a nerve strike made him release the knife with a pained yelp. Bruce picked up the knife wordlessly and presented it to Fochs, hilt first.
Fochs blinked. Then, recovering quickly from his surprise, he took the knife and tossed a pair of handcuffs to Bruce. "Use these," he said. As Bruce complied, he added, "I think I'm beginning to see why the top brass is willing to stretch a few policies to get you onside."
*****
"What do you mean… 'an incident'?" Sawyer demanded. As she listened to the explanation, she felt her temper rise. "How did he get inside campus? Where did he get that uniform? How was he able to bring a hunting knife—which is emphatically not part of a standard uniform—into the administration building?"
Bad enough that an intruder had managed to infiltrate the academy campus, but do so with a knife that was more than a foot long! MacInnes started to say something, but she cut him off furiously. "You're missing the point here, Travis! Boneheaded or not, this trespasser attacked Wayne in OUR grounds—in a building teeming with cops! Someone WASN'T doing their job and I want to know why!"
Anger and consternation had her firing off questions as soon as they sprang to mind. "How long was he inside? Are you positive Wayne was his target? How about a grudge against cops in general?" Something about the administrator's tone finally got through to her and she took a deep breath. "The press will be all over this once it gets out. I want a detailed report, Travis—submitted to me by 1200 hours today—on
how
this happened,
who
messed up, and
what
your team will do to keep this from happening again!" She took another breath. "After I read that report…" her tone softened slightly, "…we'll talk more." She returned the phone abruptly to its cradle.
Damn it! She'd known that something like this was likely to happen, just as she'd known that Wayne would probably be able to deal with it if it did. It still didn't negate the fact that there had been a security breach on their own turf. Next week, more than thirty new recruits would begin the latest academy program. They had the right to assume that they would be safe on the campus. And, she reminded herself, regardless of whether he actually assumed it or not, so did Wayne.
*****
Captain MacInnes' eyebrows shot up as he listened to Fochs's report. "That fast?" he repeated when the officer was done, more musing aloud than asking a question.
Fochs nodded earnestly. "I barely had time to blink before Mister…
Cadet
Wayne was handing me his knife. I wish I'd had my stopwatch ready; it could have been a new academy record."
MacInnes grunted. "Where's the prisoner, now?"
"We turned him over to security."
"And Wayne?"
"He's waiting outside."
MacInnes grunted again. "Well, bring him in, Fochs," he said irritably. "Let's hear how he's doing."
Fochs got up at once and opened the office door. A moment later, Bruce followed him inside. He was carrying a stack of uniforms under one arm and an academy-issue navy-blue baseball cap emblazoned with a round GCPD crest in his other hand. He stopped in front of the desk, and stood waiting, head up, shoulders back, and feet together.
MacInnes regarded him for a moment. "Report."
If Wayne was at all surprised or annoyed by the order, it didn't show. "I was attacked by a lone assailant wielding a fifteen-inch long hunting knife with a ten-and-a-half-inch blade. I disarmed and subdued him, holding him until security arrived to take him into custody."
MacInnes nodded curtly. "You're being considered for advanced standing in most courses, cadet. Is that right?"
"Yes, sir."
MacInnes' eyes narrowed. Wayne had already avoided one of the classic rookie moves: nodding while responding. "There's a module on report writing included in the curriculum. Consider this an extra credit assignment: I want a full written report on this incident, properly filled out and formatted, along with any recommendations you may have to prevent something like this from reoccurring."
"Yes, sir." Wayne frowned. He seemed as though he was about to say something more, but he thought better of it.
"Problem, cadet?"
Wayne hesitated. "May I make a recommendation now?"
MacInnes smiled thinly. "Eager? Go ahead. But I'll still expect to read that detail in your report."
Wayne took a deep breath. "My presence here constitutes an unnecessary risk to all other personnel. The best way to prevent an incident like this from reoccurring would be to remove me from the program."
"Recommendation considered and rejected," MacInnes replied without hesitation. As Wayne opened his mouth to protest, MacInnes held up a hand. "Shut up and listen, cadet. This may come as a surprise, but for some strange reason, peace officers tend to make enemies. We're not always well-thought-of in all quarters. Sometimes, people threaten us, pull deadly weapons on us, even target our families. We take that sort of thing extremely seriously. But we do not throw one of our own to the wolves. Now Sergeant Fochs tells me that you've signed the necessary paperwork and the fact that you're standing here holding your uniforms tells me the same thing. That means that right now, you, Cadet Wayne, are one of our own. I may not like having to put together an accelerated testing schedule for you, and I may not be one of your biggest supporters, but that doesn't change the fact that, unless you wash out of here—which might very well happen, but until it does—you are one of ours. Save the heroic sacrifices for field duty."
He waved a hand. "Get out of here. You have twenty-five minutes to get into uniform and out on parade grounds. Let's see if you're as fast with that as you are with disarming a hostile. I look forward to your report by 0700 tomorrow." He reached for a stack of paperwork. "You're dismissed, cadet."
He had his own report to write, though he was damned if he knew what kind of recommendations he could make in under four hours. He'd been half-hoping that Wayne would have a suggestion off the bat; one that Sawyer would endorse. He gave a mental sigh. Of course, Wayne's advice had crossed his mind, but removing him from the program wouldn't address the real issue: someone had managed to breach their security. Sawyer had been right about that: if it could happen once, it could happen again. MacInnes knit his eyebrows together. Well, he'd come up with something short-term and hope it satisfied her. He doubted it would, but it wasn't as though she was giving him much time to come up with options. He was curious to read Wayne's report. From all accounts, this sort of thing ought to be right up his alley. And if Wayne came up with something tomorrow, then who gave a damn if it wouldn't be in the report he was going to submit to Sawyer today? He still needed it!
*****
"We found Fuller in the guard booth, tied up, gagged, and unconscious," the sergeant reported. "Paramedics were called. I think they're still on campus."
MacInnes nodded curtly. He'd already found out that much. "Sergeant," he began, "I…"
"Will someone tell me what's going on?" A hoarse voice demanded from behind the locked door. "Hey!"
MacInnes frowned at the second officer standing guard outside. "How long has he been like that?" he asked.
The officer shook his head. "You're not going to like this," he said.
"I
already
don't like it," MacInnes retorted. "But I asked you a question."
The officer snapped to attention. "Captain, the prisoner continued to resist while being escorted to lockup. In his struggles, he succeeded in dislodging his cap."
"His cap," MacInnes repeated, feeling sick, as he realized why the officer was making mention of it. "You mean…"
"As soon as the prisoner was bareheaded," the guard nodded, "his behavior changed dramatically. He appeared to have no idea where he was or why he was under guard. I've sent the cap to the lab for analysis, sir, but I
have
seen this sort of thing before."
MacInnes let out a heavy sigh. "As have I, sergeant. Better get used to seeing it more often." He shook his head. "As long as Wayne is on-site, it's a safe assumption that the Mad Hatter will try this again. And he probably won't be the only costumed kook to come out of the woodwork."
*****
"Slacking off already, cadet?" the drill sergeant barked. "Come on, Batman. You can give me another forty!"
Bruce kept his face impassive as he performed his one hundred sixty-first push-up. He hadn't broken a sweat yet, which only seemed to irritate the man standing over him. At first, he'd considered holding back, but then thought better of it. He didn't have to pretend to be out of shape anymore, and he'd only find himself facing more drill work if they thought he wasn't up to par.
After he'd completed the set, the drill sergeant eyed him as though he were a particularly stubborn stain on a uniform. "One hundred ab crunches!" he snapped. "Five sets of twenty; let's GO, cadet!"
With a mental sigh, Bruce rolled onto his back, bent his knees, and placed his hands behind his head.
One…


*****
Driving back to the manor some four hours later, Bruce was planning on a long soak in a hot bath. The shower he'd taken at the academy had refreshed him, but in a few hours, he knew, the effects of the callisthenics, sprinting, distance running, and obstacle course would begin to tell on him.
It wasn't exactly as though the drill sergeant had demanded of Bruce any more than he normally demanded of himself. However, there was a qualitative difference between exerting yourself to meet goals that you had set for yourself, and exerting yourself to meet goals imposed by another party.
He'd done two hundred push-ups before he'd realized that Drill Sgt. Craigie hadn't had a predetermined number of repetitions in mind for each exercise. Rather, his aim had been to push Bruce right to the edge—stopping just shy of driving him over into sports injury territory. Going by the relief he'd felt just to lean back in the driver's seat when he'd finally gotten back to his car, he suspected that this aim had been accomplished. He reminded himself that he'd endured worse, summoned a basic meditation technique to suppress his fatigue and the first faint signs of muscle stiffness, and concentrated on the road.
Despite himself, Bruce's lips twitched. When this stint with the GCPD was over, it might be worthwhile to see if Craigie was interested in becoming his personal trainer.
He turned on the radio and his nascent smile died.
"The PMWE building was evacuated nearly an hour ago, when police received an anonymous tip that there was an explosive device on the premises. An emergency response team is on the scene…"
*****
Dick was sitting at his desk when Sal Fiorini stepped into his work area.
"Something's come up and I need you to come by the security office, if you have a minute."
Dick's eyebrows shot up. Risk management did involve safety of a kind, but his duties rarely overlapped with those of the head of building security. "Now?"
"Right now." There was something about Sal's expression that told Dick that it wasn't a casual request. He locked his paperwork in his desk and followed him up two flights of stairs.
"Hope you don't mind the exercise," Fiorini said. "But if I ever got trapped in an elevator, I wouldn't live it down, and it's only two floors anyway."
Dick grinned. "Suits me fine," he said as Fiorini pulled open the stairwell door. He waited until they were in the security office, before he asked, "Okay. What's going on?"
Fiorini's expression turned deadly serious. "Five minutes ago, the police informed me that there may be a bomb on the premises. At least, someone phoned them to report it. I'm thirty seconds away from ordering a general evacuation, but it occurred to me that you might be better equipped to handle something like this."
Dick frowned. "But the police are on their way, right?"
"Eventually." Sal shook his head with a long-suffering sigh. "They have to investigate, of course. But then, the tipster claimed the bomb was going off in six hours, didn't give any further details, and this
is
Gotham. SOP is to get everyone out of the building and wait for the bomb squad to give the all-clear. But it might be well over an hour before they get here." He reached for the intercom and froze with his hand on the toggle switch. "I'm giving the order, but if you think you can handle things, you don't need to abide by it."
Dick nodded. "Bomb defusing is part of my skill-set," he admitted with a self-deprecating smile. "But it would help if I could get a little more information. Did you want my cell phone number to call once you're outside?"
Fiorini turned on the intercom and calmly directed all personnel to leave the building immediately via the emergency exits. Then he turned back to Dick. "I'll need to stick around until the floor wardens confirm everyone's out. As long as I'm here, what do you need?"
"To figure out how anyone could have brought in an explosive without getting stopped by security," Dick replied. "All bags are checked at the front desk. Access by any other door is by keycard only—so it's either an in-house job, a hoax, or someone tailgated. But how they got in, assuming it's not a hoax, isn't the main issue. Someone would have to set up the bomb and place it where it could do some damage, but where it wouldn't be spotted early. Mr. Fiorini…"
"Call me Sal."
"Sal... you know as well as I do that if there's one thing PMWE has always taken seriously, it's been building security. Besides a bunch of other measures, we have cameras
everywhere
. The first thing I need to know is if there are any places where they aren't. If not..." He sighed. "If not, I'm going to need to get back to my office. I have some equipment I keep around in case I'm working late and don't have time to get home before..."
"...Starting your other job," Sal nodded. "What kind of equipment?"
Dick shrugged. "Pretty much what the bomb squad is going to be carrying. Unfortunately, not every explosive device is the size of a stereo amp with colored wires and a countdown clock." His expression took on a seriousness that belied the lightness of his tone. "The guy who firebombed those warehouses on the riverfront and blew up Arkham? He did it with cell phones. Our device might be lying out there in plain view, or it could be locked up in someone's desk drawer. To find it, I'm going to need the right tools."
*****
"It was in the mailroom," Dick announced some forty-five minutes later. "Looks like it was set up more to scare than do any real damage; it's a stink bomb. A nasty one, but I've disabled it."
"Good work," Sal's voice came through over the cell phone. "The bomb squad's just pulling up. Better let them see if there's anything left to find."
Dick looked again at the note that had been taped to the canister of malodorant:
Next time, we won't call first. It won't just be putrescine. Keep PMWE vigilante-free. This is your only warning.
"I'm pretty sure this one isn't a decoy," he said in a more subdued tone. "But sure, let them have a look."
"Is everything all right?"
Dick hesitated. "You know that other job I've got? From the look of it, someone out there doesn't like me moonlighting. There's a note—"
The security chief cut him off. "Give it to the police when they arrive. Wayne Enterprises doesn't give in to terrorism. We never have and we never will."
"I can't endanger everyone else," Dick protested, even as it registered that Sal Fiorini had just referred to the company by its original name. "Look, there's no reason why I can't telecommute."
"Sure there is," Fiorini shot back. "There are a lot of reasons. One: we don't give in to terrorism. Two: if we made an exception in this case, somehow I don't think that you continuing to work for the company, offsite or on, will satisfy their demands. Three: we're not setting up a precedent of throwing anyone to the wolves just because someone out there disagrees with a hiring decision. Four: tell me that, when you found that bomb, you weren't already figuring out how to prevent any further suspicious parcels from getting in."
Dick let out a breath that sounded almost like a chuckle. "I… might have had an idea or two."
"Good. That's something we should meet to discuss. Are you free tonight?"
"Tonight?" Dick repeated. "I've got that other job."
"What time do you clock off?"
"Um… that… that depends." He couldn't believe he was having this conversation. "I don't really have set hours."
There was a pause. "If you finish before two," Fiorini said finally, "call me. I'll have my ringer on until then. Otherwise, I'll expect you in my office at seven tomorrow morning. When we're done, if you want to go home and sleep, go right ahead, but I'm not comfortable leaving a security breach unplugged for any length of time. Clear?"
Dick looked at the note again and heard once more the mocking voice that still haunted his nightmares.
You won't be able to shake someone's hand without marking them for death… How do you like being alone, Dick?
Then his fist closed around the sheet of paper, crumpling it in his hand—the hand that Blockbuster had told him he'd never be able to shake again. That was then. This was now. He wasn't alone. He didn't have to isolate himself to protect the people he cared about. He was about to throw the note into the shred bin, when he remembered that the police would need it for evidence. "Clear," he repeated. "See you outside."
Then he turned and walked out of the mailroom, doing his best to smooth the page with his gloved hands as he did.
*****
Bruce was waiting for him when he pulled his car into the cave. He barely waited for Dick to get out of the car, before he demanded…
"Are you all right?" Dick asked at the same time. "I heard—"
"—about the knife attack..."
"—about the bomb scare," Bruce's eyes narrowed. "How did you find out about
that
? I hardly think it would have been on the news."
Dick shrugged. "Your captain talked to Sawyer. Sawyer talked to her computer. Her computer talked to Babs." A glimmer of a smile flickered across his face. "Sawyer's probably just keeping it on file as CYA in case you got hurt and you—or we—tried to sue them for recklessly endangering you." He waited for Bruce to meet his eyes. "Not meaning to fuss or anything, but you
are
okay, right?"
Bruce smiled. "Better than. I wasn't even scratched. How about you?"
Dick shrugged again. "I'm standing here, talking to you." His expression turned serious. "Babs told you to be on your guard, right?"
"Yes." Bruce frowned. "I did suggest to the captain that my presence might needlessly endanger the other cadets."
"Great minds," Dick grinned. "I made a similar argument to Sal Fiorini, earlier, once it became clear that the bomb scare was directed at me. Your captain buy it?"
Bruce shook his head. "No, but he appears to be putting the responsibility for resolving the issue on my shoulders. I need to submit a report with my recommendations tomorrow." He made a face. "Or maybe he's trying to ensure I won't have as much time to prepare for the written tests tomorrow. He made it fairly clear that he doesn't approve of my arrangement with Sawyer."
Dick nodded. "I'd be surprised if he did. Remember: cops generally go by the book for some very good reasons; including making sure that the DA's case doesn't get thrown out because of incorrectly-gathered evidence. And," he added, "making sure that civilians aren't hurt in the crossfire because someone wanted to play hero." He held up a placating hand as Bruce started to bristle. "Hey. We both know that's not how
we
do things… and you've done a pretty good job of teaching me not to believe all the hype. But c'mon. They see 'former JLA member' and they think 'hero.'" His face fell. "They think 'going by the book' and they don't think you."
Bruce nodded glumly. "Sawyer's attempts to smooth the road for me could be taken as an illustration of your point. They're likely to backfire."
"Yeah," Dick nodded. "Expect resentment. Mind you, there
is
a way to counter it, but you'll hate that too."
"Forget the advanced standing and just enroll in the regular courses like everyone else?" Bruce shook his head. "I can live with the resentment. I don't need to be liked. I just need to get through this." He raised his eyebrows. "What happened with Fiorini?"
Dick thought for a moment. "Apparently, the same thing that happened with your captain. Looks like I'm going to be looking at ways to shore up security at WE—and by the way, that was Sal's choice of abbreviation, not mine."
Bruce lifted his head. "Do you think that's significant?"
"Maybe, maybe not," Dick said with a slight frown. "Sal's been with the company for almost twenty years. It could have slipped out. But it could also mean that he'd back you if you wanted to start becoming more active. Want me to sound him out in the morning?"
"No. Don't rock the boat yet," Bruce said firmly. "Mind you, if he asks what my plans are…" Bruce hesitated. "Don't share too much. If Sal turns out to support Paxton's camp… or whoever's camp it is, now that Paxton appears to be on his way out, I'd rather we hadn't discussed everything with him. Use your judgment."
Dick nodded. "Did you want me to help you cram tonight?"
"No," Bruce sighed. "I have to write that report. And then," he shook his head, "the examinations start at seven. I should know the material well enough. I'm just going to take the practice tests in the policy manuals, and as long as I get better than a bare pass, I'm not going to worry."
"Good luck."
*****
Bruce arrived at the academy at half-past six, with the report in his hand. On the surface, it wasn't particularly different from the reports that he'd filed in the past. In fact, he'd had to revise it several times. Over the years, he'd developed his own style of shorthand. He also was wont to include speculation, hypotheses, and extrapolations—none of which had any bearing in a standard police report.
At first it had thrown him for a loop, as MacInnes had specifically asked for his recommendations—which seemed to demand that he speculate, hypothesize, and extrapolate. In the end, he'd drawn up the report as shown in the policy manual, keeping to the bare facts, but including the recommendations as an appendix.
After taking the three practice tests for the examinations that he was writing today, he'd managed to get nearly four hours of sleep. There had been a time when that would have been more than sufficient, but he'd needed three cups of coffee at breakfast. Probably, he thought with grim humor, it wasn't the late nights, but the early mornings that he found problematic.
It didn't bother him that—apart from his driving test—he hadn't had to take a written examination since he'd left school at fourteen. Instead, he focused on remembering the chain of command, and accepting that—for the first time in a long time—he was at the very bottom of it.
It helped if he pretended that he was undercover…
"Morning, Cadet," MacInnes greeted him. "How are you today?"
Bruce smiled. "Good, sir, thank you. I have the report you requested," he added, holding it out. Never mind that it had taken a hot bath, another of Selina's massages, and some advanced meditation to compensate for what Craigie had put him through yesterday. He wasn't about to complain.
MacInnes frowned. "Cadet Wayne," he said with evident displeasure, "when an individual inquires after your health, it's only polite to respond in kind."
Bruce blinked. "Excuse me?"
"I asked you how you were. You failed to reciprocate." He shook his head. "Do you not care about the well-being of the people with whom you interact on a daily basis?"
Had he somehow missed a unit on
greetings
in all of those policy manuals? He couldn't believe that MacInnes was making such an issue out this. He had to be trying to provoke him. Bruce suppressed his irritation. "How are you this morning, sir?" he asked blandly.
MacInnes eyed Bruce as though he was trying to determine whether he was being mocked. "Well, thank you, cadet," he said finally. "Sergeant Fochs should be waiting outside to escort you to the examination room. You're dismissed."
Bruce wheeled smartly on his heel. Clearly, that conversation had been some sort of contest. The problem was, Bruce wasn't sure who'd won.
*****
Sal let out a low whistle as he scanned the file on Dick's USB stick. "I thought I knew a lot about security," he remarked, "but you've got a couple of tricks here that never would have occurred to me."
Dick turned his face away in embarrassment. "Those aren't the only things we can do that we aren't already doing," he said, "but it seems to strike the best compromise between keeping the site secure and letting people do their jobs without feeling like they're in a prison." He smothered a yawn.
"Coffee?" Sal offered.
Dick shook his head. "I had some before I came in."
"Rough night?"
Dick shrugged. "Actually, it was relatively quiet."
"Relative to what?"
Dick's lips twitched. "Well, we didn't get hit by an earthquake. Nobody broke out of Arkham. Nobody decided to use Gotham as their test lab for the latest bio-weapon, and the sun didn't go nova. It was quiet."
Sal laughed at that. "Sorry. I guess I'm just… torn between idle curiosity and the realization that maybe I don't want all the details."
"You don't," Dick smiled back. "Seriously. Was there anything else?"
Sal studied his screen for a moment. "This detection and deterrent system," he said. "It looks like we have most of the components around already. Question for you: do you have the expertise to assemble something like this?" he stabbed the screen with his finger.
Dick walked around Sal's desk so that he could see the display. "Sure. It's a little tricky to get the initial template set up, but then it's just a question of not making typos in the coding." He grinned. "On the other hand, there's a lot of coding involved."
Sal nodded. "I can see that. But it's something you know how to do?"
Dick nodded back. "Bruce taught me years ago."
"Bruce?" Sal's eyebrow shot up. "That's good to know."
"Sorry?"
"Nothing," Sal said. "Go home. Get some sleep. But come and see me tomorrow before you clock in."
*****
"So, you'll be home in about a half-hour?" Barbara asked. "Have you eaten yet?"
Dick thought. "Does an energy bar count?"
"Do peanut butter pancakes sound better?"
He didn't have to think about that one. "I love you. But make it an hour. I have a stop to make first."
*****
He didn't usually go out in costume in broad daylight, but he suspected that once he finally lay down, he might sleep the day
and
night away. Of course, there was no rule that said he
had
to confront his quarry within the next 24 hours. Still, it didn't do to let Hush think that matters could be left to lie. At this point, it was pure psychological warfare. Hush wasn't going to back down—not from one visit, anyway. However, if Dick could plant a small seed of trepidation in his adversary's heart now, it might well bear fruit down the road.
And if I were one of the bad guys
, he added mentally,
I'd probably want to insert an evil chuckle right about now…
He had his own way to get into Blackgate. Years ago, some convict had tried to tunnel to freedom, aiming to break through to an underwater cave and make it through to the mainland with some smuggled-in scuba gear. He'd miscalculated and hit solid rock.
Bruce had later detected the tunnel and, figuring that most of the work was already done, burrowed
up
from the underwater cave until he broke through to the passage. Then he'd installed a hatch with an electronic lock, camouflaging it so that, on the off chance anyone inside the prison stumbled upon the earlier convict's work the hatch would be indistinguishable from the rest of the tunnel floor.
Dick made sure that the Harbor Patrol was out of the area before he took the Batsub into the cave. He knew the guards' routines by now, as well as the blind spots on every security camera. It wasn't long until he was inside the prison and ensconced in a shadowy corner, safe from prying eyes. At this hour, Hush would almost certainly be in one of the workshops or in the yard. "O?" he spoke into his comm-link. "Are you in?"
"What kept you?" Barbara sounded amused. "They oughta be ashamed of how easy it was to hack their grid."
"Or maybe you're just that good."
"Flatterer."
"Every chance I get." His tone turned serious. "Okay, where's Hush?"
"Hang on," Barbara said. "A visual search will take too long. If I can just get a look at his work assignment… bingo!"
Dick waited. A minute went by. Two… Five…
"O?" he asked finally. "Everything okay on your end?"
There was another pause—this one lasting only a few seconds. "I've just been reviewing the footage. He was there in the morning. Security tapes show him heading down to breakfast. Then… nothing."
He knew what she was telling him, but some part of him still wanted to hear her say it. "Nothing?" he repeated.
"They don't show him ever making it to the mess hall. Or anywhere else in the prison afterwards. If you're asking me… I think he's out."
Please let us know what you think
here!