Post by Admin on Jun 9, 2016 15:57:55 GMT -5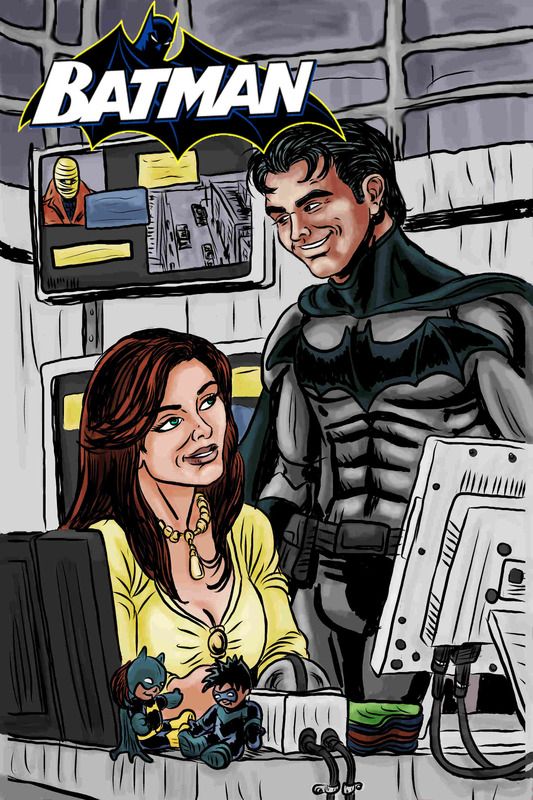 Unrehearsable
Issue #17: "Good Pretender"
Story by Ellen Fleischer
Cover by ArtTeach
Beta Read by Kathy, Debbie and PJ
Edited by Mark Bowers
Keep 'em guessin', keep 'em laughin'
Build that wall up high
As long as they don't see the other side…

…But when the sun goes down
And the moon is high
There's no way to hide the truth from me, myself, and I
Yeah, I wear it well
Though it ain't my size
I'm just a good pretender in a great disguise

—Matraca Berg, Gary Harrison, Harry Stinson, "A Great Disguise"
"He couldn't have just vanished into thin air," Batman said flatly. "Wouldn't they have missed him in the workshop?"
There was a pause. "You're right," Oracle said finally, irritation plain in her tone. "They should have. Want me to review the tapes… see if… oh, I dunno, I can find Hush on the recording bribing a guard to look the other way?"
Batman considered. "Hush is a bit too good to let himself be caught doing anything like that on a security camera." He sighed. "Okay. I'm coming home."
"You don't want to talk to the warden?" Oracle asked, surprise evident in her tone.
"I've met him before," Batman returned. "He won't believe that Hush is gone until one of his own guards reports it. I can talk to him until I'm blue in the face… or I can come home, have breakfast, and go to sleep… safe in the knowledge that some gorgeous redhead—and I'm not mentioning names—phoned in an anonymous tip to GCPD.
They'll
have a better chance of getting Warden Perkins to pay attention."
Oracle gave an exaggerated sigh. "The things I do for love," she muttered. In a normal tone of voice, she continued, "You don't seem that upset."
"No," Batman admitted. "I guess… because, if our hunch is right, he was already manipulating events from within Blackgate. In or out, he's just as dangerous. So, I guess it makes our job just as challenging, no matter which side of these walls he's on."
He hoped.
"I'll be home in about a half hour."
*****
In a wood-paneled examination room at the Gotham City Police Academy, Bruce frowned at the examination packet before him and tried to remember what he and Jim had gone over.
Question 11: Possible consequences of ethics violations include:

a) Large-scale civil suits

b) Misconduct publicized in the media

c) Loss of public respect

d) Demotion, stagnation or termination

e) All of the Above


That one was easy. He checked "e".
Question 12: Which of the following is NOT a type of civil legal action for monetary damages that can be brought against police officers?
a)
Assault and battery

b) Reckless driving

c) False Imprisonment

d) Malicious prosecution and abuse of process

e) Negligence


That gave him pause. They all sounded plausible. He closed his eyes for a moment and pressed the end of the pen against his forehead. He knew that assault and battery belonged on the list; he'd had to endure several jibes over the past few week about how his "normal" actions as Batman—and he couldn't even tell himself that the officers who had brought it up had been distorting the facts—wouldn't be acceptable. Reckless driving… He remembered when Jim had found out that one of his officers had been behind the wheel, three sheets to the wind and hadn't hit the brakes in time to avoid a pedestrian. False imprisonment… that one hadn't on the list of charges that the DA's office had been preparing against him, before he'd been remanded to Arkham—surprising, considering the number of charges that
had
made that list. Wait. The question was about civil—not criminal—action. And in that case… He smiled. In that case he knew the answer. At least, his eyebrows drew together, he thought he did… His frown deepened as he made his checkmark and then drew a faint line under the question number—an indicator to himself that this was one he should look at again, presuming he'd have time to review. He smiled despite himself. Dick's optimism was finally rubbing off. His eyes dipped down to the next question.
*****
MacInnes studied the report on his desk. "Zachary Langton," he read the name aloud.
The lieutenant nodded soberly. "Ex-marine, special ops, served in Iraq in 2004. After an honorable discharge, he went into business consulting—but not before he was accepted to this academy."
The captain's head jerked up at that. "Go on."
"There's not a lot more to tell," the lieutenant said. "Langton formally withdrew from the academy in his third week, stating that he felt that law enforcement wasn't an avenue he felt comfortable pursuing at the time."
MacInnes nodded. Many ex-military personnel joined the police force and went on to serve with distinction, but there were always some who needed more of a change of pace. It sounded like Langton had realized that in training. His eyes narrowed. "If he spent three weeks here..." His voice trailed off. He frowned at the lieutenant. "Did he board here?"
"Yes, sir," the lieutenant nodded again.
MacInnes exhaled. "So, he spent three weeks living inside campus," he said slowly. "Presumably 24-7, or close to it. So either Hatter got incredibly lucky, or he knew exactly whose hat to plant a control chip in."
The lieutenant's eyes widened. "An ex-marine... so he would have known how to handle weapons. He'd also know about camouflage and stealth tactics. Lived on the grounds long enough to know the layout here."
"Exactly," MacInnes glowered. "Hatter didn't grab some random guy off the street—or if he did, no. Nobody's that lucky. He knew who he was using. Only..."
"Sir?"
MacInnes brought his fist down on his desk blotter. "Hatter's working with someone," he said. "That or we have a copycat. From everything we know about the creep, he's smart. He'd have to be, to create those mind control chips. But, finding someone with a specific skill-set to do his dirty work..."
His pale complexion reddened. "Hatter didn't just wander onto a military base. He found someone in civilian life who had exactly the expertise needed to get on campus and try to murder Wayne. The thing that bugs me about that is that Hatter's never been this meticulous. So either he's been learning from past mistakes, or he's got a partner, or there's a new player in town trying to horn in on his act." He sighed. "And whichever it is, it means more headaches. I'll let the commish know."
*****
Barbara checked her security camera before opening the apartment door. "Cass," she smiled. "This is a surprise."
"Tried window," Cass explained. "Locked."
Barbara nodded. "Sorry about that. I wasn't expecting anyone to show up here after sunrise. What can I do for you?"
Cass sighed. "Essay."
"For the GED?" Barbara asked, wheeling toward the kitchen to brew a pot of coffee. "It's still giving you trouble?"
"Yes," Cass rolled her eyes. "Same. Always. Same mistakes. Dr. Arkham says I…" She looked down. "I ramble. Ramble is… is babble, right? When I speak I don't. So why… how… when I write?"
Barbara stopped and rolled around to face her. "Take a breath, Cass," she advised, holding up her hands. "Did you bring me an example? Let's have a look." The coffee could wait.
Cass bit her lip. Then she reached into her tote bag and pulled out two sheets of paper folded in half. "Dr. Arkham says," she said faintly, "I… am," she tilted her head to one side, "making progress," her voice took on a faint nasal quality. Barbara stifled a smile at the unconscious mimicry. "But I keep… making mistakes."
Barbara unfolded the sheets and read them frowning. Cass watched.
"Bad, huh?"
"Well…"
Cass sighed. "Barbara, please don't say… good… for
me
. Good for me is… is knowing letters. Writing name. That's good… because," she squeezed her eyes shut, "because before I… didn't. But I need… more. For GED, essay has to be good. Not… good for me. Good for
real
."
Barbara winced. "Cass," she said slowly, trying to phrase her response carefully, "there's a lot of good stuff in here." She smiled. "
Really
good stuff. Your big problem—I mean, besides the punctuation and the choppy sentences—is organizing your information."
"Choppy sentences," Cass scowled.
"You can pass the GED with choppy sentences," Barbara said. "You won't get a good mark, but you can pass." At Cass's disbelieving look, she continued, "Not everyone comes out of high school as a good writer. They're testing you to make sure that…" She thought for a moment. "Okay, at the hospital, the staff has to record information about each patient. They need to report what condition the patient was in when they came in, what the treatment was, what the result was, and so on."
"That's not essay!" Cass replied.
"No, it's not. But it's writing. Writing that's been organized so that someone reading the report can find the information they're looking for easily—because if the report is organized properly, they don't have to work as hard to find what they want to know." She thought for a moment. "Actually…"
She was silent long enough for Cass to take a step forward. "What… actually?"
Barbara smiled. "That could work. And maybe give you and Bruce more to talk about."
"What?"
Barbara's smile grew bigger. "Let's go upstairs. I want to show you some study guides Daddy asked me to help him put together for Bruce. There was one on writing police reports. You're right," she went on excitedly, "they're not the same as essays. But maybe if you think of them as outlines…" she continued as she rolled toward the door.
Cass trailed behind. "Rambling…" she muttered under her breath.
"I heard that…"
*****
Bruce was looking forward to another session with Craigie. After he was done with this panel, he was going to need to burn off some frustration.
The lieutenant pushed up her glasses and pressed her index and middle fingers to the spot between her eyes. Then she let the glasses drop again and looked down over her lectern at Bruce. "I see," she said neutrally, "that for most of your answers, you indicate that, in the event that you were to witness an ethics violation on the part of a fellow officer, you would immediately bring it to the attention of your superior."
Bruce met her gaze squarely. "Correct."
"You have a history of taking matters into your own hands," she stated. "How do you know you won't revert to type?"
Bruce knew it was a fair question. That didn't make it any less irritating. "When I acquired that history," he said, keeping his tone even, "I had no chain of command. Or rather, I was at the top of it. That's no longer the case."
"How can you be sure you won't be tempted?"
Bruce blinked. He felt his features shift automatically into his blandest social expression. "I'm sure I
will
be tempted," he replied. "Old habits are hard to break. However, when I decided to accept Commissioner Sawyer's offer, I made a commitment to abide by GCPD policies. You're correct, Ma'am. I'll probably want to deal with the matter myself, but I think I'll be able to control that desire."
"Ah, yes," the lieutenant nodded. "Control. I was getting to that. Specifically, your need to be directly involved in every aspect of a case. Detective work, interrogation..." Her voice hardened. "On the essay portion of your examination, you had indicated that," she rustled some pages. "Ah, yes," she repeated. "Here it is." She raised her eyebrows with exaggerated surprise. "You indicate that you would report a fellow officer who exercised undue force on a suspect." She set the pages down. "Despite your track record for handling issues directly, you expect us to believe that you would follow the chain of command, all of a sudden?"
Bruce could feel himself going on the defensive and forced his voice to stay neutral. "Yes."
"Even though you've done more or less the same thing in the past? You don't find that hypocritical?"
"I may not have followed GCPD policies and procedures at the time," Bruce retorted, "but I
did
follow a code of conduct."
"Of your own devising."
"Yes."
"And when that code became inconvenient? Did you ever just say 'The hell with it' and do what you felt like? Since you
were
the only person you had to answer to."
"No."
The eyebrows were up again. "No? Can you elaborate, Cadet Wayne?"
Bruce took a deep breath and forced himself to stay calm. "I wasn't the only person I had to answer to. Although I did not directly report to any higher authority, I knew that if certain lines were… if I were to cross certain lines, then it would jeopardize my then-working relationship with the GCPD. It would jeopardize my self-respect. And it would jeopardize my relationships with my colleagues—some of whom I trained and expected to adhere to my code. Commanders may have the authority to override policy under certain circumstances—" His lips twitched. "The signal on the roof of GCPD headquarters springs to mind as an example; I was working with the GCPD long before my affiliation with the Justice League and the UN sanction conferred by that relationship. However, just because a commander
may
override policy, doesn't mean that they aren't accountable when they do. Had I overstepped my boundaries, I have no doubt that then-Commissioner Gordon would have given the order to bring me in." He looked away for a moment. Then he took another deep breath. "Which did transpire when I… overstepped my boundaries during the Akins administration and twenty-eight GCPD officers paid the price."
It would have come up sooner or later, he knew. It couldn't
not
come up, either during one of these panels or during the training. It was best to take the bull by the horns and deal with it now.
Steely eyes regarded him for a moment. Then the lieutenant raised her eyebrows again. "So, hijacking the police band radio frequency and encouraging officers to mutiny wasn't against your… code of ethics. And you say you'll have no difficulty adjusting your methods to fit ours, hmmm?"
Bruce bit back an angry retort and waited for the next question.
*****
"It's too bad Mr. Kent had to go back to Metropolis," Barbara said. "He could probably help you with this."
Cass nodded. "He writes," she said.
"Not only does he write," Barbara replied, "he reports."
Cass frowned. "Writes… reports. Like… like what you want to show me? What Bruce has to do?"
"No, more like what you have to do," Barbara said. "See, a report answers six basic questions: What happened? Who did it happen to? Where did it happen? When did it happen? How did it happen? And… why did it happen? That's what's in the reports that Bruce is going to have to file."
Cass frowned. "He… does. Already. After patrol." She looked down. "Used to, I mean. Before…"
"Right," Barbara said with a sad smile. "So he shouldn't have too much trouble doing it again. The difference between writing a report and writing articles—which is what Mr. Kent does," Barbara grinned, "and yes, that makes him a reporter, not an articler; English is weird that way… is that once Mr. Kent has the answers to those questions he puts them all together and turns them into a story. Not made-up," she clarified, "although figuring out the answers to those questions can help in writing fiction, too. But what Mr. Kent does is answer those questions in a way that flows. Hang on. Trust me?"
Cass blinked. "Um… Maybe?"
Barbara sighed. "Here. Let me print off an article for you; sometimes, it's harder reading it off a screen." At the expression on her companion's face, Barbara smiled. "I'll make it a short one. Here," her finger stabbed the monitor. "Three paragraphs on a—" She caught herself. "Actually, you're going to tell me
what
it's about. And
who, when, where, why
, and
how
, too."
"Fun."
"Just try it, Cass. Humor me."
"Humor…you? Make you… funny? I… I don't…"
"It means 'please do it because I asked you to, even if you don't think it'll help'."
"Oh. Okay." She took the printout and read it slowly, sliding her finger from one word to the next as she sounded out the letters under her breath. Barbara watched her for a few moments before she opened a session on a new monitor and began to tackle a low-priority assignment for the Justice League. It was nearly forty minutes before Cass approached.
"Okay," she said heavily. "What happened is fire. Who… it says nobody hurt. When is last night. Where is East End. Why… they think accident. How… e-electrical," she frowned. "Or is that why, too?"
"Sometimes there's an overlap. Now," she handed Cass a second sheet of paper, "take a look at this. It's a report filed by a fire-fighter who was there last night. Look it over and tell me what you think of it."
This time, Cass was back sooner. "It's… the same questions. Same answers. But… boring. No. Sorry. I…" she gestured over to the table where she'd left the first printout. "That one is…" Her eyes widened. "It… flows. Right?" With rising excitement, she pointed at the page in her hand. "And this one… the data is there… but… it's… um… it's…"
"Dry?" Barbara prompted.
"Dry?" For a moment, Cass frowned. Then her face cleared. "Oh. Water… flows. So opposite of 'flows…' is 'dry'. Yes. Dry. I… see."
Barbara smiled. "Close enough. Okay. So what a reporter does is take the dry information in a report and make it flow. But here's where writing reports can help you with your essays. If you look carefully, you'll notice that the information in the report is organized so that you can find out what's going on. In the essays you showed me, it looked like you were just writing down ideas as fast as you could and stopping when you ran out of things to put down."
Cass shifted from one foot to the other. "Um…"
Barbara smiled. "Okay," she said again. "Writing an essay isn't exactly the same as writing a report, because you're not telling a story, so much as giving your opinion. What you're doing is summing up the facts that support what you're trying to prove and answering one more question: So?"
"So?"
Barbara nodded. "As in, 'So what is so important about this?' or 'So what should we do about it?' Or 'So why have I spent all this time writing about this?' By the way," she grinned "they won't take 'it was the easiest essay topic on the list' as an answer."
Cass nodded, but she was still frowning. "Okay…"
Barbara thought for a moment. "Do you remember when we watched
Titanic
?"
Cass nodded.
"Good. I want you to think about how more people could have been saved. What do you think they could have done to save more lives? Then," she said seriously, "I want you to try to put that in an essay. Start with a report first, though. I think it'll help you organize your ideas so that you can get your ideas out clearly. Do you understand how to do that?"
"Answer questions," Cass said slowly. "How… and what… and… where and why and…"
"You might find that some of those answers are more important than others," Barbara admitted. "But I think you're catching on. Oh, and Cass? Don't think you have to write pages and pages. Just make it about as long as the essay you showed me. Figure out two or three things that could have been done differently, and write about those."
Cass sighed. "It seems like… so much. Nothing… easier?"
Barbara sighed sympathetically. "There isn't any one technique that works for everyone," she said. "What you've been doing until now hasn't been working as well as you'd like. Maybe this'll be better. Give it a shot."
Cass frowned for a moment, thinking. Then she took a fresh sheet of paper out of the printer tray. "Okay," she said hesitantly, but with greater assurance than she'd shown earlier. "I'll… try."
*****
"I see you actually listened to me when I told you to get some rest," Sal said cheerfully.
Dick looked up from his computer to find the head of building security standing in the doorway. He grinned back. "It's way too easy to make coding errors when you're half-asleep," he said. "I'd like to get it right the first time. I won't," he admitted, still smiling. "Not with the amount of coding involved, anyway. But at least I'll be alert enough to fix whatever's wrong on the first try."
"I wrote some of the original programs myself," Sal said, nodding. "I know what you mean. Let me know if what you're trying to do gets blocked by one of our existing security measures before you try a work-around." For a moment, his florid face looked almost boyish. "I'd really like to watch how you handle the interface."
Dick nodded. "That's probably a good idea, in case you ever need to update any of this when I'm not around."
"That reminds me," Sal said. "I've been going over your performance reviews and, after balancing those against what I've observed firsthand over the last little while," his expression turned serious, "I'd like to ask you to come work for me. Technically, of course," he added, "you already do, since Risk Management is one of the departments I oversee. However, I think you'll…" He laughed self-consciously. "Damn. The truth is that you'd do well in just about any department, but I'd like you in mine. You've been in risk management for over a year, now. It might be time for you to take stock and figure out where you want to be." He waited for Dick to nod before he continued. "If you're happy where you are, that's fine. On the other hand, if it's something you don't mind doing, it's a reason to get up in the morning and you can live with it, but you're not
on fire
for it, then you're selling yourself short by settling and I'd advise you to try something different. Naturally," he smiled, "I'd like you to try security. I can use you. If you'd rather not," he sighed, "I understand, but it's good to move around every so often."
Dick had been smiling during Sal's appeal. All at once, though, he frowned as a thought occurred to him. "Sal… did Mr. Fox ask you to propose this move to me?"
Sal blinked. "No," he said, confusion plain on his face, "why?"
"No reason." For a moment, he'd suspected that Lucius was trying to surreptitiously prepare him to take over the company one day. If that was Lucius' plan, it would made sense to see to it that Dick would move from department to department, staying long enough to understand the inner workings of each area and then moving on. However, either Sal was giving an Academy Award-caliber performance at the moment, or Lucius had nothing to do with the offer.
"If you'd like to take some time to think it over…"
Dick shook his head. "No. No, that's fine. I accept."
Sal smiled broadly. "Great! Okay, it'll take a couple of days to get the paperwork processed and make it official, but for now, let me be the first to welcome you to building security."
*****
Paxton reviewed the list of names, nodding slightly. "You're thorough," he said. "I appreciate that."
Powers smiled. "Most of the information is public record. For a man with something to hide, Bruce Wayne let a lot of nosy people into his life. Vesper Fairchild and Summer Gleason were just the tip of the iceberg."
Paxton opened a drawer in his mahogany desk and pulled out a round black tin with a gold label. "I gave up pipes years ago," he chuckled, "but I'll never tire of the smell of fine tobacco. Here," he passed the tin to Powers. "Have a sniff."
Powers inhaled. His eyes grew wide. He closed them and took another slow breath. Then he nodded and passed the tin back.
"Nothing quite like the good stuff, is there?" Paxton asked indulgently. "Now, about this idea… are you sure it's going to work? After all, Wayne's been fairly open to the media lately."
"No," Powers shook his head. "Wayne's gracefully bowed to the inevitable and given one interview to an old girlfriend at a time and place of his choosing. He probably gave her a list of approved questions ahead of time."
"She did have a few tough ones for him."
Powers snorted. "About what? Arkham? Gun handling? Wayne was expecting those. He probably hired a speechwriter to prepare his lines for him. Even if he didn't, he knew that kind of stuff was going to be on the agenda. But if we catch him off-guard, trap him in the same room with other people who want answers—and not just about Arkham and his new career move—I wonder how long it'll be before that violent "Bat-temper" he's so sure is behind him charges to the fore."
"And if you're wrong?"
Powers shrugged. "Then Wayne proves that he can keep his cool in public. That's not something worthy of praise; it's normal social behavior. It won't influence the outcome of any future psychiatric assessments we might want to insist Wayne undergo to prove his fitness to resume his position on the board. Furthermore, even if Wayne graciously replies to every question asked of him at that gala, it's going to get other people talking. Wondering. Speculating. Doubting." He smiled. "And then, it's just a matter of time until they'll start blogging. They'll petition. They'll set up FaceSpace pages demanding more answers." He sighed. "I'm sorry, Les. I don't have to tell you about the power of social media. Considering…"
"No," Paxton said sourly. "No, you don't." He looked down as he shut the tobacco tin back in his desk. When he looked up again, he was smiling. "I like it. Minimal risk to us, good potential to block further initiatives from Wayne… Yes, this has possibilities indeed…"
*****
"When would you consider deadly force to be necessary?" It was another lieutenant speaking now. His voice had a slight nasal quality to it that grated on Bruce almost as much as the question.
He forced himself to suppress his instinctive "never," and tried to keep his face and voice impassive.
It was in the study materials. You know this one.
"Deadly force is authorized," he stated, "when an officer can be said to have a reasonable belief that the suspect poses an imminent threat of death to either said officer or another individual."
The lieutenant smiled. "Yes, that's the correct response in the policy manual, Cadet. But I asked
you
. When would
you
consider it appropriate to use deadly force?"
"I…" Bruce stopped.
Just answer the question. Tell him that you agree with the policy as outlined in the materials.


"Cadet Wayne?"
But I don't agree. There's always another way. A better way.


"Cadet Wayne, do you need me to repeat the question?"
Bruce took a deep breath. "I would say, when the suspect poses an imminent threat of death to myself or another, and when there is no other recourse."
The lieutenant steepled his hands, pointing his fingers upward rather than outward. "Perhaps an example would be helpful, Cadet."
There was no further doubt in Bruce's mind. The lieutenant was
trying
to get under his skin. Annoyingly, it was working.
Keep it under control, Bruce,
he told himself.
You've come this far without letting your temper get the better of you. Just get through this panel and you can work out your frustrations with Craigie on the parade grounds.
He frowned, thinking. "I'm sorry," he admitted. "Nothing's springing to mind."
"Use your imagination, Cadet. Surely, you can conceive of a time when you might need to fire a gun."
Bruce kept his voice steady through sheer force of will. "Sir, I can conceive of times when I would be authorized to use deadly force," he replied. "However, as you're aware, I've never carried a gun before and I've learned to function without needing to resort to one."
The lieutenant peered down his nose at Bruce. "You've reviewed the module dealing with police brutality, I hope?"
Yes, I can see how it's so much better to shoot a suspect, rather than break his wrist.
"I have." He didn't roll his eyes. He was actually somewhat proud of that.
The lieutenant sniffed and made a notation on the page before him. "Would you use deadly force against a fleeing suspect?"
Bruce took a deep breath. "The action would be permitted, but if I were able to carry batarangs, those would be my preference."
The lieutenant frowned. "Let us say, Cadet, that the fleeing suspect was a known murderer, and that by allowing him the possibility of escape, you would be jeopardizing numerous civilians."
Bruce tilted his head, feigning puzzlement. "I'm… sorry, sir. I'm frankly unsure how we got from a preference for using batarangs to allowing a suspect the possibility of escape."
He heard a muffled laugh and turned automatically in the direction from which it had originated. One of the other panel members was deliberately avoiding his gaze, but could not conceal the slight shaking of his shoulders.
The lieutenant cleared his throat. "Are you still with us, Cadet?"
Bruce snapped his eyes back. "Yes, sir."
The questioning continued.
*****
The long blast of a metal pea whistle startled Bruce out of his ruminations, as he slowed his pace slightly to round the curve of the track. "Walk down, Cadet," Craigie ordered. "Grab a drink, and hit the showers. I expect you back on parade grounds in exactly 45 minutes."
Bruce blinked. True, he'd just completed his 60th lap around the eighth-of-a-mile track, but, although he had worked up a decent sweat, he knew that he was still good for at least a dozen more circuits. He hadn't been running at top speed, since Craigie had directed him to "run till you drop or I tell you to stop!" He checked his watch. He'd been at this for slightly over an hour—far less time than he'd expected.
Obediently, he slowed to a walk, working in some neck and shoulder stretches as he did. Craigie watched for a moment, before he turned around and headed off in the direction of the administration building. Bruce continued his cool-down routine, even as he wondered why he'd need to report back here after he'd showered.
*****
When he reappeared some forty minutes later, it was to find a different officer waiting for him. "Cadet Wayne?"
He barely waited for Bruce's acknowledgement, before he continued. "Sergeant Farnham. I was just going over your written firearms test before coming out here. I don't see many perfect scores." He held out his hand. "Nice work, Cadet."
Bruce gave a surprised smile as he shook the officer's hand automatically. "Thank you, sir."
But Farnham wasn't done. "Let's see if you can continue to impress me… in the training simulator."
The color drained from his face as his heart began to pound as it hadn't when he'd been hitting the track. "Simulator," he repeated, swallowing hard. "Yes, sir."
"Come on, Batman," Farnham said heartily. "I can't wait to see this!
Please let us know what you think
here!